Dakota Buttar Cracks Top 5 in 2023 Championship Battle with Runner-Up Finish in London, Ontario
By: Covy Moore Wednesday, June 7, 2023 @ 2:45 PM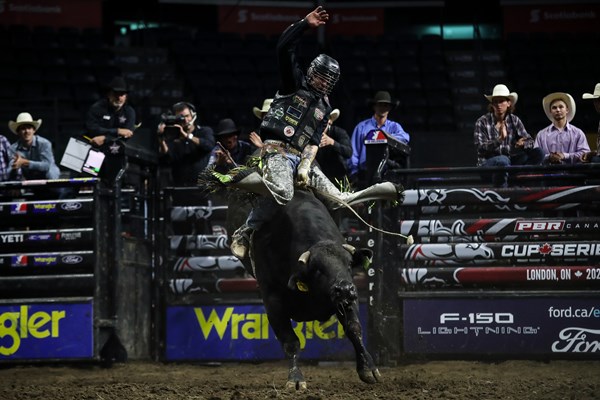 AIRDRIE, Alta. – While he may not have stood at arena center as the event winner when the dust settled in London, Ontario, 2020 PBR Canada Champion Dakota Buttar was one of the biggest movers in the title battle that weekend.
With only a few points to his name from some PBR Canada Touring Pro Division event successes earlier in the season, Buttar flew to Ontario ranked No. 18 in the standings.
While that position, if the season ended today, would have earned him a berth to the 2023 PBR Canada National Finals, his sights are set higher than just qualifying for the prestigious year-end event.
In London, Buttar dominated Round 1, delivering the top score when he covered Peacock for 85 points. With the first pick in the championship round bull draft, Buttar elected to go head-to-head with Positively Bangin', a decision that proved valuable. Scored 87 points, Buttar clinched the runner-up finish.
"London I would say was the best event of the year so far," Buttar explained. "That building was packed. They were into it. It was a lot of fun for us riders. It had a great atmosphere and I think we rode better from it. I sure hope we can keep going back there, it was a lot of fun."
"I went in with a bull that I didn't know at all," Buttar continued. "I just went jump-for-jump and ended up with a good pick in the short round. I finally used the bulls I should be using all year long. They haven't all gone my way this year though, and I have identified a few things that I could be working on.
"I will keep plucking away now."
The second-place finish to 2019 PBR Canada Champion, and 2022 PBR World Champion Daylon Swearingen would hurled the Eatonia, Saskatchewan resident to No. 5 in the national standings, up 13 positions from where he began the event.
Apart from the intense battle to be crowned the 2023 PBR Canada Champion, one of the more entertaining rookie races is underway in Canada with some fantastic young riders making their first full year venture in the pro ranks.
From Cody Fraser and Carter Sahli to Brahmer Gehring and William Barrows the 2023 rookie class is deep.
Buttar says this race is one of his favourite parts of each season, and more so now that he is considered a veteran in the dressing room.
"I think it is fun watching them come up. We watch them ride steers for however long. It's a big adjustment for anybody making this big step up, and it is cool seeing them make that step up and be successful."
"Willy Barrows made the step and is riding as consistently as anyone in PBR Canada right now," Buttar continued. "I don't know if I have been on the chutes to see him buck off this year. He is going to these events and going 2-for-2, doing good. I think he is going to have a pretty successful year if you ask me."
As for what Buttar will consider a successful season for himself, it's always an expectation to be competing for a title. With a nearly non-stop schedule for the next six weeks, many riders are gearing up for the haul.
And for Buttar, he says he is looking forward to the grind.
"If I can stay healthy and keep the body feeling good, it's going to be the busiest I have ever been," Buttar said. 
"I am looking forward to it though, lots of big events, lots of fun events I am looking forward to getting to. It is going to be a great summer."