Blake Smith Eyes 2023 PBR Canada Championship and 2024 World Finals Berth
By: Covy Moore Wednesday, June 14, 2023 @ 9:13 AM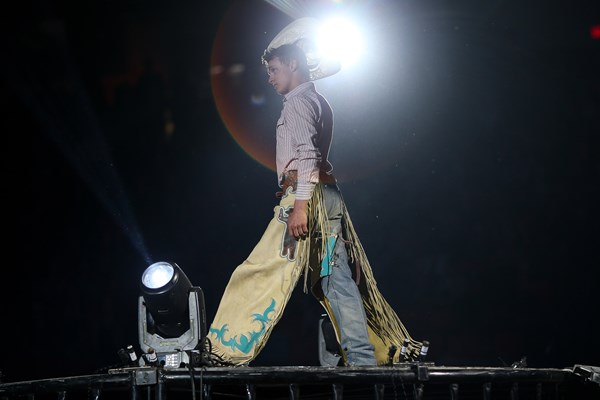 AIRDRIE, Alta. – Blake Smith is back to his winning ways.
After undergoing shoulder surgery on January 5, the Abbey, Saskatchewan native said it didn't take long to get back to work.
"January 5 I went for a shoulder surgery that Brandon Thome set me up with in Calgary, and on January 6 I started hauling water for my family," Smith explained. "I couldn't imagine sitting on my ass that long, I had to get to work to make me feel better about myself."
"I went to plowing snow for the winter. It was the only truck I could fit in with the big sling I had to wear the whole time. I was just keeping my mind sane. Sat on my butt when I could, but that wasn't very often."
In his return to competition on May 26, Smith rode to a third-place finish in Winnipeg, Manitoba.
But it didn't take long for Smith to find his way back to the winner's circle. At just his third event back, Smith bested the rest on the first night of competition at the 8 Seconds At The Ridge, collecting his first victory of the 2023 season and rising to No. 19 in the current national title race.
When asked what the goal was heading into the two-day event, Smith said he is taking the pressure off and having fun this season.
"This year is all about having fun," Smith explained. "I want to go to one or two a weekend and have a bunch of fun with my friends. I want to remember what bull riding is all about. Going rodeoing, rolling with your friends and having fun."
"When I show up to any event this year, I am showing up to have fun. I was trapped at home for six months, and I don't want to do that anymore. Put it into perspective."
"I get to get on these good bulls that these great contractors bring for us, and I just try my best every time, because why wouldn't you?"
The goal for the season overall, however, is to be prepared to make a push to qualify for the 2024 PBR World Finals, including a big run through the United States.
"Be ready for the States. That is all I want. I am young. I am healthy as I will be. I just want to be getting on the best bulls I can all year long in Canada, because I know when I get down to the states, I am going to have to have my hammer cocked and be ready."
"Truthfully, I am just looking forward to getting back down south, and seeing my good buddy Nick Tetz dominate and having more fun than anyone could have had this year," Smith continued. "I just want that, and for that to go my way this year and do that same thing he did."
"Making the World Finals is a huge goal for anyone my age. I want to make sure I am prepared, and mentally prepared to handle those bulls and do what I have to do to get there."
Currently a free agent after a year's experience with the Austin Gamblers, part of the separate PBR Team Series, Smith said he is going to focus on the individual part of the sport for the time being.
"I would like to stick to the World Finals. The Team Series is absolutely amazing and helped me out a ton last year. But it is new, and I grew up wanting to make the World Finals and become a World Champion, I didn't grow up dreaming of becoming a Team Series Champion."
"From the individual standpoint, I would love to be dominant in that season," Smith explained. "If a team did come along and we could work out some terms that work for everybody, I would love to be a part of helping win a team title, but it's riding bulls at the end of day."
With a long summer stretch of events, including an PBR Canada Touring Pro Division stop in Humboldt, Saskatchewan this weekend, followed by a mid-week event in Regina, for another PBR Canada Cup Series, presented by Wrangler, event, Smith says he is happy to be back competing, and remembering how deep the community is.
"Seeing the people who put on events in this country, and those Canadian Finals, it just makes me ecstatic. This community is second to none. There isn't an event where the committee or the production staff aren't coming up to you before the event, pumping you up and wishing you luck."
"Everybody is so committed to us bull riders. We couldn't have any more fun with this group we have now."
When asked what it will take to become the 2023 PBR Canada Champion, Smith confidently said he just needs his shoulder to stay in place.
"Keeping my shoulder attached. That is all it would have taken last year, I let those boys get lucky. It won't happen again."