American Jake Dunham Turns Heads in PBR Canada Debut
By: Covy Moore Wednesday, June 21, 2023 @ 10:02 AM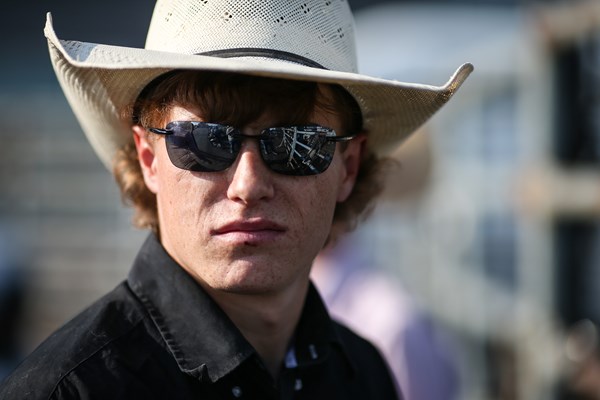 AIRDRIE, Alta. – With two PBR Canada events under his belt, 21-year-old Arizona native Jake Dunham has found his way into the finishing order at both.
The unknown rider burst onto the scene alongside Cauy Schmidt and his traveling partners at the start of the year. In early June, Dunham has made his way into the PBR Canada Touring Pro Division ranks and has immediately turned heads.
After finishing both fifth and tenth via a double entry in Elk Ridge, Saskatchewan, followed by a second-place effort a week later in Humboldt, Saskatchewan, the trajectory for the young American is up.
As a self-professed city kid who rides bulls, Dunham doesn't have the usual path to bull riding, but says he hasn't let that slow him down.
"I am a city boy who rides bulls," Dunham said. "I have been figuring it out myself mostly. I went to the Cody Custer Bull Riding School when I was 17, but I have been getting on after watching videos online, seeing what works and figuring it out basically."
"I thought why not, you know. If I can ride bulls in a completely different country, why not. It is a whole other experience, meeting a whole bunch of other people."
Having met his Canadian travelling partner while in school in New Mexico, Dunham said he clicked with the Coronation, Alberta native, and the rest is history.
"I went to school with Cauy in New Mexico. We rodeoed a bunch down there. We probably have the most fun on the road. We forget we are getting on bulls almost with how much fun we are having. I have had more fun going to these PBRs in the past month as I have had in all my years of going."
"We have the same personality in a lot of ways," Dunham added. "We both have the same dark humour and find each other both laughing at the stuff no one else is. We have a similar routine before getting on, we don't take it too seriously. We are goofing off all the way to the last minute. We get along real well, both like putting the work in. Our personalities match up pretty well."
Getting a couple bulls rode in his first events was the plan, as in this sport it doesn't matter how many events you come to, it matters if you ride your bulls.
"Elk Ridge was a blast," Dunham said. "I love riding in these little parking lot bull ridings. And that one was beautiful."
"I know you all don't know me, but I don't come from too much of a different place as the rest of you. I am here to ride bulls and let my riding do the talking. It's fun, I feel like I fit in with guys really good up here. But at the same time, it is a group of guys that want you to win too. It was really cool, this has been a lot of fun."
As for what his goals are in Canada, Dunham says he isn't much different than the next guy, except he is going for Rookie of the Year in 2023, in addition to a shot at a PBR Canada Championship.
"I am not too worried about getting into these Cup events, I am enjoying myself, and whatever happens, happens."
"But I would love to win the Rookie of the Year and have a shot at that National Championship too. That would be pretty cool."
"My plan of attack might sound weird, but it's not worrying about myself," Dunham concluded. "No expectations. Tie my hand in there and try hard. I work hard during the week, and when it comes time to ride bulls, I ride bulls. I try to not look at the standings and things like that. Just ride what bulls they give me."