Jared Parsonage Wins Pool B at Calgary Stampede; Carolina Cowboys' Sage Kimzey Places Second
By: Darci Miller Friday, July 14, 2023 @ 9:35 AM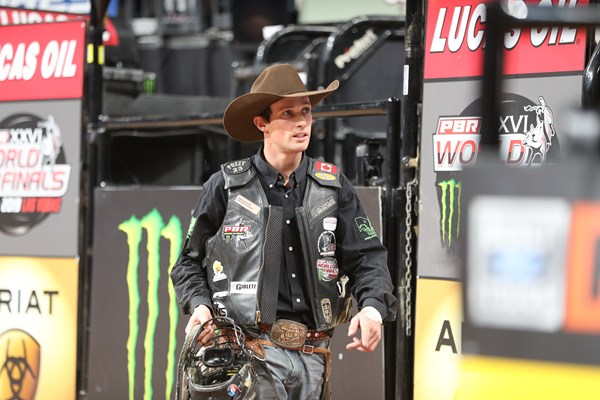 PUEBLO, Colo. – Jared Parsonage is having quite a 2023.
The PBR Canada standout is currently ranked No. 3 in the national standings but started the year off so strong – a win in Red Deer, Alberta, in February; a runner-up finish in Lethbridge, Alberta, in March; and a win in Camrose, Alberta, in May – that there's only been a total of three weeks this season that he hasn't held the No. 1 rank. He's an astounding 8-for-10 (80%) in PBR Canada competition this year.
The 30-year-old from Maple Creek, Saskatchewan, is currently taking his talents to the Calgary Stampede, where he went a perfect 3-for-3 to win Pool B, earning $18,233.33.
The opening days of the Calgary Stampede feature pool play, with 10 riders competing in Pool A, Pool B and Pool C. Based on money earned, the Top 4 riders from each pool automatically advance to the semifinals on Showdown Sunday.
The 2023 Calgary Stampede will finish on Showdown Sunday, featuring a clean slate for all contestants. After the 12-man semifinal round, the Top 4 will advance to the final round, where the title of 2023 Calgary Stampede Champion will be on the line.
RELATED: Swearingen advances to Showdown Sunday of 2023 Calgary Stampede; Teel wins Pool A
Parsonage kicked off Pool B action with 78.5 points on Toothless Smile and followed that up with 83.5 points on Blue Magic.
With his final pool play out, he won the day with 85 points on Devils Advocate.
"It's always a fun position to be in," Parsonage told the Calgary Sun of saving his best score for last. "I knew I had the bucking bull of Canada, and it was a chance to hit a home run if I could step up to the plate and do it.
"I've been on him three times and I hadn't rode him yet, so it was nice to get him rode. It's a good place to do it."
Seven-time PRCA World Champion Sage Kimzey, newly signed to the Carolina Cowboys of PBR Teams, finished second to Parsonage in Pool B with $14,783.33. He bucked off of Unkle Kranky on the first day of Pool B but rebounded with 87 points on Airplane Mode – winning day two – and 84.5 points on Night Shift.
Kimzey has won the Calgary Stampede three times, in 2015, 2017 and 2019, when he beat out Parsonage, who finished second.
 "I'm good friends with Sage," Parsonage said. "I've been around him my whole career. That guy's super good. It's always fun when you can beat him, because he spends a lot of time beating us."
In third place in Pool B was Ky Hamilton. The native of Mackay, Queensland, Australia, competed at three PBR Global Cups on Team Australia, spent time on the Pendleton Whisky Velocity Tour in 2020-22 and participated in the Monster Energy Team Challenge in 2020.
In Calgary, he rode Later Gator for 80.5 points and Moscow Mule for 80 points but was bucked off by Hot Pants. His 2-for-3 performance netted him $9,150.
Rounding out the four riders advancing to Showdown Sunday is PBR Canada's Coy Robbins, who's currently ranked No. 2 in the national standings.
Robbins began Pool B with a round win, recording 85 points on Slobber Knocker to take the early lead.
"The first jump, I heard my dad say, 'There you go!' from the back of the chutes, and I was maybe I was smiling — I don't know — but it felt pretty good," Robbins told the Calgary Sun. "Hard to hear in Calgary with this many fans, but he's got a pretty distinct holler, so I can usually hear him.
"To get a round win out of here and the amount of money they have here that goes towards the PRCA standings is huge."
Robbins then bucked off Watermelon Sugar and Jack O Lantern, but the $7,200 he'd earned was enough to put him through.
Parsonage, Kimzey, Hamilton and Robbins will be joined by Cody Teel, 2022 PBR World Champion Daylon Swearingen, Jestyn Woodward and JC Mortensen in the semifinals. Pool C, which includes two-time World Champion J.B. Mauney and Carolina Cowboys teammates Josh Frost and Trey Kimzey, runs from July 13-15.