Weston Davidson Aims for Velocity Finals Berth, PBR Canada Championship in 2023
By: Covy Moore Wednesday, January 18, 2023 @ 1:52 PM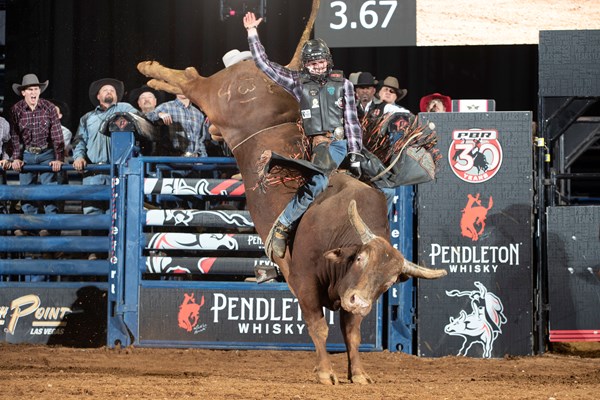 AIRDRIE, Alta. – The other half of the Canadian duo travelling throughout the United States in a minivan is Saskatoon, Saskatchewan's Weston Davidson.
Fresh off a breakthrough 2022 season which included his first PBR Canada event win in Bowden, Alberta, Davidson echoed Stefan Tonita's sentiments regarding the trip south, eager to carry that momentum into 2023.
"At the end of the year, things were really picking up," Davidson said. "I Was feeling really good. I found myself second in Canada, so what the heck. Why not keep it rolling. Stefan and I have similar goals, we want to get out and go places. We sure don't want to be working up there in the cold right now."
"You only have so much time to ride bulls. We decided we would send it and come down and live out of the van cause why not. We were feeling good, so we decided to come down and go from there. We are working on making a name for ourselves and keeping Canada on the map."
Davidson got his first-ever stateside PBR run started off with a bang going 2-for-3 in Lexington, KY at the first Pendleton Whisky Velocity Tour event of the 2023 calendar year.
From there, Davidson and Tonita travelled to Denver, CO and Charleston, WV, but have had less luck.
Choosing to travel in a minivan with Tonita helps cover distance well. The pair are picking up hotels on the weekends, but the two friends have been covering a fair amount of the United States already, and plan to continue into 2023.
Next stop for the duo is the upcoming Velocity Tour event in Greenville, South Carolina, at Bon Secours Wellness Arena on Jan. 20-21.
Davidson's goals are to continue to progress. He admits to not being too worried about the overall picture and plans to work one day at a time in his bull riding career.
"I focus on things day by day," Davidson said. "I don't focus as much on the greater goal, I just take it one bull at a time and I believe that I can ride anything they run under me. If you do that everywhere you go, just get them rode then things will come your way. There is no World Champion with 100% riding average, so you just have to take it all day-by-day in my opinion."
"Coming down here I didn't have too many goals. I know at the start of last year I was slow to get into things. That is my thing every year, being slow into the season, then things picking up at the end of the season. I was sick of that. And with the end of this year going well, and Stefan wanting to come down too, I just kept riding."
Davidson says that he wasn't sure what the goals for the season were until after he got those first couple rode in Lexington. And now he has his sights set on the 2023 PBR Pendleton Whisky Velocity Tour Finals.
"After Lexington, we didn't think it was a goal at first," Davidson began. "I like to set lofty goals too, and I figure that I can be working to stay in the Top 5 in Canada and have a shot at closing out Canada. I don't see why not."
Travelling with anyone, for that duration in that small of space is a test of any friendship.
Professional or not, spending that much time with anyone will bring out the best, and worst.
For Davidson, he says he appreciates Tonita keeping the trip organized, but said you can't take the country boy to the big city.
"Travelling with Stefan has been pretty good, he likes to keep things pretty organized in a way. He has been pretty good on entries and keeping us in line. I am thankful to him for that. Stefan and I keep things pretty entertaining."
"He is always mesmerized by everything to do with the big cities," Davidson concluded. "All the new stuff in the new cities is very eye opening for him, I get a kick out of it. That is pretty funny."