Top Storylines from an Electrifying 2022 Year of PBR Canada Action
By: Covy Moore Wednesday, January 4, 2023 @ 12:44 PM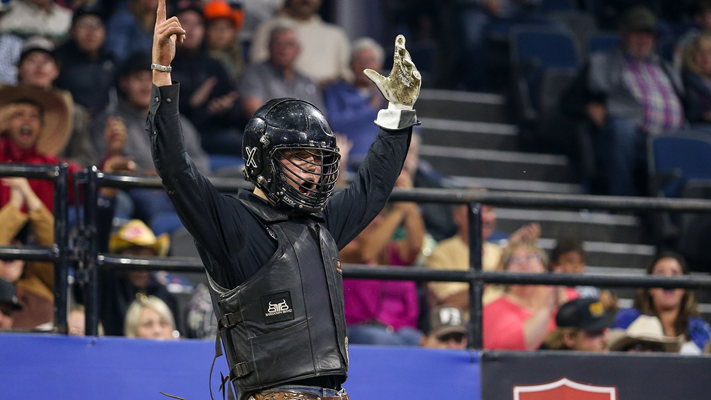 CALGARY – The 2022 season was another one for the record books in Canada. With dozens of PBR Canada Touring Pro events packed into the summer and a very strong lineup of PBR Canada Cup Series, presented by Wrangler events throughout Western Canada, it was all to win for the riders of PBR Canada. 
As the tour photographer, I was lucky enough to be at 34 performances of PBR bull riding in 2022. As a lover of sport, I have a deep appreciation for the storylines most sports write throughout a season, but no other sport quite compares to bull riding in the tales it tells. 
Looking back on a year in which we saw a brand new PBR Canada Champion crowned in Calgary, Alberta's Nick Tetz, I wanted to reflect on some of the stories I witnessed and captured last season. I present my top five stories of 2022, and one honourable mention as well.
My honourable mention of the top storyline from the 2022 season would undoubtedly be the return to a regular, jam-packed schedule. With more than 40 events across the schedule, the committees, event promoters and partners who bring the PBR Canada schedule to life each year deserve a pat on the back. After two years of uncertainty, it was obvious this season that the public wanted bull riding back.
From the event of the year, the Czar Lake Bullarama, all the way to events like the season kickoff in Camrose, a rider-produced event to the major producers in Jason Davidson's 3D Bull Riding, Cody Snyder's Bullbustin' events and Chad Besplug's Alpha Bull events, the stakeholders of this sport deserve a thank you for ensuring bull riding continued to grow after the past two seasons. 
There were so many events throughout the summer that entries across the board became difficult, with a couple events seeing 10 or less riders able to attend as they were being pulled in countless directions throughout the summer. Producers have taken notice, and I know the 2023 season is going to be one for the ages. 
5. In the No. 5 spot would be the rise and domination of Logan Biever. There is no question that bull riding is a rough and tumble sport, and working towards seasons where you are able to stay healthy for the entire year can be tough. Bumps and bruises happen. But for Biever, he had the season of his career. 
Biever began riding in the PBR Canada ranks in 2016. With experience south of the border since, and plenty event wins to his credit, this past season was the best on record. I have always enjoyed watching Biever develop. My first year chasing this sport full time was the first season he competed. And I like that connection. 
Following a stretch of 10 events finishing 6th or better, Biever found himself on top of the National Standings heading into the busy, but crucial, later part of the 2022 season. Being on site for Biever to take home a rodeo event title with a 90-plus-point ride in Armstrong, B.C., only to double down, going bull-for-bull the next night with the same rider, Buttar, was electric. Biever ended up a few points short the following night, but having made a different bull choice, he still placed and counted more points towards his season-long tally. 
Unfortunately for Biever, his season would be cut short with a wreck at the PBR Canada Cup Series, presented by Wrangler event in Grande Prairie, Alberta. A couple day stay in the hospital was an unwelcome addition to his record year. However, his advantage was such that even after four more days of competition the rest of the roster were able to take advantage of, Biever only was relegated to 5th in the season. 
Writing for the PBR each week has kept me close to these storylines, and having to have conversations with these athletes after their victories, but also after their defeats, has given me unique insight into some of these riders. Biever was confident and positive until the moment he was told he shouldn't compete in Edmonton, Alberta. I cannot attest to the pain of that moment, but what I know is that 2022 Logan Biever was nearly unbeatable, and he will be bringing that intensity back to the arena in 2023. 
4. Coming in at No. 4 would have to be the 2022 PBR Canada event of the year, the Czar Lake Bullarama. 
The PBR Canada schedule is packed full of incredible events. With professional event producers mixed in with local committees and event riders who put on these events, there's something for everyone. I don't envy having to cast a vote for the top event of the year. I feel honoured to be a part of every event I work, but even moreso with those events which strive for that event of the year title. 
This past year in Czar Lake was the second year that the committee has had their new VIP suites behind the bucking chutes, and they were packed. Not only does the community come out to the entirely surrounded seating arena, but the business community ensures this event is well supported. 
Starting off with wild pony racing, including a junior bull riding, and bringing in PBR Canada Cup Series entertainer Brinson James, the Czar Lake Bullarama brings something for absolutely everyone. A rider, personnel and committee meal behind the scenes is a lovely touch during that part of the season, where many riders would have to make the drive to Southern Saskatchewan for an event 10 hours away. 
Led by a committee of passionate and hard-working individuals, this event is a deserving recipient of the 2022 PBR Canada Event of the Year title, for a second time in as many years, no less. 
3. The 2022 Bull of the Year race slides into my No. 3 slot. Year after year the bull of the year race comes down to that last trip or two. The cream rises to the top and it did again this past year. 
Heading into the final performance of the 2022 PBR Canada Finals, it was a battle between 2 Bit Bucking Bulls' Happy Camper, a two-time PBR Canada Bull of the Year, Wild Hogg's Phantom Fury and 2 Bit's Langham Kid. 
Happy Camper was carrying a 44.5-point average bull score, while Phantom Fury was only .1 point off with a 44.4 average on the year. Langham Kid was marked on average 44.2 points in 2022. 
Langham Kid would be matched up against Buttar, who entered the finals as the season leader, marking 44.5 in a backoff. Two bulls later, Buttar's friend and travelling partner Chad Hartman would pick Phantom Fury, and at 6.53 seconds would see 45 points for the bull. 
In a heartbreaking turn of events, the reigning bull of the year, Happy Camper, would stumble just a little right at the start of the ride, after his rider Cody Coverchuk was put on the clock. Still scoring a respectable, but ultimately too few 41.5 points, it would be the white muley from Wild Hogg's Bucking Bull taking the title. 
In my position at these events, I, just as the contractors, don't often know right away who is winning this race. While I feel most of the PBR community would have been happy to see Happy Camper take home the title for a third season, seeing some young blood bring the Wild Hoggs, a former Stock Contractor of the Year award winner, back to the forefront was incredible. The people who choose to breed, raise and haul these animals all over the country are true heroes of this sport. Without them, we wouldn't have bull riding. But in Canada there is a camaraderie that is magnetic. It's hard to not want to talk to some of these folks who do this work and learn more about the animals they love so much.
2. For me, Nick Tetz's commanding season was my No. 2 storyline from 2022. 
Starting off at the Ty Pozzobon Sports Medicine Team Spring Training event and ending with an 88-point score on a bucker called Brand New Guitar, 22-year-old Nick Tetz left Roger's Place in Edmonton as the 2022 PBR Canada Champion. 
Ever since claiming the 2018 PBR Canada Rookie of the Year title, I have felt that Tetz could take home a title. His positive attitude is an asset to the young rider, but it has been his willingness to make bull riding a career, from the mental side of the sport all the way down to working with Acumen Performance, that makes him take the sport so seriously. 
That is not to say the rest of the dressing room doesn't take their sport seriously. Tetz was one of a couple riders who could have walked away the champion in 2022 on that final day, but it's evident regardless that his efforts are paying off. 
He has come a long way since that 2018 season, and being able to record his entire career up until this point is special to me, as it is with any rider in this dressing room. Be it that he is from my own hometown of Calgary, or be it that he can't seem to keep me shutout in the odd NHL video game title matchup in his van, I am a fan. 
Tetz proved in 2022 that bull riding is unpredictable. I was unsure of what exactly needed to happen on that final day of competition for Tetz to be crowned champion, but I know there were three other men with an incredible shot at that title. Buttar, Brock Radford and Coy Robbins were all getting on their last bulls knowing their name could be on that cheque, but ultimately the math said Tetz was the man this year. 
There is only one storyline that, when I think of 2022, comes to the very top of the heap. And it is the retirement of Zane Lambert. 
Lambert is an icon in Canadian bull riding. With a 16-year career of winning, Lambert claimed a total of three PBR Canada Titles, four qualifications to the PBR World Finals and never missed a single PBR Canada Finals since its inception in 2006. 
I have been lucky enough to have photographed Lambert for the PBR since 2016, which account for the last six years of his career. He claimed the PBR Canada title in 2013 and 2018, but for me one of the craziest parts of his career in front of my lens is that he continually would find himself a bull or two away from that third title. 
But, as anyone who knows Lambert, the rider pales in comparison to the person he is. He was continually a smiling face in the dressing room. He carries himself with a professionalism rivalled by only those in stick and ball sports. If you ask anyone about Lambert, they will talk about how good of a person he is. And he is. 
That final performance at the 2022 PBR Canada Finals was a reminder of why this community is so special. They recognize those who have been a part of making this sport what it is today. Evident by PBR Canada creating a lifetime achievement award in his name, by the dozens of riders, personnel and his entire family coming down to the dirt to send him of. Or maybe simply by the fact that he still managed to be in the placings at his final appearance in the PBR, Lambert is a legend. 
My own personal experience around Zane is one of caring. His demeanour is gentle, until it's time to compete. But even then, it's a calculated intensity that I wish I can experience one day. Be it filming the new PBR Canada photographer having too good a time in Ottawa, Canada, taking my first "air bull ride" trip, or to those moments during his retirement commemoration at the 2022 PBR Canada Finals, where most in the building were choking back tears, Lambert included, Zane is a friend to many. 
I wish he could have been at 100 percent in 2022. Suffering two different injuries that would sideline him twice, he fought through injuries to be back at the Finals. But the thing about Lambert is, I don't think we have seen the last of him. Lambert will remain involved in some facet in the PBR, he just loves the sport too much. 
For me, the 2022 PBR Canada season is special. There were new events, new riders, new personnel. It was a successful year from an imaging standpoint, from a storyline standpoint and, after this short break we experience over the winter in PBR Canada, I am reinvigorated to tell the stories of the bulls, the riders and the entire PBR Canada community in 2023.