Stefan Tonita Heads Stateside to Sharpen Up Ahead of Elite Cup Series Season Launch Event
By: Covy Moore Wednesday, January 11, 2023 @ 1:27 PM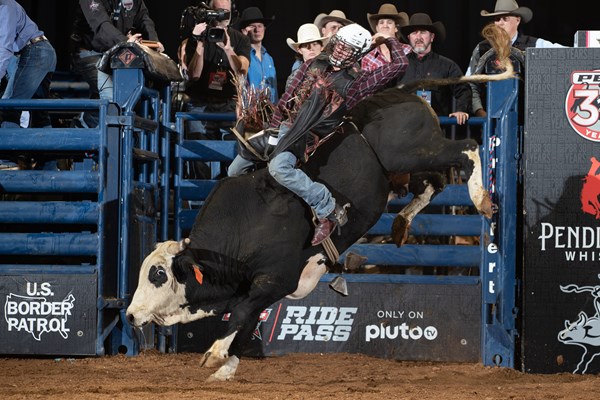 AIRDRIE, Alta. – Stefan Tonita is no stranger to competing in the United States.
Having mounted a successful campaign riding bulls with the LCCC Golden Eagles in Laramie County, Wyoming last year, Tonita followed that with a 20-event PBR Canada campaign and a busy BRC and CPRA schedule.
With the 2023 season in full swing, Tonita, along with Canadian young gun Weston Davidson have driven south for a month-long stint on the Pendleton Whisky Velocity Tour.
As with most Canadians, there is an inevitability to making that trip south.
To become the best, you must ride against the best. And the best exist on the PBR Unleash The Beast.
 During the slower winter months in Canada, there are less events for bull riders to compete at, but the United States is often chalk full of opportunities to compete
For Tonita, the trip south has been on the books since the summer of 2022.
"Weston and I we were talking about this all summer in a way," Tonita began. "We want to stay busy. We aren't really in a mood to work. After Dawson Creek, we won some money and bought our PBR world cards." said Tonita.
"We are getting into these Velocity events, so we are just attacking those, plugging away."
Tonita and Davidson both made their Velocity Tour debuts last weekend in Lexington, Kentucky. Davidson led the duo finishing seventh, while Tonita posted a 20th place effort.
Both then travelled to Denver where they will compete this evening.
Tonita's hope during their stint south of the 49th parallel is to sharpen the tools in his belt ahead of the elite Cup Series, presented by Wrangler, getting underway Feb. 4 in Red Deer, Alberta.
Davidson is currently No. 2 in the early 2023 PBR Canada Championship race after the first two events, while Tonita has gone 2-for-4 to rise to No. 7.  
"My mindset with it is that we want to get better at riding bulls, and you only have so much of a window to do it," Tonita explained. "There is so much opportunity down here, and money to be won as well, by the end of the PBR season into the Dawson and Lloyd weeks, Weston and I were picking up gears and starting to put stuff together."
"I think the confidence came from all the competing last year and starting to come into our own. It's a different world down here, but at the same time it's the same."
"Tanner Byrne has inspired us to come down, he has talked a lot about it since we became friends these past few years. He is a big inspiration to come down here and just do it."
At their first event south of the border in Lexington, both Tonita and Davidson converted in Round 1 inside Rupp Arena.
Tonita said it was a boost to see Davidson ride and then cover his first one at their first event in the United States.
"I am glad Weston went first, because after I saw him strap his bull for 86, it all kind of clicked in that we were really there and really doing this," Tonita laughed.
"It was super cool, he came back and helped me, and I was able to get one rode too. It was freaking crazy. At the same time we are in the thick of it, we just have an opportunity to get on so many good bulls and we are fixing to have some success for sure."
Tonita wants to return home with the skills to be able to cap off events with wins and be confident against any of the championship round bovines Canada has to offer.
"Being able to ride the short rounders, because if you can do that you are in an elite class," Tonita explained. "If we can dial that in, that is my main goal. Then you can just go anywhere you want. We are getting close too, I think. That is my biggest goal. I would like to make the Velocity Finals too, come back to Canada and keep that momentum rolling."
While the lessons being taught are primarily in the arena and on the back of bucking bulls, Tonita said they have already learned that living out of a minivan and driving across multiple states can take its toll.
"We came down in a minivan, so we are kind of roughing it. We are grabbing hotels at the events and stuff, it's been good so far," Tonita said. 
"We are making miles, that is for sure. We drove down to Lexington, Kentucky, then drove to Dallas, Texas. Now we are driving clear back there for two weeks. In hindsight, we might fly next time."