The Morning Line – Red Deer
By: Tanner Byrne Saturday, February 4, 2023 @ 11:35 AM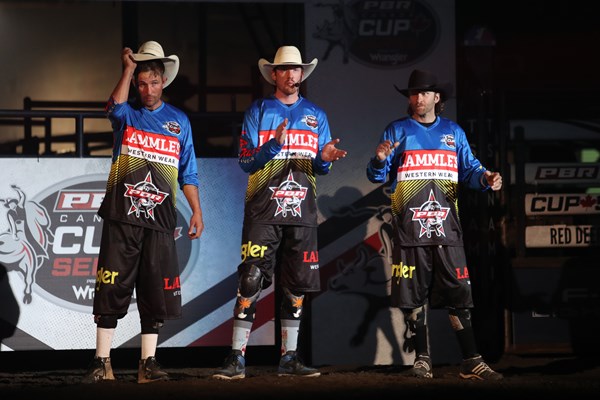 RED DEER, Alta. – It's been nearly three months since the last bull bucked inside Rogers Place in Edmonton, Alberta, as the most intense PBR Canada Championship came to an electric finish.
And now the time has finally come that we are ready to turn the focus to 2023, as the elite Cup Series, presented by Wrangler, launches tonight in Red Deer, Alberta.
RELATED: Click here for the complete daysheet.
Who will be this season's Champion? Well tonight inside Peavey Mart Centrium, the nation's finest will begin their quest for the coveted title and accompanying $50,000 bonus, and some front-runners are sure to emerge.
RELATED: Game Notes – Red Deer.
Below are bullfighter Tanner Byrne's bets for Round 1 of the event from Red Deer. Let us know your thoughts and your picks for the Cup Series event by tagging @PBRCanada on Twitter.
Tickets are still available and can be purchased at the Peavey Mart Centrium Box Office, online at TicketsAlberta.com, and charge by phone at (866) 340-4450.
Nick Tetz vs. Tractorlands Freakshow
Great matchup for the reigning Canadian Champion bull rider. Look for Nick to continue where he left off last season and try to go for back-to-back titles this year. Nick has been in the States, going hard and riding really well. I saw some videos of him riding in the practice pen the other day and he rode a bull that looked really similar to the bull that he has in Tractorlands Freakshow. Should be right in the gate, to the right, away from Nick's hand and Nick should style him up for an 86-87-point score.
Coy Robbins vs. Wolf Bait
Coy has been going this winter, he's been riding really well down in the U.S., and is bringing it back to Canada. Look for Coy to also continue where he left off last year in Rogers Place where he went 4-for-4. Coy is coming into his own. I think this is going to be a really great year for Coy, some people have him picked as the possible Canadian Champion this year, and I think that he has all the potential in the world to do that. He's on a bull that should fit his style well, right in the gate to the right, little bit of backing up. This bull bucked him off a few years ago, but Coy is not the same bull rider that he was then. Look for Coy to ride this one for an 86-poitn score.
Dakota Buttar vs. Out Of The Blue
Dakota Buttar didn't finish off his season the way that he wanted to in 2022. Look for him to come out in 2023 with redemption and vengeance in his eyes. He wants to win this title one more time. Now the veteran of the group, he looks just as good as he did when he was winning those Canadian Championships. This bull should start to the right and switch it up and go back to the left. One that they rode a few times, and one that you can get a good score on. Dakota should sit up there and ride this one for 85 points and set himself up good to get back to the championship round.
Chad Hartman vs. Deep Creek
Chad's got the fire, he wants to go hard this year. He's entered some Velocity events in the U.S. that he is heading to right here after Red Deer. It's good to see Chad with that confidence, stepping out of his box and wanting to be a Champion and ride to the level of talent that he has inside of him. This is a great bull to do it on. Deep Creek of Nansen Vold's is one of our top bulls going in Canada, in my opinion. Last year he was only a three-year-old, this will be his breakout year as a four-year-old. Look for this bull to be in the short round after this. But look for Chad to possibly take the round win with an 88-89-point ride. This bull should fit Chad's style really well. He got on some bulls in the practice pen the other day that also look similar to the bull that he has here in Deep Creek. He knows what this bull is going to do and look for him to step up and knock it out of the park.
Jared Parsonage vs. Smoke Bomb
Jared is coming off the NFR last year, always one of our top talents in Canada. Look for him to keep that momentum rolling into Red Deer to kick off the Canada Cup Series events. Jared is wanting to win that PBR Canada Championship. He's a guy that stays on more guys than a lot of guys do, and he beats them in the average. Look for him to ride this bull. I am not too sure about this bull, I heard that he should be right in the gate to the left, a pretty good young bull of Nansen Vold's. Should be right into Jared's hand and one that he should be excited to have. Get a good score in that mid-range, 85-86, come back to the short round, stay on two. Watch out for Jared Parsonage to start things hot in Red Deer.