Parsonage and Hard Not To Get Make Perfect Pair En Route to Red Deer Cup Series Win
By: Covy Moore Wednesday, February 8, 2023 @ 10:56 AM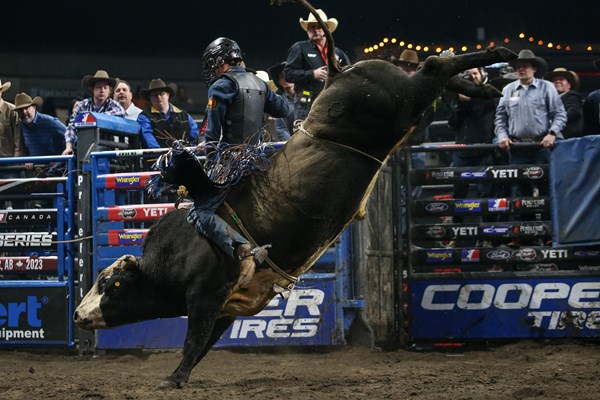 AIRDRIE, Alta. – Heading into the championship round of the first PBR Canada Cup Series, presented by Wrangler, tour stop of the year, event leader Jared Parsonage saw a familiar name in the draw – Vold Rodeo's Hard Not To Get.
Three months prior, Parsonage covered that very bovine during Round 3 of the 2022 PBR Canada National Finals en route to the victory inside Rogers Place.
This past weekend, Parsonage replicated his past success.
Again making the 8, Parsonage was marked 89 points atop Hard Not To Get to take home the win by a narrow 0.5-point margin over 2017 Rookie of the Year Coy Robbins.
"It is always good when you win to start off the season," Parsonage said. "In my opinion, you can't make a bull better than that. He jumps and kicks, and it doesn't matter which way he goes. You do your job and ride good, it's a chance to win every time."
After watching Jake Gardner and Robbins score 90- point rides, Parsonage felt the pressure.
"It was a fun short round," Parsonage began. "The long round was typical. There were lots of rides though. Coy and Jake made darn good rides. It was good to see. That is one thing about that bull going into it. I had a couple point lead going into the short round, so I knew that if I picked a bull like, that they would have a hard time beating me on him."
"They came closer than I thought they would," Parsonage said further on his competitors. "But when you get a bull like that rode, it's hard to beat you."
Being a momentum-based sport, Robbins is riding at an equally impressive clip as Parsonage. Both riders went 4-for-4 in Edmonton and went 2-for-2 this past weekend in Red Deer.
This success is evident in the national standings as Parsonage is ranked No. 1, just 11 points ahead of No. 5 Robbins.
Parsonage says he is impressed with Robbins as of late and will even be travelling with the 23-year-old over the next couple weeks through the United States.
"He is riding good. He has come into his own. He has been through the ups and downs that all these young guys learn. He has been around a while now. He knows how to win now, and it shows."
"He has put in the time it takes to get good at this," Parsonage continued. "There are good bull riders, and good bull riders who know how to win and he has become that good bull rider who knows how to win."
"He hasn't been making it easy on me. I'll keep him chasing me for now. He is coming down south with us for a little bit. He is a young guy who has his life in line, is mature, but at the same time is gung-ho to go. I am excited for him. The sky's the limit. He said one time I want to know how to be able to beat you. I told him that would come before he knows it, I am getting older and he is hitting his prime."
As for what Parsonage's goals are in the 2023, the Maple Creek, Saskatchewan native, fresh off his first qualification to the Wrangler National Finals Rodeo, says another trip to Vegas is top of mind, but that the PBR Canada Cup Series is a priority as well.
"That is always a hard question to answer at this point in the year. My main goal is to go back to the NFR. Where the PBR Canada events fit into those is I plan on hitting all these Cup events."
"I think the focus will be these Cup events. A lot can change really fast though, so that is always a tough question to answer at this time of year."