Griffin Smeltzer Building Momentum with Eyes on World Finals
By: Covy Moore Wednesday, February 15, 2023 @ 8:44 PM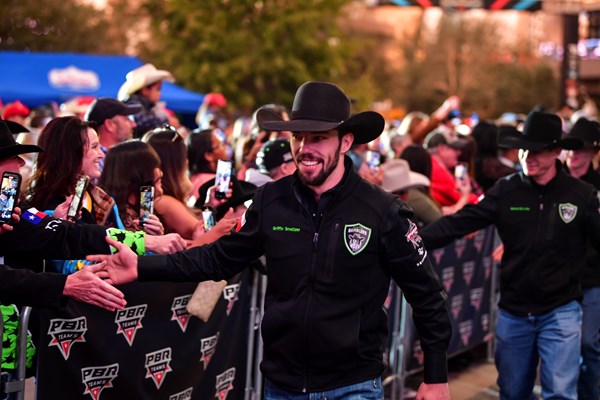 AIRDRIE, Alta. – Canadian sensation and Austin Gambler rider Griffin Smeltzer is having a blast stateside.
Fresh off of a third-place finish in Palm Springs, California, on the Velocity Tour last weekend, Smeltzer is hoping to turn momentum into his opportunity at the PBR Unleash The Beast.
"I am having lots of fun down here," Smeltzer said. "That is the thing that is making it so easy for me, I am just having so much fun."
Riding Muscles for 86.5 points in Round 1, Smeltzer was second in the event entering Championship Saturday. However, he would have a tough remainder of the event, bucking off in both Round 2 and the championship round. His 1-for-3 effort earned him a crucial 54 PBR Velocity Global points, and marked his third consecutive where he earned points.  
"It was a really good bull riding," Griffin began. "They had a really good crowd. Most of these bull ridings do, but they don't see bull riding all that often in California, so people were really loud."
"That first little bull I got on was a pretty good sucker. I know he had gotten ridden for a bunch of points before, so I was excited to get on him. It worked out. Got on a couple tougher ones after that and stubbed my toe a little bit."
For any rider making their way through the United States competing at both PBR Touring Pro Division and Velocity Tour events, the goal is to make the PBR Pendleton Whisky Velocity Finals and use that event to make the PBR World Finals.
But Smeltzer wants to push forward and utilize the new PBR points system to earn a quicker berth to the Unleash The Beast.  
"My plan is to make it to the Velocity Finals and do good there and turn that into a spot at the World Finals. That's the goal right now. I do plan on coming back to Canada this year, probably in May or so, hit some of those events. Until then we are focused on trying to get as many points as we can and trying to make the World Finals."
"It's good if you are riding good, you get your shot, that's the way it should be," Smeltzer added on the points system. "If a guy can get a couple events won then you are pretty set as far as the last four events go. As long as you are placing in the top five consistently, you have that shot to get in there."
Alongside his plans to qualify for the PBR World Finals, Smeltzer said he will let the second half of the season take care of itself for what opportunities he is given between PBR Teams season and the drive towards a PBR Canada National Finals berth.
"If a guy can have a lot of success early this year, make that big statement in the first half, it would go well for a guy to get one of those permanent spots on a team," Smeltzer said.
"I am looking at my first half of the year right now. I want to make it to the World Finals, that is the goal."
With his most recent success being surrounded by familiar faces in reigning PBR Canada Champion Nick Tetz, and young Canucks Stefan Tonita, Chad Hartman and Weston Davidson, Smeltzer said it's nice to see some faces from home, but it's even better to see that many Canadians working towards goals stateside.
"It's good to see a bunch of these boys down here. I have made a lot of friends down here, but it's always good to have that home feel at some of these events."
"Weston and Stefan came down earlier this year, they have been going to a bunch of them. They have been having successes too here and there. They are really stepping up their game and it will help them in the long run."
With Davidson capturing his first event win in 2022 in Bowden, Alberta, and Tonita coming into his own through his college rodeo performances and a strong start to 2023, Smeltzer says their experience in the United States will be crucial to them leveling up in their career.
"Just the experience of getting on some of the calibre of bulls down here, not to mention, those guys stay on a few down here, at the very least it is doing a lot for their confidence. If a guy is confident, that is 90 per cent of it," Smeltzer said. 
"I look for them to have a lot of success up there in Canada this year."