Defending Canadian Champion Nick Tetz Taking Velocity Tour Lessons to Lethbridge Cup Series Event
By: Covy Moore Wednesday, February 22, 2023 @ 9:29 AM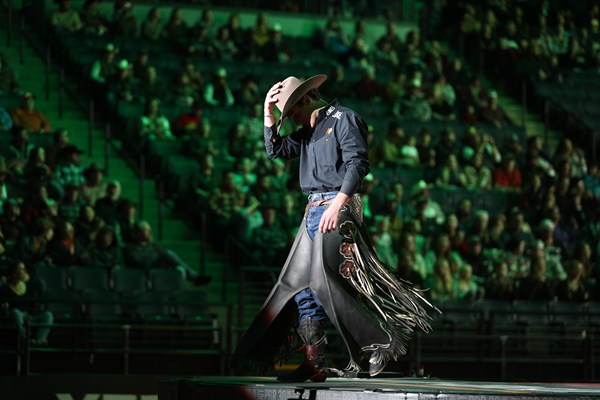 AIRDRIE, Alta. – Defending PBR Canada Champion Nick Tetz is home from another trip stateside.
Earning a round win in Cedar Park, Texas this past weekend which earned him a few more crucial Velocity Global points, Tetz is focused on the PBR Canada season and pushing towards a second title.
Tetz wasn't the lone Canadian competing last weekend in Cedar Park. While Tetz' 87.5-point score on Riser won him Round 2 of the Cedar Park Shootout, it was an 86.5 and an 87 that propelled countryman and Austin Gamblers standout Griffin Smeltzer to the event win.
Tetz said that Smeltzer's composure on the second day of the event showed how much of a competitor his fellow Albertan really is.
"I am super happy for Griffin, because at those types of events, those two-day bull team events, they cut the field from 35-30," Tetz began. "They had to go off buck off times for the last few guys.  Griffin was one of the last guys who made it back, so to come back and ride two bulls and win the thing, that shows you how much mental goes into bull riding. It's what is going on in your head if you can handle shit."
"Griffin showed that he is a true competitor and is there to win no matter where he is in the order. And he did that."
Tetz has competed at six PBR events in the United States over the past two months, and while his results are varied, he says there are both positives and negatives heading home.
"It's bittersweet. Because it's nice to win a round, and it makes you feel like you belong. Going consistently the last two months, now I have a few friends in the locker room, I think I can ask about anyone to help me on. You figure out a crew down there."
"It's nice to start feeling more comfortable down there in the locker room," Tetz continued "But at the same time I'm pretty upset to let a couple good opportunities slip by me last weekend. It is what it is."
With the PBR Canada Cup Series, presented by Wrangler, season continuing in two weeks in Lethbridge, Alberta, Tetz says he is looking forward to returning to an event that arguably set up his run to the 2022 PBR Canada Championship.
"The first time I went there I won a long round, placed deep in the event. Last time I was there, we walked away with wins on both days. It's always nice to go somewhere you've had previous success before."
"I am going there to win," Tetz added. "I get to see all my buddies, I have a few people who were missing from Red Deer because of injuries, and I think they are headed back for Lethbridge, it will be good to see them too."
With one weekend off, Tetz still plans to get on a few practice bulls to keep sharp ahead of the Lethbridge tour stop at ENMAX Centre on March 3-4.
"As far as a weekend off, I am trying to get on a few this weekend. I like to keep getting on, and then running drills in my spare time," Tetz said. 
"I will likely go to Acumen Performance and get a good workout in, figure out some practice bulls somewhere this weekend. Then roll into Lethbridge knowing I have put the work in, and I can go down there and just go compete and have fun."
As the elite PBR Canada Cup Series readies to roll into Lethbridge in its historical March time slot, Tetz said that city is one of the best that the PBR visits in the entire country.
He urges anyone looking for a fun Friday and Saturday night to go online and get their tickets now.
"Do it. I don't think there are many people who have come to any of our events who have regretted buying those tickets. Everybody that comes to the PBR has a great time. There is so much crowd interaction at our events, we have Brinson James at all our events this year, he does so good with the fans. After the event we are signing autographs up top, you can come meet some of the guys, get your program signed. There aren't very many sports left where you can get that face-to-face interaction with the competitors with just a regular ticket."
"You can't just go down to the glass and meet your favourite NHL or NFL star," Tetz concluded. "It's going to be nice to be back at Lethbridge at the regular time of year. I am excited to head down south."