Dakota Buttar Weathers the Winter, Looks Forward to Cup Series Season Launch in Red Deer, AB
By: Covy Moore Wednesday, February 1, 2023 @ 10:09 AM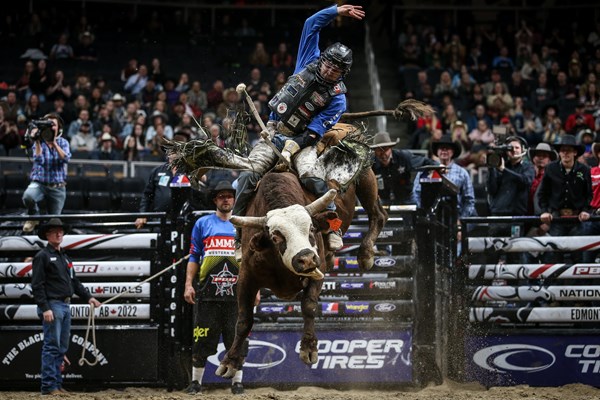 AIRDRIE, Alta. – After a fantastic regular season followed by a tough PBR Canada National Finals in 2022, Dakota Buttar is ready for the 2023 Cup Series to get underway this weekend in Red Deer, Alberta.  
Last season, despite leading the national title race entering the Finals, Buttar covered just one bull at the year-end event leaving him No. 3 in the rankings when the dust settled.
After taking a couple months off through the winter, Buttar says he is ready to get back to the big show.
"It was probably the busiest season in PBR Canada I have ever done," Buttar reflected. "Everyone had events and there were a lot of new events too. It was fun though, it felt like it made up for the lost ground over the past couple of years. We hit everything we could."
"You can tell when a guy is coming in fresh or worn out, and I was definitely worn out at the end of last year and I needed to not think about bull riding for a while and do my own thing," Buttar added. "Get to missing it again. I was getting a bit worn out and sour, not really wanting to be there. It showed at the Finals and those last few events. In this sport you can't be like that."
Now that he is back to missing it, feeling good and fresh, Buttar's eyes are on Red Deer, Alberta, for the calendar kick off for the 2023 PBR Canada season.
"It is nice to get into these big buildings in the winter again. After sitting for a few months, I think everybody is ready to go. I know I am," Buttar said. "After taking a step back, it certainly helped. I am looking forward to getting started off on the right foot."
Defending PBR Canada Champion Nick Tetz will be back in action as well, and while Butter and Tetz are going in feeling good, Buttar says you never know who is going to show up and show out at the start of a season.
Buttar says to keep an eye on his own travelling partner, Chad Hartman.
"Everybody is going to be firing. Everybody is fresh and ready to go. The way I saw Chad ride (at the X6 Ranch practice pen) last weekend, it is about as on point as I have seen him. I think he is excited to go too. In my opinion we have to watch for Chad because he is going to be on it this weekend."
During his time away from competing, Buttar's winter was spent abroad for his honeymoon, and tending to his own bucking bull operation in Eatonia, Saskatchewan.
In 2023, Buttar is excited to work with some of his own three-year-olds.
With some excellent buckers coming out of Buttar's operation, complete with an ABBI Finals class win for his wife Caitlin, if the futurities are any indication, they have some talented bulls coming up.
"I have four Uptown Funk calves that have been really good so far too," Buttar explained. "I am excited to take them to some futurities this year. Then with yearlings, I haven't bucked them yet, but they are out of a buddy of mine, Kendal McDonald's bull that is bred up pretty good. They are a flashy looking group of bulls so hopefully I can get a dummy trip in the next month or so and see what I have got."
The 2023 PBR Canada Cup Series, presented by Wranglers, begins Saturday, February 4 in Red Deer, Alberta, at the Peavey Mart Centrium.
Tickets are still available and can be purchased at the Peavey Mart Centrium Box Office, online at TicketsAlberta.com.  Charge by phone at (866) 340-4450.