Tyler Craig Hurtles Towards Top of PBR Canada National Following Tofield Win
By: Covy Moore Wednesday, August 16, 2023 @ 7:38 AM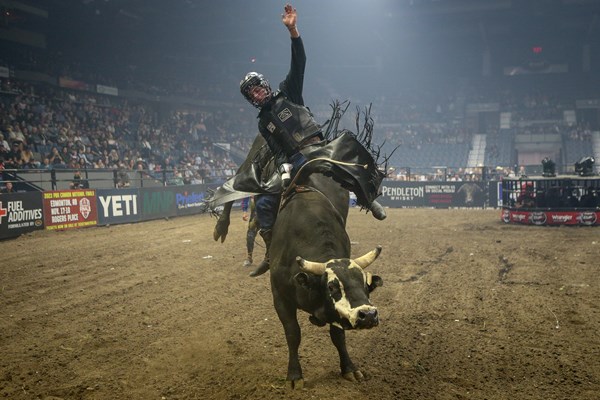 AIRDRIE, Alta. – In 2023 there is new name making a meteoric climb up the PBR Canada national standings.
Fresh off his second PBR Canada win, Crossfield, Alberta's Tyler Craig has quickly become someone to keep your eye on week in and week out.
This past weekend, he launched himself to within one position, and less than 10 points, of the nation's top 5 with a win at the Touring Pro Division's Tofield Bull Bash. Tying for Round 1 win with an 86.5-point score atop Times A Tickin, and winning the championship round with 87.5-point score aboard Whiskey Clouds, Craig said achieving that win was a big moment for him.
"Tofield felt really good," Craig began. "I did win Longview, but I think we had seven guys there and I only had to get one rode to do it. Tofield felt like the big real PBR I wanted to win."
"It was a huge confidence booster. It just feeds confidence and is fuel for my fire. When you see your name going up in the standings, that definitely helps make you want to keep going hard."
The win launched him to the No. 6 rank in the Canadian standings, and he is now just short of 184 points behind the leader.
This season marks Craig's fourth season in PBR Canada competition. Beginning his career with a handful of events in 2020, today, the young bull rider is a completely different athlete.
And what has changed in those four years? Craig says confidence.
"I think the main thing is just that much more confidence and the feeling that I belong there," he explained. "When I first started going to PBRs, I was just happy to be there around those guys, the atmosphere and all that. Now it's like, I am riding with you every week, I want to beat you now. I feel like I can on any given day."
"It's really in the way you carry yourself. The attitude that you show up with and you leave the bull riding with. Not letting anything rattle you or get to you. If you got a bad one in the chute, staying cool and calm is how you show your confidence. Not letting things get to you. Drawing the one you might not want to get on, but staying calm and cool is really how you show that confidence."
"And knowing that you put in that work before the bull riding. Whatever that may be. For me it's a little workout, eating healthy, and making sure I am feeling good."
Goals and expectations are a critical aspect of bull riding for anyone competing in the sport to manage. Whether you're a stock contractor, producer or rider, being able to set your goals and expectations are imperative.
For Craig, he says that taking the goals and expectations one step at a time are to credit with his surge this season.
"I am more the one step at a time type guy, set those smaller goals and check them off as I go. Not so much the one goal and only focus on it."
 "For the PBR, I never set my goal for winning a PBR Canada Championship this season," Craig continued. "That is obviously what everyone wants to do. I want to be in the hunt come the Finals, be inside that Top 5 at Finals. I want there to be that chance when I get there."
"I wanted to win a PBR and win a PBR award buckle. A buckle with the PBR logo on it. I got to check that off after Tofield. That was the little goal we hit this weekend, but I am planning on getting a lot more buckles with the PBR logo on it."
With all that said, however, Craig added that if he hits his goals this season, then walking away with a PBR Canada Championship would absolutely be a possible outcome.
"Just keep picking away at it," Craig said. "Going to a few more of these Touring Pro events, then we are hitting the PBR Canada Cup Series events hard. Those you want to do good at for sure, cause of all the points that are there. Staying healthy too, so come Finals you are in that Top 5. Then come Finals I know I will be in the hunt and my name will be batted around with the rest of the contenders for the title."
This coming weekend is the annual Glen Keeley Memorial Bull Riding in Stavely, Alberta.
Home to Canada's oldest professional rodeo, Stavely is also home to one of Canada's greatest bull riders, Glen Keeley, who lost his life some 23 years ago.
The event, which is run by a committee that includes a great number of the Keeley family members themselves, is one of the most sought-after buckles, and spur ride awards on the entire PBR Canada schedule.
For Craig, he looks forward to that event, not only because it was the first PBR Canada event he ever entered in 2020, but because of how fired up the opening of the Glen Keeley Memorial gets both the riders and the fans.
"That video definitely pulls at the heartstrings, that's for sure. It means a lot to be able to go to an event like that and represent a great bull rider," Craig said. 
"Easily one of the best bull riders that ever came out of Canada. To get to go to that, and maybe even win it and win that buckle with his name on it would mean a lot, that is for sure."
Craig will be at the 2023 PBR Canada National Finals, and with momentum, confidence and plenty of events on his side, if he is able to walk away from Rogers Place in Edmonton, Alberta, with the title he says it will be because of one thing.
"Because he never gets rattled. Cool, calm and collected and kept picking away at it."