Ashton Sahli Looks to Carry Glen Keeley Victory Momentum into Bowden and Beyond
By: Covy Moore Wednesday, August 23, 2023 @ 6:11 AM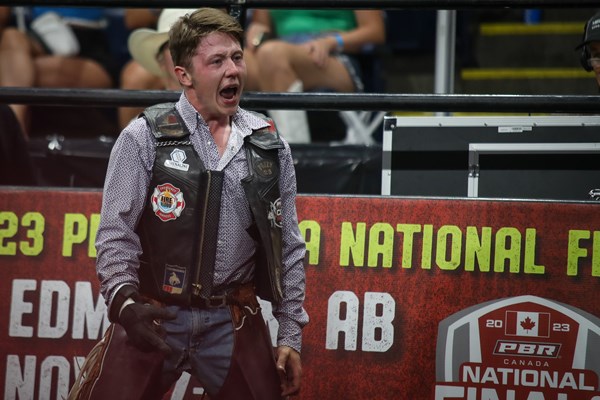 AIRDRIE, Alta. – Ashton Sahli has three PBR Canada event wins to his name. And the latest victory is by far the biggest of his career.
Riding to the win at the 2023 Glen Keeley Memorial Bull Riding in Stavely, Alberta, this past weekend was exactly the plan for the young cowboy.
Winning both rounds of competition, Sahli beat out current Canadian No. 1 Nick Tetz and No. 2 Cody Coverchuk, both of whom double entered.
Sahli began the 2023 campaign uncertain of his readiness after surgery for a nagging hip injury this past winter, but says he feels great about where his riding is right now.
"It was tough slugging off the start to get back into riding shape," Sahli explained. "But I feel like I am riding better than I ever had to date, and that's what we have been working towards."
"You go every weekend expecting to win and ride what they run under you, but when you get to go to Stavely and the Glen Keeley Memorial and watch that video, win that one. It's special. I won the long round and the short round, and that makes it even more special having that happen at that one."
The video referenced by Sahli is a collection of videos from Keeley's bull riding career, alongside legends of the sport telling stories about the Canadian Champion, and is a staple of the event, a part that most every bull rider looks forward to.
"We are in a generation now where not many knew Glen," Sahli said. "I didn't know him; I've just heard stories about how bad ass of a bull rider he was. He was a true staple in Canadian rodeo and Canadian bull riding."
"Standing out there watching that video, I am a guy that always shows up and gives 110% every time, but that video makes you try just that little bit hard. It's so cool with those old bull riding videos."
The win elevated Sahli to the No. 8 spot in the PBR Canada national standings, well within reach of the top competitors with a huge number of points still left up for grabs this season.
Sahli said seeing the top two, Tetz and Coverchuk, battling it out at the top of the standings simply makes him more excited to work his way into that fight before the end of the year.
"Nick is a really good buddy of mine. He is one of the best to come out of Canada, I think he has proven that. Cody too, he has a couple gold buckles on his belt," Sahli explained. 
"Seeing those guys at the top slugging it out, it feels good to be a guy coming from the back, because I have that same fire in me, I want to win too. I got to prove to those guys who are winning week in and week out to not stop looking over their shoulders yet."
For Sahli, the goals for 2023 were simple. Get into riding shape, then ride everything they matched him up with. But he added that everyone's mind is on Edmonton, Alberta, the PBR Canada National Finals and taking home the coveted PBR Canada Championship.
"Everybody that shows up each weekend has that main goal in mind, and that is to walk out of Edmonton with the buckle and $50,000. My goals each weekend are to show up and stay on the bulls they give me, and that goes all the way until Saturday night in Edmonton, show up and do my job."
If he was able to come-from-behind and take the title in 2023, Sahli said it would be because "winners never quit, and quitters never win."
This weekend Sahli will join his family in Bowden, Alberta, where the Adrenaline Bull Riding crew, headed up by Ashton's parents Jeff and Andria, will stage another memorial event, the Les Supernant Memorial.
This will be Sahli's first opportunity to ride at the event that means so much to his family and the Supernants.
"I am super excited to go to Bowden. This will be the third year my family along with the Supernants have put it on. I have actually missed out on it the first two years, so this will be my first chance to get on at it," Sahli said.
"It is a memorial event not dissimilar to the Keeley. It is in memory of Les Supernant, and they have been great family friends of ours for a long time. I have known Shawn and Peggy since I was a little kid. I cannot wait to show up, because I am ready to roll."