Coy Robbins Carrying Momentum Into Home Event in Camrose, Alberta
By: Covy Moore Thursday, April 13, 2023 @ 9:42 AM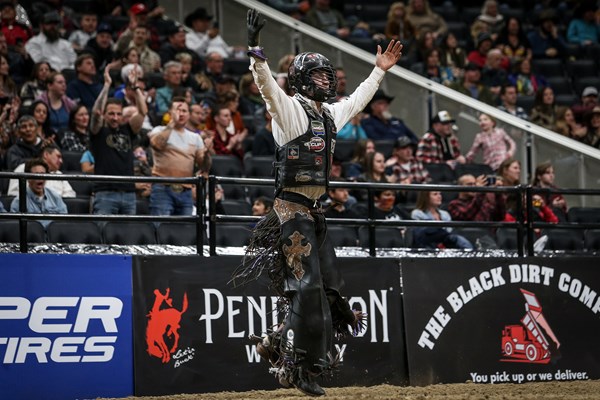 AIRDRIE, Alta. – After tying for the event win at the most recent Touring Pro Division stop in Marwayne, Alberta, Coy Robbins is once again within striking distance of the No. 1 rank in Canada.
After finishing a career-best No. 4 in the nation in 2022, including a strong season-ending surge, Robbins has found his stride.
"I said at Finals, you set goals, you write them down and you get after it," Robbins said. "Same vision this year. I have goals I want to achieve; it starts at the beginning and continues throughout."
"Marwayne is a great event," Robbins added of his recent victory. "I got the win there last year too and was lucky enough to get it this year too. I want to carry that momentum on through this early part of the year. Roll on."
With the 2023 PBR Canada schedule looking much more traditional to the pre-pandemic dates, one defining factor of the Marwayne event this year was returning to its traditional spring date.
"Rolling into this year Canada has a lot in store for bull riding – lots of PBR on the schedule. I am really excited. Kicking it off with a couple Cup events, and then a great crowd in Lethbridge rolling straight into these Touring Pros really takes a guy back to my rookie year and those couple years after that. It feels like it's back to normal again."
In Marwayne, the Camrose-native shared the winner's circle with Australian young gun Cody Fraser. For Robbins, he says it is excellent to have such talented rookies coming up, but also something for the competition to keep an eye on.
"He has shown not once, but multiple times this year already that he is someone who doesn't let go, he is all in," Robbins said of Fraser. "He is handy at what he does and a good guy all around, it's good to see."
"We have some Aussies up here, we've got some more Americans coming again. It will broaden the spectrum of bull riders in Canada. Fans will see that international field this year, and Cody Fraser is going to be one of those guys we all have to watch out for."
With just one event remaining before the Rose City Invitational on May 13 in his hometown, Robbins, who produces the tour stop, says yet another great event is in the works.
Hosting the first iteration of the event in 2022, Robbins says he, his partners and committee are looking to learn from last season and apply those lessons this year.
"It is shaping up to be bigger and better this year, and if you told me we could make it bigger and better after the success we saw last year, I might not have believed you, for a first-time event it felt like a staple event," Robbins said.
"It is down to crunch time getting everything in place and in line for the event. Put the right people in the right places and sit back from there. I will be coming to get the win again like last year, but however it shakes out I will be happy. It's nice to see the city of Camrose getting behind what I love so much, in riding bulls."
And while the event doesn't happen without hours of hard work, for Robbins it is all worth it seeing the support of the local community.
"Camrose, for not being huge into bull riding, has definitely shown their support, willingness to volunteer, willingness to sponsor the event, willingness to buy a ticket. That was the coolest part last year was going around town with folks asking when tickets are available. It's cool to see. I hope to continue this on for years to come, and put bull riding on the map in Camrose, but then in turn put Camrose on the map of bull riding staples."
"It's nice to ride at it too, I get to have a lot of friends and family that might not be able to trek too far from home come out and see what I do for a living. It means a lot to me, it's really special."