Canadian Champion Nick Tetz Readies for Final Push To Qualify for First PBR World Finals
By: Covy Moore Wednesday, April 26, 2023 @ 8:29 AM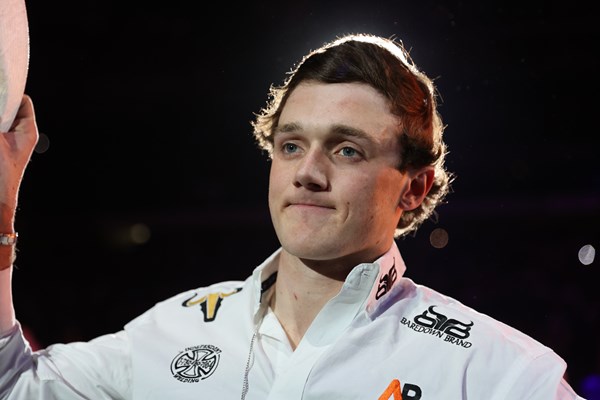 AIRDRIE, Alta. – Reigning PBR Canada Champion Nick Tetz is sitting on the verge of reaching a crucial career milestone.
Currently ranked No. 45 in the Unleash The Beast standings, Tetz is just 72.25 points outside of the Top 35 and qualifying for his first PBR World Finals.
And while just one Unleash The Beast regular season event remains, the Calgary, Alberta native says his eyes are still firmly on the prize.
Suffering a slight groin injury in Albuquerque, New Mexico, in late March, Tetz has been trying to push forward despite the ailment but admits he has been struggling with just a bit of tough luck.
"It's been a tough couple of weeks," Tetz began. "I ended up pulling my groin in the short round in Albuquerque. Then I tried to tough my way through it in Sioux Falls and it didn't work out. I took a week off and came back for Billings. I drew tough in Billings. I don't want to be a guy known for wanting the bulls that fit me, but every once in a while, when you're coming back from something, it can be nice to get those ones. That is a part of bull riding though, you work through a couple rounds to earn the ability to pick your bull."
"I wouldn't say I am in a slump or struggling, just having some tough luck," Tetz continued. "I will be turning it around here right away."
The tour's final stop prior to the 2023 PBR World Finals: Unleash The Beast May 12-21 in Fort Worth, Texas, will bring the world's best bull riders to KFC Yum! Center in Louisville this weekend, April 29-30.
Tetz says getting back home, resting up and going through his routine will be a value ahead of the PBR Cooper Tires Invitational, presented by Kubota.
"I got back to Acumen and got the body feeling really good," Tetz explained. "LeAnne and Mike over there built me a great program. They are the ones that know what I need. I feel about 90% better now."
"After my groin I was staying in Vegas for a little bit. There are a lot of places to go there, Acumen found me the right place to go to and get the groin looked at and working on it. It wasn't really working out, it was just working on the groin and getting back riding, and I think that is where the mistake came."
"It is tougher down there, I don't have the home routine," Tetz continued. "One thing I always focus on is putting in the work during the week, and going into events knowing that I have put the work in and am ready for anything and I can go have fun."
Having set the goal of qualifying for the 2023 PBR World Finals early in the season, and being on the cusp of actualizing that goal, Tetz said the little bit of pressure is good for him, but that he isn't getting too caught up in the expectations in himself.
"Honestly, I think when it comes to that, a little bit of pressure helps me. I wouldn't even say its pressure right now. It's all up to me."
"Right now, it's basically that I need to go get three bulls rode in a weekend and for the most part that's what it takes to get those points. I am keeping the fun mentality but remembering that there is a job to do and goals to achieve."
"This sport is all about the highs and lows," Tetz added. "I was on a high when I first came down, rode that wave for a while, then the injury bug hit me and I have been on a little low. It's not something I am worried about."
Despite the pressure situation for a World Finals qualification through the standard means with Unleash The Beast points, Tetz has a second path to the sport's crown jewel through the Pendleton Whisky Velocity Tour Finals, May 5-6 in Corpus Christi, Texas.
"The first goal is to just make it, take a weekend off, get on a practice bull and go," Tetz said.
"You can't put too much pressure on yourself. I can only do what I can do. There are a few guys with similar situations, and I just need to go out there, do my job and ride a little better than them."
As for what the goals are beyond the 2023 PBR World Finals, Tetz said that he would both like to be signed to a PBR Teams Series roster, as well as defend his PBR Canada Championship, as the only rider to go back-to-back in Canadian history.
"I think for me, the plan is to get on to a team. Make sure it's the right team with the right fit for me and what I want to do with my career. Make sure their goals align with me too."
"PBR Canada has never had a back-to-back Champion, so I would like to be able to pursue that too. Only one Team Series event conflicts with the PBR Canada Cup events I need to be at in Canada. I want to make sure I am in that mix come Finals in Edmonton."
"There will always be titles to chase and accolades to go after," Tetz concluded. "It's something I would like to replicate this year, but I do have to look long term and make sure I am making the right financial decisions in the sport to be setting myself up, and future family and things like that too."