Bullfighter, Commentator and Now Clown – Scott Byrne Does it All
By: Covy Moore Wednesday, April 19, 2023 @ 9:36 AM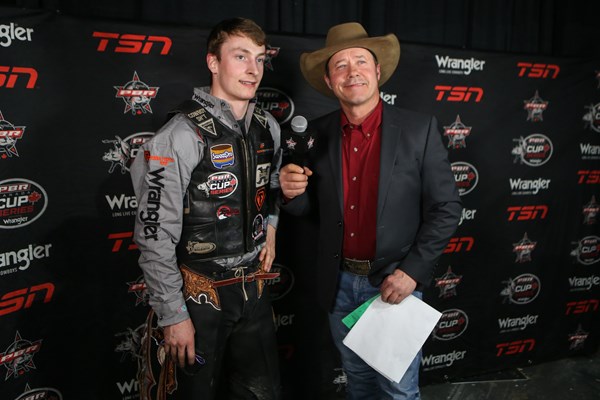 AIRDRIE, Alta. – The Byrne family is known to be one of the first families of Canadian bull riding.
From the bullfighting brothers of Scott and Ryan to their children Jesse, Bo, Tanner, Brayden, and Dylan, when it comes to the sport of bull riding, there is a Byrne somewhere nearby.
Scott, who took his storied bullfighting career to the television set working on the PBR Canada Cup Series, presented by Wrangler, since its inception, has become a voice fans are used to hearing telling the intense moments during competition behind the chutes.
But in 2023, Byrne has expanded his horizons as co-host of 'Canadian Dirt,' an in-the-dirt roundtable that covers the storylines inside, but especially outside the arena.
The show, which is seen both LIVE in arena and on PBR Canada's Facebook, is already giving fans insight into the sport in ways never before seen in Canada.
"We spoke about it last year leading up to Finals," Byrne began. "Some sort of sports desk on the concourse and giving folks more of an opportunity to hear more about what we do, the stories of the people involved, things like that. It morphed into this in the dirt deal that leads up to the opening of the entire performance."
"It's all really about the behind-the-scenes stuff, what goes into being a bull rider, all the things a PBR fan might not get to see. We have interviewed judges to talk about scoring, we have talked to Brinson the Entertainer, he is the guy that a lot of people come to see. It will give us an avenue as well to talk to say some NHL players that might be from that hometown or something along the way too. It allows us to have some freedom in talking about bull riding, but also the stuff going on outside and around bull riding as well."
Byrne has held many roles on the PBR Canada Cup Series but has found his place as color commentator on the back of the chutes. Retiring from bullfighting in 2015, Byrne never expected he'd be where he is today.  
"I probably thought of it, but not at the level we are at with TSN and this tour," Byrne explained. "I knew something would come along because of how much I spoke to different audiences over the years. I didn't know it would end up being like it is today."
"When we first started all this years ago, we had no idea what we were getting into, no idea of the TV lingo, the producers, the work that goes into the whole thing. We were 110% TV rookies, and I learn something new every time we go on the air still. It is something that takes practice to deal with the different things thrown at you at a live show."
"We all know bull riding is unpredictable, so you have to be ready and on your toes to talk about anything at any time. If you look back eight years on this tour, everybody on this team has gotten better at their jobs. Everyone."
As for what sort of moments stand out in his memory, Byrne says last year's PBR Canada National Finals at Rogers Place in Edmonton, Alberta, was special.
"Last year at the PBR Canada National Finals, there was such a race for the championship. It was anybody's ballgame from like thirteenth place forward. Of course there were odds on favorites that should, but anyone could have come up and taken it too. Those two nights, they were intense. You throw Zane Lambert's retirement in there. The fact that he had an outside shot too, if things lined up, I think that was crazy."
"We weren't sure who was going to win it, we knew who should win based on positions, but we really didn't know," Byrne continued. "It was a perfect storm for someone who does the job behind the chutes like I do, to the announcers, Brett Gardiner and Dave Poulson, no one knew where it was going to go which gave us a lot of storylines about all the different players."
Never one to turn down a challenge, Byrne re-entered the arena this past weekend at a semi-pro rodeo event in Tisdale, Saskatchewan. But instead of being a bullfighter, Byrne put the face paint back on as the rodeo clown.
Byrne admitted that while the idea of clowning has been in his head, it was one man who put that bug in his brain many years ago.
"It was something that a clown by the name of Lee Bellows, who had been in the sport for a long time, said I had to do," Byrne explained. "Unfortunately, he got sick and passed away a few weeks ago. I worked with him for years and years in my amateur days when I was first starting out. He was always after me that I should be clowning and chasing comedy and stuff. I don't really consider myself a funny guy."
"I thought, you never know till you try it and you see what it's all about. Lee gifted me, before he passed away, all his clown stuff. With that, Blaine and Daphne Fyson who have a rodeo company in addition to their investment in PBR Canada, they really pushed me to come to one of their events and clown and try that aspect of it. It was fun, it was great."
"It is exciting, it's a whole different aspect of the sport," Byrne added. "I understand getting hit in the barrel now, cause that happened five times. I get looking at a crowd and trying to get folks engaged. I see what Brinson does every weekend we are on the road all year. Sometimes it's tough, we get crowds that are sitting on their hands and it can be a lonely feeling when you are the only person in the arena trying to get thousands of people to get clapping or get them standing up and excited."
While Byrne says he isn't sure what the future holds for Scott Byrne the Rodeo Clown, he says he has some very fond memories from a weekend working the event with his own son Brayden, as a western event legend looked over the both of them.
"Lee was always known for shooting marshmallows into the crowd. That was his thing. Kids loved it, even adults. Out of respect for Lee and what he did for so many years, I found the old slingshot, found the jacket he would wear and the hat, and I shot marshmallows into the crowd. That was obviously his thing, but I wanted to do it one more time for him."
"It's little stuff like that. Or getting into that barrel, I had worked with him as a bullfighter around that exact barrel. I had been on the other side of that barrel with Lee in it. When you finally get to dive down inside it, and a bull is beating you around the arena, there was one quick flash, and it made me think of what Lee would go through in it. He was in that barrel till his late 60s. It was surreal."
"My son Brayden was fighting bulls, I was clowning. I got knocked around, he would get that barrel set up and would say "You're good dad, you're good." Not too many father-son duos that can say that."