Vold Rodeo's Upshift Steals Show at Armstrong, British Columbia Touring Pro Division Event
By: Covy Moore Wednesday, September 7, 2022 @ 8:02 AM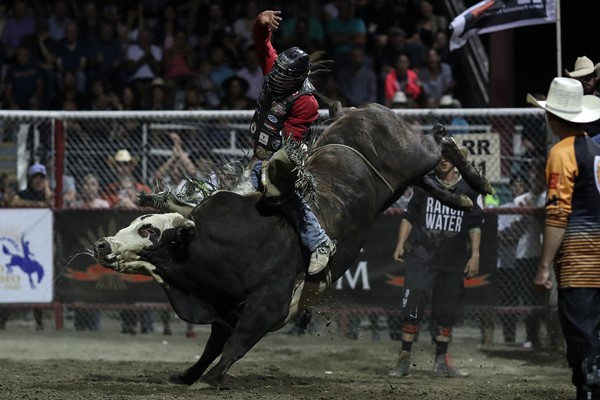 AIRDRIE, Alta. – This past weekend's debut Touring Pro Division event in Armstrong, British Columbia, showcased a special bovine athlete from Nansen Vold and Vold Rodeo.
Throughout the course of the town's four-day rodeo, which wrapped with a sold-out, Sunday-night PBR event, one bull was on the lips of everyone there – Up Shift. 
First bucking in the finals of the Canadian Professional Rodeo Association event, Up Shift was drawn by PBR Canada's No. 1 Logan Biever drew up against Upshift.
A perfect pairing, Biever and Up Shift put on a show that had the thousands in attendance on their feet. Reaching the requisite 8, Biever was scored a monstrous 90.25 points to clinch the rodeo victory. 
Flash forward 24 hours, and Up Shift once again propelled a rider to the winner's circle.
This time it was Dakota Buttar who picked Upshift.
For the second consecutive evening, a championship round ride aboard Up Shift earned a rider a win, with Buttar's 89.5-point trip atop the bovine earning him his fourth PBR Canada Touring Pro Division win of the season.
For Jake Wilson, the handler working with Vold's bulls at the 121-year-old Armstrong Interior Provincial Exhibition and Stampede, he says Up Shift's heavyweight showdowns with both Biever and Buttar have solidified that the bull will be PBR bound for the remainder of the year. 
"After those two trips, I think you will see that bull at the CFR, and probably in the hard pen. I believe you will see him in Lethbridge for sure, with how that bull has been in the last two years, I probably won't buck him again until maybe Grande Prairie and then Finals," Wilson said of what awaits Up Shift in the months ahead.
Up Shift is a 5-year-old bull from Alan Shields.
Starting out with the Vold's in 2021, Wilson says the bull showed promise, but was just a bull. However, when 2017 PBR Canada Finals event winner Edgar Durazo rodeo him for 90 points in Red Deer, Alberta at the Canadian Finals Rodeo that November, it was then they knew he had a special way about him. 
"Allan has raised a bunch of good bulls, Moonlight Party, Black Stone Afterparty, Uncle Kranky," Wilson chronicled. "Nansen and I started bucking him as a 4-year-old last year, hitting the PBR and rodeo with him. Starting him out of the left, but he seemed to want to go to the right, so we moved him to the right and he was right there round to the right. He was just good." 
"We bucked him a few times this year and he kept going left," Wilson continued. "When he leaves out the right and goes left, he is a little bit awkward, so of all places to do it, Nansen and I decided to change deliveries at Armstrong."
Wilson said he was elated leaving the Armstrong IPE grounds after the PBR event Sunday night having watched Up Shift's pair of trips during the past two days.
"Logan got him that first night, and he got to bucking. Dakota picked him the next night at the big PBR event and he just backed it up again. I am not going to lie, that bull impressed the shit out of me there."
"To be ridden the first time, right after a change like that, most bulls would go do something different," Wilson added. "Out of those trips, I have had some people ask which trip was better. I don't think you can pick one from the other in the same category. Logan's bull ride was bad ass, he was popping up and picking up and faded across the arena. For Dakota's ride on him he didn't fade, he stayed near the chutes, but was so good."
The biggest positive for Wilson though, was that during Buttar's trip with Up Shift, the bovine athlete almost seemed to get a little stronger and try different things as the trip progressed. 
"If you are looking at it from a bull perspective, if a bull gets harder through the eight seconds, it means he is trying hard, trying to be better than last time. That is something I liked about it."
While there are easily a dozen PBR Canada stock contractors who bring quality bulls week in and week out, there isn't one that matches the sheer size of the Vold operation.
And while great bulls don't come along very often, it is always a fun exercise to look at which bulls might be the next big thing. 
Wilson says that their bull Haunted Hotel might just be the one to put up 90s like Up Shift.
Bucking off Chad Hartman Sunday night, that bull has proven to find another gear as this year progresses. 
"That bull as a 3-year-old was just cool," Wilson said. "I remember giving him his first rider trip and he just welled it around to the left. All last year when we were bucking him, he started getting a bit more up and down. That is a good bull to get on."
"This year he started good, went through a bit of a lull in the summertime, and now in the last month, that bull has turned it up a point or two. He is absolutely bucking."
"He isn't a casual spinner out of there," Wilson added. "He is blowing and kicking out of there, then he is deep and sucking back. If he keeps bucking the way he is, I think he may just get better."
With just one Touring Pro Division event and the final stretch of the elite Canadian Cup Series, presented by Wrangler, remaining on the schedule, there are two riders who have been trading event wins and the standings lead entering the final weeks of the season – Biever and Buttar.  
When asked who he would like to see ride for an event win, or a title against the two Vold buckers, Wilson needed a moment. 
"That is a tough question. I am good buddies with both of them, so I want them both to do good," Wilson laughed. 
"The way Buttar rides, I would have to leave him with Up Shift, that more fits his style. Buttar rides up over his rope more than most guys. And when Upshift gets to popping up and everything, he would ride the heck out of him to be a bunch of points.
"Remember I am setting it up for them both to ride, not buck off. I would put Biever on Haunted Hotel just because he is a lot freer. I have seen Biever get moved over to the side and get right back to the middle. Biever rides loose and cool, he isn't stiff. I can see Haunted Hotel kicking out and up high, he might get pulled over a little bit, but would get sat back up, and I think that bull would be popping and kicking hard and Logan would ride the heck out of him too."
"And if they both get them rode, I will tell you what, I wouldn't want to be a judge there. When people ask who was better this weekend, Dakota or Logan, they both ride two different ways and that bull bucked a little different. "
"Like I said, I am glad I am not a judge."