Ty Prescott to Return to Arena for PBR Canada Cup Series Event in Lethbridge, Alberta
By: Kacie Albert Thursday, September 15, 2022 @ 3:08 PM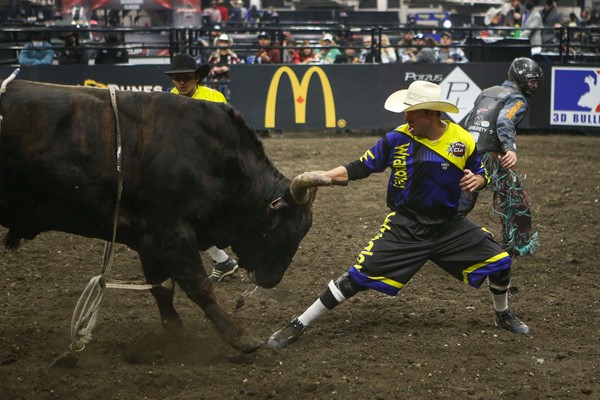 AIRDRIE, Alta. – There has been one man missing from the PBR Canada bullfighting lineup since July, as Ty Prescott has had to sit out with knee injuries sustained in competition in Calgary. 
Taking a couple of shots during the Cody Snyder Charity Bull Bustin' events in July, specifically one moment with Two Bit Bucking Bulls' Hot Toddy and Jared Parsonage, Prescott injured his ACL and MCL in his right leg, leaving the veteran bullfighter in pain.
"That is what they pay me to do," Prescott said. "Jared Parsonage had Hot Toddy, and we always know that bull is pretty mean. We know Jared rides really good. I figured he was going to ride him a bit further and I was a step behind, and I had to get there quick. It was either me or Jerry. I am glad that bull picked me."
Never one to back down from a challenge, Prescott said the decision to sit out wasn't necessarily his to make as the injury was significant enough that he couldn't walk, let alone work around the bucking bulls.
"I didn't have a choice after. I couldn't walk. It was just one of those deals, I had to sit out. It wasn't strong enough to get to the guys."
"There are plenty of young bullfighters coming up who could go out there and do it right now, so it wasn't too hard to find guys to take my spot," the Strathmore, Alberta native added. "Being 37 it's time to start taking care of my body. Normally I would just tape it up, but it's time to get as healthy as I can to keep going a little longer."
With the final set of PBR Canada Cup Series, presented by Wrangler, events on tap, culminating with the 2022 PBR Canada National Finals in Roger's Place in Edmonton, Prescott has spent the last two-and-a-half months rehabilitating his knee with numerous different professionals, notably the Canadian Professional Rodeo Sports Medicine Team and Acumen Performance. 
The plan for Prescott, now that his knee is in competitive form, is to be in the best shape of his life heading into this fall run of events, and then go in for a surgery to fully repair the damage so he can be set up for another year of fighting bulls. 
"I am getting older, and I still crave doing it," Prescott continued. "I really want to be able to do it a while longer. Getting in and working out with the guys that know what they are talking about, the athletic trainers who are such professionals. I figured it was time to start listening because that's what they are here for. A huge shoutout to the Sports Medicine Team too, without them I wouldn't be back right now."
It is rare to see Prescott without a smile.
The tall, gruff, but fun -loving bullfighter is a staple of the PBR Canada Cup Series. His tough demeanour is always eclipsed by his unfettered love of the people and the bull riding community. 
"I am just pumped to be back. I miss the boys big time."
"I love being around everybody," he continued. "Not just the boys, but everyone at the rodeos and PBR. From the gate guys to the back pen help, contractors, I just miss it. It's such a sweet environment."
"I am excited to be back, get back in front of the bulls and get doing what I do. I have had some good stuff happen while I have been off, been doing some movie work too, which helps keep the bank account at bay.
"I am excited to be back fighting bulls with Brett [Monea] and Tanner [Byrne] too. They are great at what they do and they make it pretty easy on a guy."
Prescott will be back in action at the September 23,-24 PBR South Country Co-op Showdown, presented by VisitLethbridge.com and Ritchie Bros. at ENMAX Centre in Lethbridge, Alberta.