The Morning Line – Lethbridge
By: Tanner Byrne Friday, September 23, 2022 @ 10:41 AM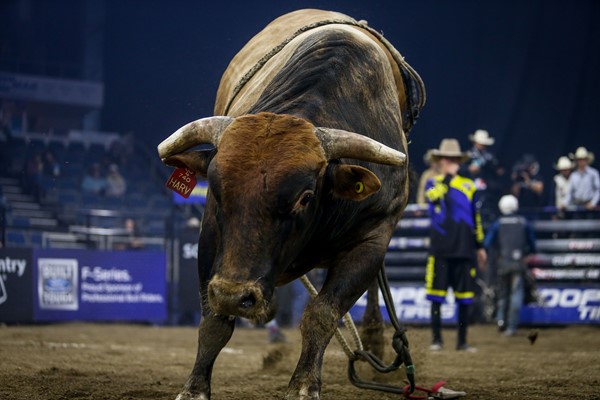 LETHBRIDGE, Alta. – After two long months, the elite PBR Canada Cup Series, presented by Wrangler, is back, bucking into Lethbridge, Alberta, and ENMAX Centre Sept. 23-24 for the PBR South Country Co-op Showdown, presented by VisitLethbridge.com and Ritchie Bros.  
And this weekend, fans will be treated to not one, but two events.
Each performance day the field will reset with a crucial 80 national points on the line daily.
When competition kicks off Friday night, 27 of the best bull riders in the nation will attempt one bull each in Round 1, with the Top 10 advancing to the championship round.
RELATED: Click here for the complete daysheet.
Coming into Lethbridge, the race to be crowned the 2022 PBR Canada Champion, and earn the accompanying $50,000 bonus, is hotter than ever.
Logan Biever leads the standings as the No. 1-ranked rider in Canada but is a mere 10.5 points ahead of No. 2 Dakota Buttar.
The duo is followed closely by No. 3 Brock Radford who is within 47 points of the top spot.
Looking down the standings, three-time PBR Canada Champion Aaron Roy remains in the hunt ranked No. 5, while defending Champion Cody Coverchuk is No. 9 and two-time PBR Canada Champion Zane Lambert will return from injury as the No. 11 man in Canada.
Below are bullfighter Tanner Byrne's bets for Round 1 of the opening event from Lethbridge. Let us know your thoughts and your picks for the Cup Series event by tagging @PBRCanada on Twitter.
Tickets for the event are still available and can be purchased online at ENMAXCentre.ca and charge by phone at (403) 329-7328.  
Nick Tetz vs. Slip Slap
Nick Tetz is riding really hot this year, he's been one of our top up-and-comers the last few years and is now hitting his stride as one of the top-level guys on the PBR Canada tour. He's matched up with this bull two times before for good scores. Really good bull should be around to the right. From Nansen Vold that you could get along with really well for an 85-86-point score.  
Cody Coverchuk vs. Southern Heat
Southern Heat is a bull that's been around for a long time, he's got some tricks to him, but if you do everything right, he's one that you can get a round win on. I saw Dakota Buttar ride him the other weekend for a good score. Coverchuk rode him once and bucked off him as well before. Coverchuk is back in the game and feeing good, refreshed after taking a break. Look for him to take the round win on Southern Heat.
Aaron Roy vs. Housefire
Aaron is on a mission this year to become the only four-time PBR Canada Champion. He looks better than he has in the last few years, riding at the top level again. Housefire is a bull he matched up with in Red Deer earlier in the year for a good score, one that fits Aaron's style really good. Look for an 86-87-point score here for Aaron on Housefire.
Brock Radford vs. Smog
Brock's looking to win his first PBR Canada Championship. Talking with Brock he's really determined, he's sick of the second-place finish and everyone talking about that. He wants to get over the hump this year and get that first title. He's in great position to do that. He's got a great bull in Lethbridge to do that on. Smog is a black bull, right in the door to the right that the guys really like to get on. He's got good timing, one that should set Brock up really well to come back in a good spot in the short round and try to win the first event back after the break.
Coy Robbins vs. Trapped
Coy's 2022 season has been the best one that Coy has had yet in my opinion. He's coming into his own, both mentally and physically, and he's been one of the best riders in Canada all summer. Look for him to continue that success coming into the Fall Canada Cup Series events and move up there into contention for a PBR Canada Championship this year. Trapped is a big brindle bull from Nansen Vold that's been around for quite a few years. Looks like he should fit Coy's style, with a lot of up and down, a little bit of movement, go either way. Look for Coy to snap him for an 86-87-point score.