Logan Biever Rides Consistency to the Top of the PBR Canada National Standings
By: Covy Moore Friday, September 2, 2022 @ 10:58 AM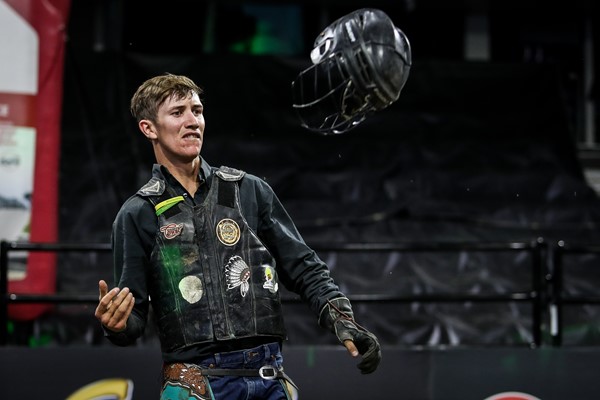 AIRDRIE, Alta. – After capturing his third PBR Canada Touring Pro Division win of the season in Gleichen, Alberta, last weekend, there is a new No. 1-ranked rider in Canada -- Logan Biever.
Biever is riding a wave of momentum almost unmatched at present in the PBR Canada ranks, earning national points in his seven most recent events. The streak began with a sixth-place finish in early August in Tofield, Alberta, with the 24-year-old finishing fourth, or better, in the six events that followed.  
Biever says that he has noticed a change in his mental approach ahead of this summer's run of events, which he credits to helping him surge to the No. 1 rank in the race to be crowned the 2022 PBR Canada Champion.
"Coming into the summer, there are all these events, and you want to at least be knocking on the door," Biever said. "Previously, by the end of the summer run it never seemed like I climbed all that much, but this time around I found a way to be in that position, be in that spot everybody wants to be."
"It takes a load off heading into these last six events we have coming up here."
As for what is different this year than the last few in his PBR career, Biever says knowing you are going to buck off some has helped him look towards the next events with positivity.
"In the past, even until the last few months, I would be really hard on myself," Biever reflected. "Any time I would fall off one, or have a streak of buckoffs, I would get pretty down. You get in the slump. I am pretty hard on myself and took it to heart really fast. That is something I have changed here lately is realizing that you are not going to ride every single one. It is going to happen."
"Look at any hockey player or basketball player," Biever continued. "You will go games without scoring a goal, or hitting that basket. That's just the way it goes, and you can't change it. You have to roll with the punches and keep going. If a guy has a bad weekend, you just can't get down on it. You have to come back to the next event and remember that doesn't matter, I know what I am doing. I am not dwelling on the past and need to strive to the future."
Rising to the No. 1 spot in Canada is one thing but making sure you are still in that position come the end of the 2022 PBR Canada National Finals at Rogers Place in Edmonton, Alberta, is another.
And what it will take for Biever to make sure he is in striking distance come that last round in Edmonton?
Consistency.
"One of my biggest goals is to keep that consistency up. That is something I have struggled with in the past."
"That is one thing this year that has helped me so much, is staying consistent and staying on bulls," Biever explained. "With only those Cup events left, I think that is going to be the thing that shakes things up. Who is consistent. And I think if I can stay consistent, no matter what, even if that means not winning events, but staying on bulls, I think that is the one key to being where you want to be come the end of the year."
This season has been a long haul for the bull riders in Canada as the Touring Pro Division season has been jam packed.
With spread across the country, not to mention the parallel CPRA schedule, Biever who is competing in both ranks, has been travelling nonstop, with riders jumping into trucks and rolling with competitors that they never have before.
Biever has travelled with a host of different competitors, including 2020 PBR Canada Champion Dakota Buttar and Chad Hartman.
While Biever says he hasn't picked up much on the technical side of things from other riders, he has had a lot of fun, and says that fun mentality helps a lot in the sport.
"The age-old thing is just have fun with whoever I have been travelling with and lately that has been key," Biever said.
"You are always jumping in with different people and that can get tough, because you aren't always rolling with the same people. It seems this year I have been able to keep the fun rolling with the people I have been travelling with and that has been big for me. Having that fun mindset has helped a lot this year."