Vote for the YETI Fan Favorite Bull
By: Darci Miller Monday, October 17, 2022 @ 11:43 AM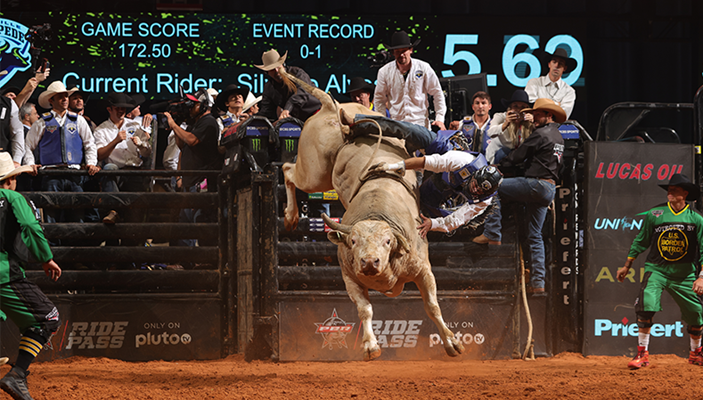 PUEBLO, Colo. – If there's one thing we can all agree on, it's that we all love our bovine superstars.
The YETI Fan Favorite Bull award will celebrate just that, honoring the most beloved bulls of the inaugural PBR Team Series season. From rank rides to brutal buckoffs, this award recognizes all the contributions of the best bulls in the world.
But that's where you, the fans, come in – which bull has been your favorite?
Read on for more information on the seven nominees, and don't forget to vote beginning on Oct. 18 at 10 a.m. ET. Voting closes on Nov. 1 at 11:59 p.m. ET, so be sure to make your picks before then!
Medicine Man
Medicine Man made his PBR debut in 2017 and has bucked at the PBR World Finals each year since then. He made his Team Series debut in Cheyenne and has since made the trip to three subsequent events. In six outs, he's 5-1, giving up one 88.25-point ride to the Arizona Ridge Riders' Eduardo Aparecido in Austin, Texas.
Montana Jacket
Just over a year into his PBR career, Montana Jacket is starting to make a name for himself. He has two World Finals qualifications under his belt, and of his five Team Series appearances, four have been in the Bonus Round. He may be 3-2, but both rides he's given up have been for more than 90 points – 90.75 points in Cheyenne and 91.75 points in Fort Worth, both to Jose Vitor Leme of the Austin Gamblers.
Yellowknife
Yellowknife had never bucked at a PBR event before the PBR Team Series preseason, but he's quickly becoming a main player. He's appeared at six regular-season events, bucking in the Bonus Round at five of them, and surrendered only one ride – his first out of the season – for 87.75 points to Alisson de Souza of the Ridge Riders.
Night Hawk
Night Hawk has been bucking with the PBR since 2019 and has been a tough test for Team Series riders since winning Bull of the Finals honors at the 2022 PBR World Finals. (Fun fact: Night Hawk and Cool Whip – more on him in a minute – tied for No. 4 in the final 2022 World Champion Bull standings.) The stout bovine has given up zero qualified rides in five outs across the pre- and regular season. In three of those buckoffs, riders have lasted 2.5 seconds or less.
Cool Whip
Cool Whip is new to the PBR scene, making his debut in 2021, but he's been busy lately, splitting his time between the Team Series and Challenger Series. He's bucked at four Team Series events, three of his five outs in the Bonus Round, and is yet to surrender a qualified ride. In fact, four of his outs have earned bull scores above 45 points – 45.75 points against Ramon de Lima of the Carolina Cowboys; 46 points against Derek Kolbaba of the Oklahoma Freedom; and 46.25 points twice, against Joao Ricardo Vieira (Texas Rattlers) and Wingson Henrique da Silva (Cowboys).
Moonlight Party
Another bull that made his debut in 2021, bucking at two PBR World Finals, Moonlight Party has been absolutely dominant on the Team Series. In three outs this season, two of which were in the Bonus Round, he's recorded three buckoffs. And get this: none of those buckoff times were higher than 2.33 seconds. He finished the 2022 Unleash The Beast season ranked No. 9.
Preacher's Kid
Preacher's Kid has been on the PBR scene since 2018, qualifying for the World Finals yearly since 2019. He has a 94% buckoff percentage in his career, but on the Team Series, that rises to 100%. He hasn't given up a ride in eight outs across the pre- and regular season. At three of the four events in which he's competed, he's bucked twice, once in game play and once in the Bonus Round.
Photo courtesy of Andy Watson/Bull Stock Media