The Morning Line – Saskatoon Round 2
By: Tanner Byrne Saturday, October 29, 2022 @ 1:03 PM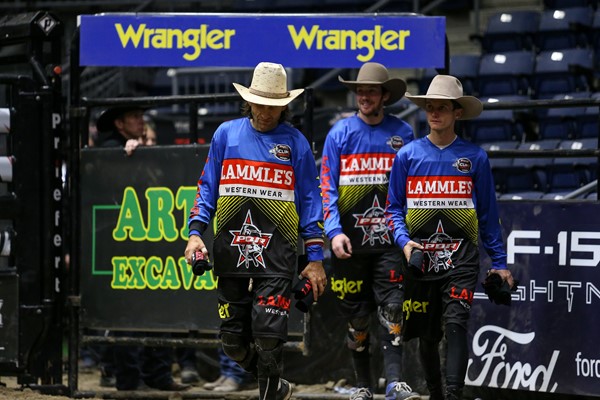 SASKATOON, Sask. – When PBR Canada Cup Series competition in Saskatoon got underway Friday night in Saskatoon, the nation's best riders and bulls showed up, and showed out.
Dakota Buttar walked away the Round 1 winner, while also finishing third in the 5/5 Bucking Battle, garnering him enough points to rise to No. 4 in the title race.
RELATED: Dakota Buttar Wins Round 1 of PBR Canada Cup Series Event in Saskatoon to Surge to No. 4 in Heated 2022 Canadian Championship Race
Tim Lipsett also delivered two qualified rides as he looks to make a late season push to the 2022 PBR Canada Finals, presented by Command Tubular Products, while Cauy Schmidt's pair of scores put him within striking distance of the Top 10.
Tonight, the intense action will come to a conclusion when SaskTel Centre plays host to both Round 2 and the Championship Round.
RELATED: Click here for the complete daysheet.
Below are bullfighter Tanner Byrne's bets for Round 2 of the PBR Saskatoon Classic, presented by Redhead Equipment and CASH IH. Let us know your thoughts and your picks for the Cup Series event by tagging @PBRCanada on Twitter.
Tickets for the event are still available and can be purchased online at Ticketmaster.ca.
Dakota Buttar vs. Crossfire's Black Jack
Dakota Buttar coming off the round win last night, with the first pick today and he picked one that he could get another round win on today with Crossfire's Black Jack from Lazy S Bucking Bulls. A really good bull, should be into Dakota's hand, will jump out and may go the other way at the end, but one that will fit Dakota really well, could by anywhere from 86-88 points. Just what Buttar needs to move up in those standings and possibly win another Canadian Championship.
Lonnie West vs. Look At This Dude
Lonnie had a good pick last night as well, picked a bull that should fit his style really well. Brock Radford rode this bull the other weekend. One they don't get along with a whole bunch, but they should. Lonnie should sit up there and ride him for 84-85 points to set himself up good for the short go. Into Lonnie's hand, nice muley. Can't get much better than this one. The biggest difficulties will be chute procedure, but Lonnie is going to want to take full advantage of this draw from Two Bit Bucking Bulls.
Tyler Craig vs. Finning Nikki Sixx
This is a rematch for Tyler. Big, old-school brindle from Flying Four Bucking Bulls. Finning Nikki Sixx should have a look to the left, around to the right. Tyler knows what he's all about. He's been on him twice, hasn't made the whistle on him yet, but look for that to change today. Tyler is going to step up to the plate, win when he needs to, and get a good 87-88-point ride on Finning Nikki Sixx.
Jake Gardner vs. Freaked Out
Jake has matched up with this bull before for a really good score last year in Edmonton. Nice bull, white muley, one that Jake should get along with really well. Similar to last night this bull has a couple different trips. Should be right in the gate to the right, but could go back the other way to the left as well. I think Jake will be ready for that and after getting bucked off last night he is looking for redemption. So look out Freaked Out, Jake Gardner is coming to town to win.
Cody Coverchuk vs. Spooky Lukie
Cody Coverchuk has been a little bit cold here lately. Look for that to change here in Sasaktoon, pretty much a hometown event where Coverchuck always seems to show up and show out. This bull is one that a lot of guys don't get along with, but Coverchuk has had success with in the past. He's one that's always in my picks because he does have some days where you can get a round win on him. He's fun to watch, really exciting. And Coverchuk, with the confidence of riding him last time, should step up to the plate and blow the roof off the SaskTel Centre tonight with a ride on Spooky Lukie.