The Morning Line – Saskatoon Round 1
By: Tanner Byrne Friday, October 28, 2022 @ 11:24 AM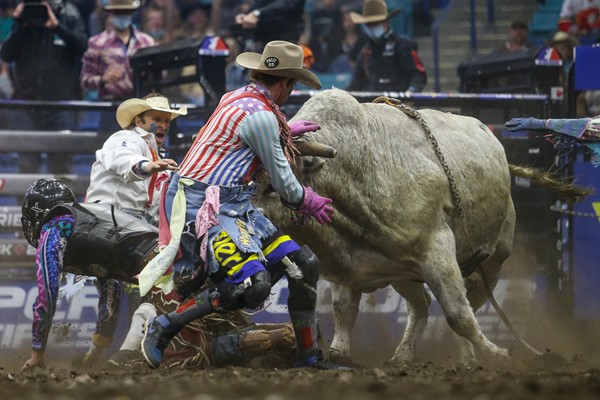 SASKATOON, Sask. – This weekend, the regular season for the 2022 PBR Canada Cup Series, presented by Wrangler, will come to a climactic end in Saskatoon, Saskatchewan.
RELATED: Click here for the complete daysheet.
And with that, the pressure is greater than ever as Canada's finest jockey for the final points of the season all in an effort to earn a berth to the 2022 PBR Canada National Finals, presented by Command Tubular Products, Nov. 11-12 in Edmonton, Alberta.
At the PBR Saskatoon Classic, presented by Redhead Equipment and CASE IH, inside SaskTel Centre one rider will have the chance to earn a maximum 105 national points in the main event, and an additional 15 points for winning the accompanying 5/5 Bucking Battle.
Nick Tetz will travel to Saskatoon as the No. 1-ranked rider in Canada, however his lead is slim. He leads an injured No. 2 Logan Biever by a mere 2.5 points, while the Top 8 are all within 94 points of one another.
Below are bullfighter Tanner Byrne's bets for Round 1 of the PBR Saskatoon Classic, presented by Redhead Equipment and CASH IH. Let us know your thoughts and your picks for the Cup Series event by tagging @PBRCanada on Twitter.
Tickets for the event are still available and can be purchased online at Ticketmaster.ca.
Lonnie West vs. Hanna Motors Winston Bruce
Great way to kick off Friday night live in Saskatoon, one of the most fun events of the year. This will be a great matchup. Lonnie has ridden this bull before. This bull had an off day a couple weeks ago, which I think brought him back down to the long round, but we usually see him in the short round. Look for this bull to step it back up Friday night with Lonnie. Around to the left, into his hand. One that you want to get on, when that will fit Lonnie's style really well. You could see an 87-88-point ride to start the event off.
Nick Tetz vs. Back Cracker
Nick moved into the No. 1 spot in Canada and for good reason. Nick has been riding really good this year, he is coming into his own, figuring out where he fits in this Canada race, and that's right there at No. 1. Back Cracker is a black, white-faced bull, into Nick's hand. This bull got him on the ground earlier this year, but don't look for that to happen again. Got him right at the whistle last time. Look for Nick to keep spurring, kicking loose, finish strong, get an 85-86 to set himself up for a good pick for day number two.
Gage Gay vs. Bull Dozzer
Gage makes his return to Canada, really looking forward to having Gage back up here in Saskatoon. Gage has been riding really, really well here as of lately. So look for this to be a great matchup. This bull should be around to the left, away from his hand. He's got good timing, one that the guys like to get on. Nice big Canadian bull that Gage likes. This could be an 85-86-point ride to set Gage up well for the rest of the weekend.
Weston Davidson vs. Diggin Up Bones
Weston is coming off a good weekend last weekend in Saskatoon at the CCA Finals, made some really good rides away from his hand, and that's exactly what this bull Diggin Up Bones is all about. He should be right in the door to the right, away from Weston's hand, one that looks similar to the ones that he rode last weekend from the videos that I have seen. Look for him to step up to the plate, get a good score, and set himself up for the weekend. Hopefully push himself in for a chance at the PBR Canada Finals in Edmonton. Big weekend for Weston. I know he's ready for the task and this is a great bull to start it out with.
Jake Gardner vs. Ain't About Fame
Jake needs to have a good push here at the last regular-season event of the year to set himself up for the Canadian Championship race and this is one of the best bulls going right now across Canada, Ain't About Fame of Jim Thompson. Blake Smith was 90 points on this bull at 8 Seconds at the Ridge at Elk Ridge earlier this year. This bull can go either way, but he usually goes to the right into Jake's hand. This could be a round win for Jake, look for anywhere from 88-90 points if he gets the job done on this great bull of Jim Thompson's.