The Morning Line – Medicine Hat
By: Tanner Byrne Saturday, October 15, 2022 @ 8:04 AM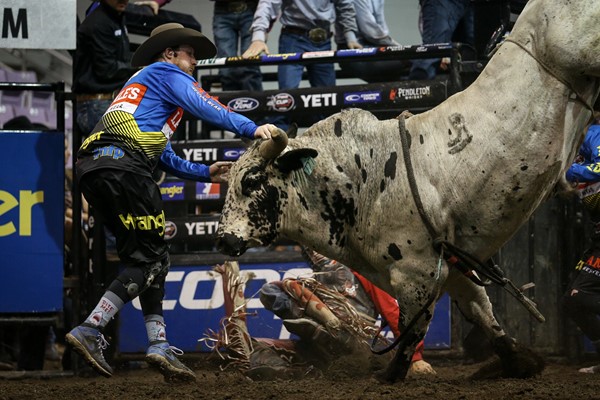 MEDICINE HAT, Alta. – Just two events remain before the 2022 PBR Canada National Finals making this weekend's elite Cup Series, presented by Wrangler, event in Medicine Hat, Alberta, a must ride for many.
With current Canadian No. 1 Logan Biever sidelined by injury, the door is open for any of the riders inside the Top 5 to decimate his lead or surpass the Albertan for the top spot.
No. 2 Nick Tetz is just 54.5 points back, while No. 3 Blake Smith trails by 59.67 points, No. 4 Dakota Buttar by 66 points and No. 5 Aaron Roy by 91 points.
RELATED: Click here for the complete daysheet.
Below are bullfighter Tanner Byrne's bets for Round 1 of the PBR Robertson Implements Classic, presented by Art's Excavating. Let us know your thoughts and your picks for the Cup Series event by tagging @PBRCanada on Twitter.
Tickets are still available and can be purchased online at Tixx.ca, by phone at 403-502-8777 and at the Co-op Place and Esplanade Arts & Heritage Centre Box Office.
Aaron Roy vs. Buster
The wily veteran struck in Grande Prairie, and as we've talked, this season has been a second coming of the Aaron Roy we all know and love. Proving that last weekend in Grande Prairie and putting himself in a position to win that fourth Canadian Championship. Buster is actually a bottle-fed calf of Cody Strandquist. He's super tame, but he's got a lot of action. Around to the left, lots of up-and-down that Aaron should get topped off for an 84-85-point score to set himself up good for the short go.  
Lonnie West vs. Crying Over You
Lonnie West is back, healthy, loving riding bulls. Feeling really well and in position to vie for a Canadian Championship in the PBR being in that Top 10. This bull's been really bucking. Crying Over You from the Two Bit Nation, has been a standout in the few trips I have seen this season. Should be out a few, into Lonnie's hand. One that he can get tapped off and could be a round win with an 88.
Brock Radford vs. Devil's Dues
Brock always gets brought up in these picks, and its for good reason. Brock's always the guy that you never count out, and always has the chance to win. He's got the grit and determination to put himself in the position to be a champion at every single event. The bull that he's got, Devil's Dues, is one that all the guys want to get on. In my opinion, the pick of the pen. He sets guys up good on their rope. Should have a look to the left and then be around to the right. One that Brock should style up. They've won rodeos on this bull. This could be the round win right here; he's been to the short round a few times. Look for Brock to get a 87-88-point bull ride on Devil's Dues.
Griffin Smeltzer vs. Look Alive
Griffin Smeltzer has been South with the Austin Gamblers and due to that factor of not being up here a whole bunch, he's on the outside looking in to the PBR Canada Finals. In that No. 21 position, he needs to make every ride count at these last few events of the year, and he's got a great bull of the Flying Four's, Look Alive, to do that on. This bull has a lot of action, he's wild, but he's got a lot of kick, and one that you should ride when you do things right. He'll go either way, but he should fit Griffin's style perfect. He should right him jump-for-jump and if the bull has his day this could be an 87-88-point bull ride.