The Morning Line – Grande Prairie Round 2
By: Tanner Byrne Saturday, October 1, 2022 @ 2:28 PM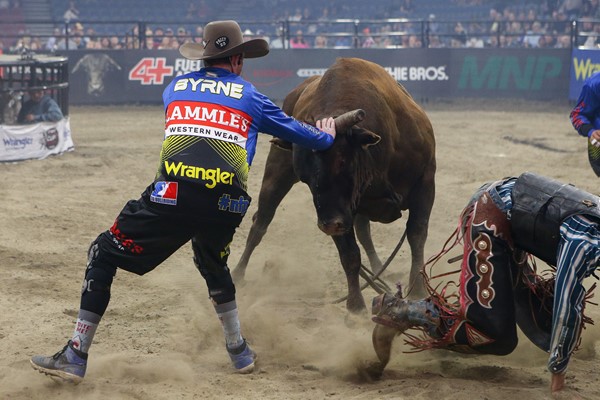 GRANDE PRAIRIE, Alta. –  It is without question that the bulls showed up to buck, and the cowboys to ride Friday night when the elite PBR Canada Cup Series, presented by Wrangler, event in Grande Prairie, AB, got underway!
Logan Biever delivered two crucial rides to remain No. 1 in the nation, but three-time PBR Canada Champion Aaron Roy kept pace with two 8-second efforts of his own as he chases his unprecedented fourth national title at season's end.
RELATED: Logan Biever wins 5/5 Bucking Battle at Elite Cup Series Event in Grande Prairie, Alberta
Championship Saturday will bring us two rounds of competition, as all entered riders will attempt one more bull each in Round 2, before the Top 10 advance to the championship round for one final out.
RELATED: Click here for the complete daysheet.
Below are bullfighter Tanner Byrne's bets for Round 2 of the PBR Peace Country Invitational, presented by Ritchie Bros. Let us know your thoughts and your picks for the Cup Series event by tagging @PBRCanada on Twitter.
Tickets for the event are still available and can be purchased online at BonnettsEnergyCentre.com, and by phone at (780) 538-0387.
Weston Davidson vs. Look At This Dude
Weston got his first PBR Canada win earlier this year, jumped his confidence up. He knows that he can fit at this level and win at this level. This is a good bull, Look At This Dude, that Stefan Tonita got on last weekend. Right in the gate to the left, one that Weston is looking forward to getting on. Look for a good score of 85-86 points.
Stefan Tonita vs. Spooky Lukie
I've watched Stefan growing up all these years, just getting better and better every time he gets on bulls. He's making his way into the PBR Canada Cup Series, and make those Canada Finals, and this is a great bull to do it on. He's got a lot of action, he's wild and crazy, everyone knows Spooky Lukie, but when you do things right, he rides pretty good by the looks of it. Look for Stefan to step out of his box this weekend and get a round win on Spooky Lukie with an 87-point score.
Jake Gardner vs. Last Rights
Jake has been riding really hot, he's one of our top guys on tour, day in and day out, bying for a Canadian Championship. Last Rights is a bull from Nansen Vold that really bucks, black and white spots. Jake has had success on him before, he's going to go both ways. Kind of fits Jake's style. This could be a round win as well.
Aaron Roy vs. Dealing After Midnight
Aaron didn't have the weekend that he wanted to in Lethbridge and look for him to bounce back and make up for that this weekend in Grande Prairie. He's riding great right now, he's feeling good, and ready to rock n roll and show his veteran tenacity. Show all the young bucks how he can out last them in a long season like this. This is a great bull that he can do it on. Dealing After Midnight from Jim Thompson is really good. Up and down, really bucks, one that you can get a good score on. Look for Aaron to set himself up for a good position in the short go.
Jett Lambert vs. Big Bird
Jett is making his return after an injury this year, a knee injury. He is in his home area up there in the Grande Prairie area. He's going to have that hometown crowd behind him, feeling good. He's got a bull named Big Bird of Nansen Vold's – big, yellow bull, and should be right in the gate to the left. Lot of blow in the air, lot of action to him. Really good draw when you do things right. Should fit Jett's style right. Real tall guy, on a real big bull. I am really excited for this matchup, and excited for Jett to kick things up to get into the PBR Canada Finals.