Nick Tetz Overtakes No. 1 Rank in Canada After Runner-Up Finish in Medicine Hat
By: Covy Moore Monday, October 24, 2022 @ 11:52 AM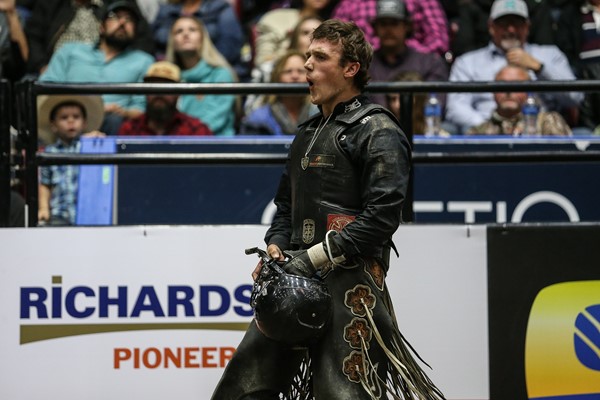 AIRDRIE, Alta. – A strong second-place finish for Alberta standout Nick Tetz at the most recent Cup Series event in Medicine Hat was exactly what he needed at this point in the 2022 PBR Canada season. 
With just one Cup Series event remaining before the prestigious 2022 PBR Canada National Finals, presented by Command Tubular Products, kicks off at Roger's Place in Edmonton November 11-12, Tetz parlayed his second-place finish into claiming the points lead by a mere 2.5 points over now No. 2 Logan Biever. 
With five event titles to his name in 2022, including two wins at the Cup Series, presented by Wrangler, events in Lethbridge, Alberta, and his three Touring Pro Division victories in Calgary, Kinsella and Czar Lake, Alberta, the 22-year-old cowboy is happy to be sitting where he is this late in the season, but says his eyes are on the Championship come November 12 in Edmonton. 
"It is always nice to be able to leave an event No. 1 in the standings, but also there are so many points available at the Finals in Edmonton that it's more about just coming into Finals in a good spot, and in a spot where you have that shot of winning it," Tetz said. 
"Nobody remembers who came into Finals in the No. 1 spot, all they remember is who ends up leaving there in first place. That is the goal."
Having had an incredible 2021 summer run, which saw Tetz holding onto the points lead for a good portion of the summer last season, injuries sidelined the young rider the remained of the campaign until the year-end Finals, where he would suffer more injuries.
Having experienced that successful of a summer, into potentially a hasty return to competition for the season-ending event, Tetz says he learned a lot from his 2021 efforts. 
"The lesson learned is just taking better care of the body and listening to it," Tetz explained. "I ended up turning out of a lot of PBR events right before the Canada Cup events fired back up. I think there were a couple people wondering why I was turning out." Tetz said. 
"I had to listen to the body. I didn't want to have to come in with anything hindering me, or any doubts in my mind. It is tough to block stuff out for bull riding, you do it at times, but coming down to this final stretch, you don't want to be nursing any injuries. Just taking care and listening to the body, acting more like a professional."
Employing the talents of Leeanne Gullett and Mike Kicia, and the team at Acumen Performance has been invaluable to Tetz. While many of Canada's professional bull riders have been working on the physical fitness side of the sport in recent years, Tetz says the efforts and care put in by those professionals at Acumen is unmatched. 
"They do such a good job. If I have bumps or bruises, they will work on you for that, get you feeling good. Then get a lift in with Mike. I will often spend three hours there, and it only feels like one."
"They give you all the right tools," Tetz added of his time spent at Acumen. "As long as you are disciplined and stick to the program they give you, and the preventative side, you are going to see improvement in your riding performance."
Looking ahead, including the upcoming PBR Canada Cup Series event in Saskatoon, the PBR Canada Finals at the start of November, as well as a berth to the Canadian Finals Rodeo in between, Tetz has a stretch of 14 bulls to look at over the course of two-and-a-half weeks.
How he is mentally preparing for that stretch harks back to the lessons he is learning presently in his young career -- maximize what you can get with every bull, even if you aren't sitting with that first choice of short round bull, or even being drawn back on time. 
"You have 14 bulls left in the season," Tetz chronicle. "That is one thing to look at, 14 left to give it your all. You must make sure you are in a place where you can give it your all. The big thing for me now is I used to think if I fell off, or coming into the short round sitting low, I wouldn't be fired up for the short round. I want to win events, not just be another guy competing there."
"Sometimes if you don't have the draw to allow you to win the event, or if I am coming into the short round a ways down, or not in the greatest spots, I am realizing there are still very crucial points in the average, a lot to be won in the short round that I have to capitalize on."
"At this point, every point matters in this title race."
With another basket full of points available this weekend in Saskatoon, Saskatchewan, and the Top 8 competitors all within 100 points of the lead, Tetz says at this point in the season he isn't looking at the points standings so much. 
"Part of our job is knowing where you are at in the standings, but I don't pay too much attention to it," Tetz said. "I don't go in looking at it like I have to win here or there or look at how many points I have to win to be in that No. 1 spot. I am not worried about that, I let the riding take care of that."
"Right now it's easy to get caught up looking at the standings and being worried about that. But we are all busy enough to not worry about the standings. I think we all ride at our bests when we aren't worried about the standings, we are just all out there doing it for the love of the sport and having fun hanging out with your buddies. You can't get too far ahead of yourself looking at standings, you can definitely psych yourself out looking at the numbers."
With 14 bulls to ride from October 28-November 12, Tetz says the day he is looking forward to most will have no bulls to be rode. The Ty Pozzobon Foundation Sportsman Banquet, the kickoff event to the 2022 PBR Canada National Finals is easily the day he is looking forward to the most. 
"That is always the part I look forward to the most," Tetz was quick to say. "You get to sit and enjoy a night with all your buddies. Everybody is there wanting to have a good time and supporting the Ty Pozzobon Foundation doing it. You walk around, do some bidding in the silent auction, a great meal. And at the end of the day, that event supports us all directly, because we are lucky to have the Ty Pozzobon Sports Medicine Team at every single PBR event all year. "
As for competing in the state-of-the-art Roger's Place in Edmonton, the hockey purist admits that while the building is second to none in this part of Canada, the young Calgarian doesn't let the grandeur of Oiler Country get to him. 
"Go Flames, go," Tetz remarked. "If we were in the Saddledome it might be different. I am a flames fan through and through."