Lambert, Biever Out Injured, Expected to Return for PBR Canada National Finals in November
By: Covy Moore Thursday, October 13, 2022 @ 12:14 PM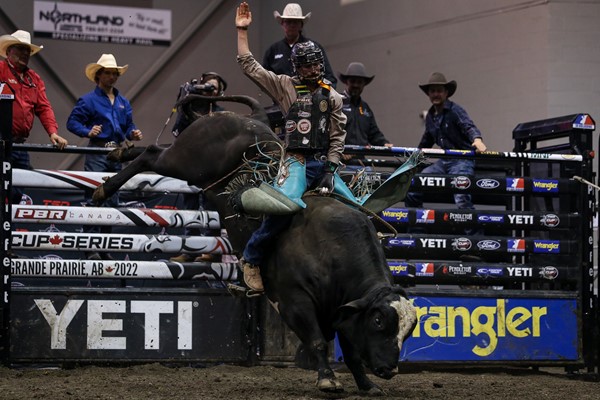 AIRDRIE, Alta. – Bull riding is a sport where it's not if you get hurt, it is when.
For season leader Logan Biever and two-time PBR Canada Champion Zane Lambert, injuries came at the worst possible time while working towards the 2022 PBR Canada Championship.
On the first night of competition in Grande Prairie, Alberta, Lambert, who is preparing to retire at year's end, bucked off his bull close to the buzzer. When he came down, he was stepped on.
Transported to local hospital, Lambert sustained a lacerated kidney, broken ribs and a hip flexor injury.
Originally told it was simply a bruised kidney, Lambert spent a few days in hospital before heading home to learn of the further extent of his injuries.
That news changed Lambert's outlook on the season, but he still remains hopeful for a berth to his 17th, and final, PBR Canada National Finals on Nov. 11-12 in Edmonton, Alberta.
"I was hoping to be back at Saskatoon here," Lambert began. "I don't know if that is in the cards anymore, now that there are broken ribs in there. They usually need at least four weeks. It's unfortunate sitting back and hearing that news. I am just holding off until they tell me I am good to go."
"Being out a couple months ago, and now, I am a lot lighter than I would like to be," Lambert added.
Lambert, who is presently No. 14 in the national standings, is confident he will qualify for the 2022 edition of the year-end event, again being hosted at the prestigious Roger's Place in Edmonton but feels as though a shot at a record tying third PBR Canada title might be out of the cards.
"I don't think there is any way I don't qualify," Lambert explained. "I think I will qualify with what I won before July, before I started getting hurt. I needed a win last weekend to stay in contention for the thing, and a win over these next three would be perfect."
"If I have to sit out the next two, that will make it pretty hard," the Ponoka-native continued. "And then Edmonton, I wouldn't even be going for the title, but just going for fun really. If I could have gotten a win out of these last three, I would have been right in the title hunt coming to Edmonton."
Canadian No. 1 Biever, who has dominated the 2022 season, ended up in a similar situation during the second night of the Grande Prairie event.
He was thrust into the chutes by his second-round bull, kicked on the way down. Biever was immediately transported to local hospital.
Also suffering a lacerated kidney, Biever spent a couple days in the local hospital as well until being released three days after the event.
"I don't really know what happened," Biever recalled. "It was one of those deals, some days it goes, some days it doesn't. That day it didn't. When I came off, he kicked me in the kidney, I guess. Instantly I had a pretty good pain. I have a small tear and a bruise to my kidney, a little bit of internal bleeding. They ended up having to put a stent in my kidney."
The Claresholm, Alberta standout says he is also expecting to be back for the 2022 PBR Canada National Finals and is confident that not only will he be qualified but seated well enough to still go after this season's title.
"I got to get the stent taken out in a few weeks," Biever continued. "It has to stay in there for a little bit. Hopefully toward the end of the month get riding some horses and get moving around, see how that goes anyways. We will start with that. See how the body feels and go from there."
"Hopefully back by Edmonton, that is what I am hoping for. That is tentative though. I was told that there was no reason why I can't be back for Finals. But she did say that would be pretty quick too, but not unrealistic. They want the full two months, but we are going to listen to how the body feels. I would hate to miss Edmonton."
"With how I am sitting in the points right now, and if I move around over the next few weeks, I don't think it will change it too drastically to where I am out of contention. Hopefully I am back in Edmonton, that is my plan anyways."
With two major setbacks to his 2022 season, Lambert said he will spend the mending weeks focused on getting into riding shape, as he doesn't have that repetition of getting on every week for the past four months.
Hitting the gym as soon as he can, and going back to basics is the perfect way for the veteran to get back into the swing of the PBR Canada rigors.
"You just focus on the basics," Lambert said. "Any time things get outside that, you just have to refocus. You focus jump for jump and that is how you come out of any slump or any riding issue. You keep your head on and get back to basics, correct yourself like you do over and over again in this sport. You know where it is, you just have to get back to the basics, the rhythm and the timing."
"When you get on a few that comes naturally. Knowing that going into Edmonton, I hope I can get on something right before Edmonton, or just draw a good one heading into the long go and get some momentum going. For me, not being able to get on a bunch of bulls while I am out is tough, but I will be going to the gym and getting those muscles firing. Just doing the things to make sure I am at where I need to be for Edmonton."
"That is what I felt like I have struggled with this year, having break and break after break, the conditioning slowly goes away. Now with some injuries, that will be tougher for sure."
With both riders having had to sit out at some point in their careers, both are well capable of coming back and winning, but the key is keeping your mentality positive.
For Lambert, who has qualified for every single PBR Canada Finals in history, his message to the younger Biever is simple. Focus on the good.
"Don't focus on the bad, focus on the good. Know that you were riding good going into it. Injuries slow you down here and there but don't let it get to you. Life is short, as long as you are having fun, enjoy it," Lambert said.
For Biever, he has a similar mantra through the next few weeks but said the injury itself isn't something he is focusing on at all.
"I just try not to think about it honestly," Biever concluded. "Makes me pretty grumpy when I think about it. Stuff happens. It's not if you get hurt, it's when. The when right now is a very terrible time."
"A guy has to quit thinking about that, look back and think about what I have accomplished this year and take that to heart and make sure you remember all the hard work you put in wasn't for nothing. Whether that is this year, or next year, or the coming years, you just feed off that."