Smeltzer Sets Sight on World Finals After Win at 2023 Canadian Season-Launch Event in Dawson Creek, BC
By: Covy Moore Wednesday, November 30, 2022 @ 10:03 AM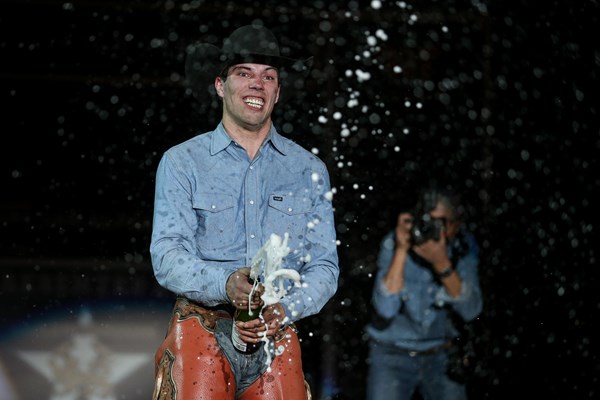 AIRDRIE, Alta. – When the dust settled after the first weekend of competition for the 2023 season, Griffin Smeltzer held to No. 1 rank in the early Canadian Championship race.  
Victorious at the season-launch event in Dawson Creek, British Columbia, followed up by a seventh-place result in Lloydminster, Alberta, Smeltzer said the two weeks off between the 2022 PBR Canada National Finals and the start of the new season was exactly what he needed to refocus.
"I spent the weeks off spending time with family getting back centered, reanalyzing my goals for this year," Smeltzer said.  "I am excited, and I am hungry."
Coming off a very disappointing Canadian Finals where he was shutout, Smeltzer said the sport can be tough when you don't have the momentum on your side, but that turning it around at the start of the 2023 schedule is perfect.
"I hadn't been getting on a lot of bulls leading up to Finals.," Smeltzer began. "I was going lots, but it wasn't going my way. Just didn't have that momentum going my way heading in there."
Going a perfect 2-for-2 in Dawson Creek in front of a packed house, Smeltzer said he went into the event fresh and ready to start off on the right foot.
First riding Disco Daze for 86 points, Smeltzer clinched the victory with an 87.5-point ride atop Positively Bangin.
"I thought it was awesome. I had never been up for that one before, but I had always seen videos. They had that place packed to the nines, everyone was having a good time, it was loud. Just seemed like everyone was really enjoying themselves at the PBR."\
"I really didn't know my first one, but I knew he was a Carlier bull, and Lindsay doesn't bring bad ones for us," Smeltzer recalled. "He ended up being pretty nice. I had seen Positively Bangin quite a few times, but never had the opportunity to get on him. I figured that was my pick to win. It worked out."
Atop the standings, after Montanan Cole Wagner won in Lloydminster and Canadian young gun Weston Davidson delivered consecutive Top 5 finishes, Smeltzer is surrounding by talent.
But Smeltzer is more focused on a different set of standings – the Velocity Global Standings.
"As of right now I have one goal in mind, and that is to get onto the Unleash The Beast Tour. These events really help me to get those early points and get into those Velocity events down in the United States."
"This is a new season. I plan on riding as many bulls as possible and the rest will work itself out."
As for what the next couple weeks of bull riding look like, Smeltzer says there is a bit more time off before he plans on heading South in January.
"It is going to be pretty packed in January. I will be heading south to the Velocity events down there. We have one every weekend until March, so it is going to be pretty busy.:
"After that I haven't thought too much about what I want to do, but I know I would like the opportunity to continue representing the Austin Gamblers and look forward to balancing the Team season with as many Canada Cup Series events as I can get to."