Lambert to Retire Following 2022 PBR Canada National Finals
By: Justin Felisko Friday, November 11, 2022 @ 10:42 AM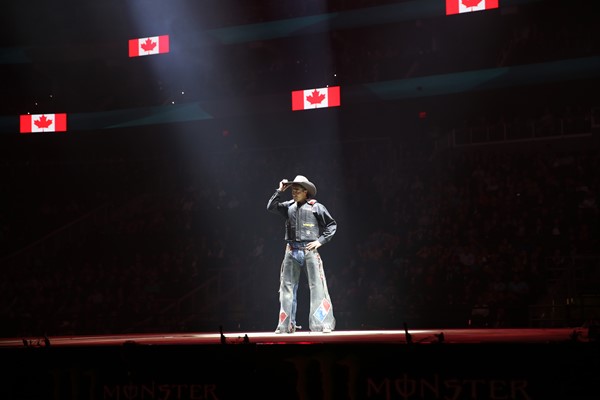 PUEBLO, Colo. – Down in the basement of Zane Lambert's brown brick house in Ponoka, Alberta, there is an old beer box overflowing with belt buckles, trophies, and endless awards in his workout room.
Over time, Lambert has gone through the box and hung up some of his most prestigious accomplishments, such as his two PBR Canada championships (2013/2017) and his two PBR Canada National Finals event titles (2016/2017), to serve as motivation to continue to battle through the rigors of competing in the toughest sport in the world for nearly two decades.
PBR Canada's all-time qualified rides leader (318) has won the second-most events in Canadian history (30) over the course of his legendary 17-year PBR career and is the only rider to qualify and compete at every PBR Canada National Finals in league history.
With Lambert set to officially retire following this weekend's 2022 PBR Canada Finals, presented by Command Tubular Products, in Edmonton, his 4-year-old son, Everhett, may have a retirement plan for him.
"I think we should sell them buckles for grocery money," Lambert recalled his son telling him with a laugh.
Family time is the biggest reason as to why Lambert, 36, is ready to officially hang up his bull rope following a 17th consecutive trip to the PBR Canada Finals.
Lambert is ready to be home with Everhett, his 10-month old son Tucker, and his wife Stacey.
He envisions himself picking up his sons from school, watching them attempt to become the next Tiger Woods as they play golf on the three-hole artificial grass course in the backyard, and teaching them the morals and values of being a cowboy.
Lambert is ready to sit on his porch and happily reflect on everything his bull riding past has provided him and dream about what his future may hold in a town that that cowboys are proud to call home.
"When I started everything, my goal was to get acreage of my own where I could raise a family and start a new career somewhere I was proud of and a place I could call my own," Lambert said. "I was able to do that. Old cowboys from all over the road have ended up settling here in Ponoka. We have the oldest rodeo in Canada here, and it is a great place to raise a family. I'm going to get some pets for the boys to make sure they're set up and can grow up as country kids and around animals and whatnot.
"Everhett is going to be starting preschool soon, and that will be hard for me to dedicate what it takes to chase after a title. If I'm not chasing a title, what's this for? This year will be it. Things are wearing out on ol' Zaner. Old injuries are coming back, and then I had some pretty big injuries that have been bugging me (including a lacerated liver on Sept. 30 in Grand Prairie), and then little bumps and bruises. Those things linger, and I feel like it's time to maybe get things fixed and let the body heal a little bit. That is the biggest thing that is happening to me; the body is telling me it's about time. It's kind of like the timing for me now is right with the kids getting to an age where they need me home a little more consistently. My wife is ready to go back to work, and it is my turn to be making myself available to pick up and drop off the kids at school."
*****
Lambert grew up in Westbourne, Manitoba, and he would get his first taste of rodeo and bull riding when his parents took him to events in nearby Winnipeg.
It was there that Lambert would meet fearless cowboy-hat-wearing athletes. He would parade his way behind the scenes, attempting to gather as many autographs as possible as he looked on at his heroes in awe.
By the time he was 10 years old, Lambert's dad was hauling him to multiple youth clinics, including some influential ones put on by 1992 PRCA champion and PBR Ring of Honor inductee Cody Custer.
Lambert would slowly start to climb the youth ranks in Manitoba.
"My dad was a definite help," Lambert said. "We probably went to 10 or 12 bull riding clinics throughout the first five years of my career. We would go to any instructor that had anything to do with rodeo or bull riding around. The biggest influence someone had on me was probably Cody Custer. I really liked him and went to about three of his schools."
Lambert eventually started to branch out beyond Manitoba and would travel further throughout Canada to compete as a youth bull rider. He would eventually head to Saskatchewan and cross paths with a couple of kids known as the "Roy Boys" as a teenager.
Lambert had yet to meet Aaron Roy or Matt Roy before, but he had known the Roys were believed to be some of the best bull riders in the country, and he was proud to win the bull riding that day he first met them.
"Normally, when they show up, they would whoop ass all the time, so I knew right then that I had my work cut out for me from the beginning to beat the Roy Boys," Lambert said in laughter. "I watched them, they watched me, and it really drove me to get better, in a way, because that was the first competition I had seen at my level. I was whooping everybody's ass when I was a little kid because I lived in Manitoba and there wasn't a whole lot of competition there."
Instead of becoming rivals, Lambert and Aaron Roy, who share the same July 2 birthday but are separated by one year, eventually became friends. The Roys would stay with Lambert and his family when they traveled to Manitoba, and vice versa when Lambert was in Saskatchewan.
The two aspiring World Champions would live together in college and earned rodeo scholarships at Lakeland College (Vermilion, Alberta) under the tutelage of Jim Leitheiser.
Two decades later, they have gone on to become the two greatest bull riders in Canadian history.
Both are the only men with 300 or more qualified rides in PBR Canada history, and the only man with more event wins in Canada than Lambert is the three-time PBR Canada Champion Roy.
"Maybe I hold the stats or whatever for now, but we will have some come up through the ranks and surpass it, so that's great to see," Lambert said. "To be in the company with some of those guys, like Aaron, though, is pretty cool."
*****
Lambert began his PBR Canada career with quite the splash. The 19-year-old got into the inaugural event in Winnipeg and went on to win his debut with an 89.5-point ride.
It was the first of his now 30 event wins and 318 qualified rides.
The journey to his first Canadian title in 2013 was not easy, though. There was plenty of heartbreak and shortcomings along the way.
Lambert finished runner-up in 2010 and then posted back-to-back third-place finishes in 2011 and 2012. He was more bridesmaid than champion.
"It was super hard me for me, actually," Lambert admitted. "I was competing against some pretty good athletes there when I got my first title. I think I got runner-up two or three years in a row before I got that one, so that was frustrating. To get it, you have to put all of the effort into it. There were years before I came in No. 1 but couldn't finish, so the first one was really hard to get. I had to put a lot of effort and try into it. To get that first one was pretty crazy."
Lambert then let out an exhausted laugh when thinking about how difficult the Canadian title races seem to always be. Almost 10 years later, he still sounds somewhat tired from the title grind.
He finally tasted gold-buckle success when he clinched the 2013 PBR Canada championship with an 86.5-point ride on Gretzky.
"With how many times I was the bridesmaid, it really meant a lot," Lambert said. "It meant more getting it that way than if I would've just walked in and got it. I'm pretty proud of that one because I didn't always close all of the time. That one I closed, rode my last bull and won the title, so I kind of finally had a closure with that one, and it felt good. Pretty memorable getting off that one because they were like, 'You won! You won the title!' and it was pretty awesome."
Lambert, who also qualified for the Canadian National Finals Rodeo five times in his career, won his first PBR Canada Finals event title in 2016. But his second consecutive PBR Canada National Finals event victory the following year may be the most memorable.
Having never led the PBR Canada standings all season, Lambert overcame a 379.16-point deficit in Saskatoon, as well as a broken foot earlier that summer, to snatch the championship away from Brock Radford by going 2-for-3.
"The second one was bittersweet," Lambert said. "It was kind of a comeback. I had a bad injury, but God said, 'Nope, that's not going to happen,' and I came back strong and just used that momentum from just coming off of injury. I had a one-track mind."
*****
Lambert appeared at the PBR World Finals in the United States five times – 2009, 2010, 2012, 2013, 2014.
2014 was really the only season in which Lambert attempted to ride full-time in the U.S. He went 11-for-54 and finished a career-best 28th in the world standings as he decided to hit the premier series tour alongside Tanner Byrne before returning to Canada the following year.
"After that, I thought, 'Well, I'm not going after a world title. I want to go after a couple of Canadian titles," Lambert said. "I was like 26, and I had just gotten married, and we started a family and got a house. Things weren't progressing the way I wanted it to in (the U.S.) and there wasn't many sponsorships that were going to help me stay on tour for that, so I came home and went after that Canadian stuff. Different things kind of sent me down different paths. I might've been down there in the earlier part of my career and it might've changed things if I went that way, but it really kept me a Canadian kid and up here, and I wouldn't change a thing."
Regardless, Lambert still cherishes his limited success on the sport's grandest stage. He quickly recounts some of his favorite rides from the World Finals with relative ease – 87.5 on Guns & Donuts and his 84.25-point efforts on Buck Wild and Titanium Tough.
"2014 was my highest ranking in the world, and that was pretty cool, just getting the qualification to the World Finals," Lambert said. "To come in and get qualified rides there was pretty cool."
*****
Early in his career, Lambert was taught to always write down his goals at the start of a season, and the grizzled veteran has never avoided that process.
In fact, there is a squeegee board in his workout room next to his buckles that is a daily reminder of what he has been pushing for amidst his final PBR season.
Win the PBR Canada Championship and PBR Canada National Finals.
Lambert may be mathematically eliminated from the PBR Canada title race, but he still could very well end his career with another record – a third PBR Canada National Finals event title – and give his sons one more belt buckle to admire.
Someday, Lambert's boys will understand the prestigious and historic legacy of his career, and that maybe they shouldn't sell those precious gold buckles for grocery money. Lambert, though, just hopes he can share with his sons some of the lessons he learned from competing at hundreds of bull ridings on multiple continents.
"I hope they grow up and realize I accomplished a lot, because it makes me proud for them to say their dad was somebody," Lambert said. "They don't have to follow in my footsteps, either. They're going to do their own thing, probably get them some golf clubs and hockey gear to start with. If they want to ride bulls, I've definitely got the skills to teach them and give them all the opportunity they can if they want to go down that road.
"I got to see things from all over the world, and that's a good life lesson. Seeing the different characters of people out there, bad characters and good characters, and it's good to see that, so I think that's my life experience, and I'll just try to pass that onto the kids. I am ready to try to put the right morals in them so that they can grow up the right way, and I'm looking forward to it."