Brock Radford Recaps his Runner-Up Season, Looks Forward to Australian Grand Finals and Beyond
By: Covy Moore Wednesday, November 23, 2022 @ 4:18 PM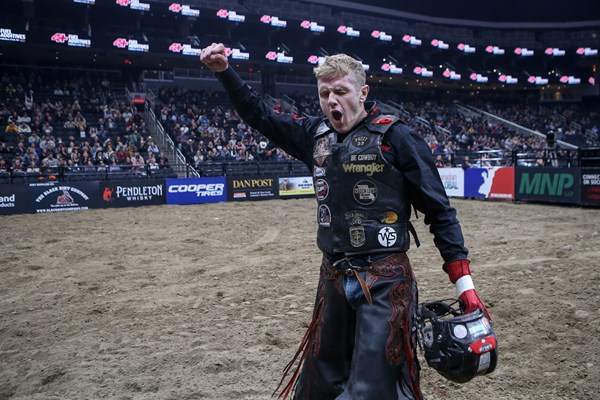 AIRDRIE, Alta. – For the third time in his PBR career, Brock Radford left the Canadian National Finals runner-up to the year-end title.
And while that trend is getting old for the 27-year-old, Radford said the 2022 season tested him, but also lit a fire in him to continue pushing.  
"Always the bridesmaid, never the bride," Radford laughed.  "It was a good season. I got through it this year. That is a bonus."
"Last year I got wiped out and had to spend some time healing my ankle. I got through [2022] relatively healthy, tore my ACL along the way, but the rest of the knee is good, hurt a few ribs."
"It's always good when you are in those pressure situations riding for a title and that is my mindset," Radford added. "Putting myself into those situations as much as I can, consistency is key, one day I will knock it home."
Despite Radford looking back positively on the season, when the dust settled, he still fell 26.5 points short of claiming the national tile, won by Nick Tetz.
"It's heartbreaking, it sucks," Radford stated. "I don't know if I slept a wink the night after that last round. There are two choices with it though. You can take it as a big negative and let it wreck you or use it as motivation. It's something I probably needed. Everything happens when it needs to happen."
"I said this to a few guys, not many. I was sort of losing my fire a little bit in moments this year. I was burning out. From the injuries and shit like that. I was really having to dig deep at some events, but Nicky showing up the way he did, just relit it for me. Everything happens for a reason."
During the season, Radford won two Cup Series events, in addition to a Touring Pro Division stop, leading him to briefly hold the No. 1 rank in the nation. However, Radford began the 2022 Canadian National Finals trailing the No. 1 spot by 65 points.
"I didn't have a whole lot of pressure on me this year," Radford recalled. "I was fighting an uphill battle in a few ways, but I was definitely down on points too. It is just going to make for a great story when I do get it."
"I have a fire lit in me like never before and I want to make a push for the World Finals this year, do that again, and go with the young kids we have going down there. I am the young guy of the old guys now."
When the National Finals got underway, Radford was the undeniable star of the opening rounds.
Going 2-for-2, including a Round 1 win, Radford was able to inch within 45 points of the top spot entering the final day of the season.
But even thought Radford dominated, nine guys remained in the title hunt entering Championship Saturday.
However, while Radford ended the event with a score in the championship round, a buckoff in Round 3, led him to finish the Finals fourth, not enough to hold off a hard-charging Tetz.
"It was a fun Finals, getting on all those good bulls, and riding against these guys makes you better too. It's showing how good the guys up here in Canada are, you can't make mistakes."
"It was an awesome title race, Radford continued. "It was the tightest one I have been in for sure. The most guys still in the hunt come finals for any one I have been a part of."
During the 2022 PBR Canada National Finals, 15 of the 20 finalists delivered a score, with three riders going a flawless 4-for-4.
"We run really deep up here in Canada," Radford said. "We have a lot of talent here, and I think that is only making the guys up here better. It dang sure isn't easy to win, there's a different winner every weekend almost."
Radford said that the locker room this year felt like one of the tightest groups he has ever been around.
The camaraderie in the PBR Canada ranks is unlike many other sports, and Radford said that is a part of what is making PBR Canada the extremely competitive, yet friendly community it is.
With the closes bonds on full display in Edmonton, Tetz, after riding his second bull of the Finals which would inevitably win him the title, cut his television interview short to go support Radford on the back of the chutes.
"It is humbling knowing he said that," Radford reflected. "That just goes to the guys before us that taught us that. The Zane Lamberts, the Tyler Thomsons, the Tanner Girletzs. It was the generation before us, they groomed us."
"We are doing the same with the kids coming up. Canada has always had that camaraderie and brotherhood in the locker room. It's not so much us versus each other, it's us versus ourselves and the bulls. It's kind of like boxing in that way, the biggest opponent is the guy in the mirror. It's a mental sport. We let the chips fall where they may and see what happens. It's a dangerous sport so we are always all there to see each other do good and win and look out for each other."
"The old saying, 'Iron sharpens iron,' That is what we are doing up here. Nick showing up on my chute supporting me drives me to do better and I am pretty sure me showing up for him gives him that much more fire to do better. It's a unique locker room we have in Canada. To be honest I don't think I have seen this level of camaraderie in any other locker room, and I don't think it compares to most locker rooms in Canada."
When asked what part of 2022 is going to stick out in his memory, Radford said it is going to be Lambert's retirement.
"Putting my bag beside Zane's at most of these events, I am going to miss doing that. He has become one of my best friends since I came and started going to these events. I am sure you know; it wasn't easy for us all in that end of the arena with Zane to control the waterworks that night for his retirement."
"He will still be around the sport, but I will dang sure miss having him in the locker room, getting ready with us, the good times and fun times we had."
Radford, along with newly crowned 2022 PBR Canada Champion Tetz will now head overseas for this weekend's PBR Australia Grand Finals in Townsville, Australia.
Part of the rider swap that brough Jake Curr and Braith Nock to Rogers Place for the Canadian National Finals, Radford, who has family roots in Australia, says he is most excited to go over with Tetz, and get to experience their Finals event with him.
"We are going over there to get that buckle, first and second and show that the Canadians mean business."
"PBR Australia is great, and they have an excellent event there at Townsville," Radford concluded. "Nicky is super stoked to go. I have been lucky enough to be there before and know a few people. He is excited to go meet some new people and experience it for the first time. That is part of this sport, enjoying the places it takes you. We get these opportunities to ride in some amazing venues and cool places all over the world. Sometimes you got to just stop, take a breath and enjoy it."