2020 PBR Canada Champion Dakota Buttar Looking for Redemption in Edmonton
By: Covy Moore Wednesday, November 9, 2022 @ 6:00 PM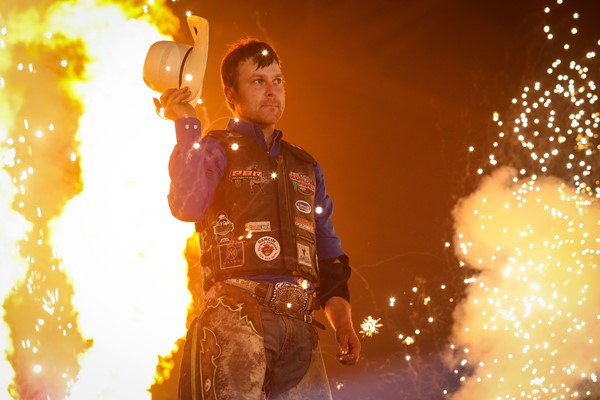 AIRDRIE, Alta. – For the second time in as many years, Eatonia, Saskatchewan's Dakota Buttar will head to the year-end PBR Canada National Finals as the season leader.
But this year is different.
In 2021, Buttar was nursing an injury that would eventually sideline the 2020 PBR Canada Champion with just two bulls left to ride.
This year, he is healthy and ready to contend for his second PBR Canada title.
Off of the back of four PBR Canada Touring Pro event titles, and a very strong showing in Saskatoon, Saskatchewan two weeks ago on the elite Cup Series, presented by Wrangler, Buttar holds a 21-point lead over standout Nick Tetz as the season's focus turns to Roger's Place in Edmonton, Alberta.
"I am happy with how the season has gone," Buttar said. "It hasn't been a really high or really low year. It's really been right there in the middle. I haven't had one big hot streak or anything like that, just been plugging away all year."
Looking back, Buttar says his second-place finish in Saskatoon two weeks ago is a standout moment for the 30-year-old rider, adding that turning the luck in a building that hasn't been great to him during his career was huge.
In 2021, Buttar sustained the very injury that would end his season inside SaskTel Centre.
"Saskatoon is the biggest one for me. Coming in this year, I was pretty nervous after what happened last year. Not because it had anything to do with getting on there this year, I just never seem to have much luck in that building."
"Coming back there this year, being able to ride all four and get bumped up in the standings was a big highlight for me," Buttar added. "I had been first for maybe a couple weeks this summer, I had to work through worrying about my groin there this year, so to go 4-for-4 was big for me."
Buttar said that his tough luck at SaskTel Centre in the past was on his mind most of the weekend but added that it was only on his mind as a reminder to make sure he was preparing properly.
"Whether it has anything to do with it or not, there is that one corner in the building where the doors open and before it was tough to stay warm enough before getting on. So that was a big part of the routine this year, making sure I was keeping everything warm before I got on that one side."
Buttar is healthy as can be heading to Edmonton this weekend and says that he is pumped up to be able to travel to Rogers Place with the lead and feeling good.
"Last year was cool, but not ideal for me," Buttar chronicle. "I will be getting on all four this year. It is pretty cool to be able to ride in a building like that, because it doesn't happen every day up here in Canada."
"It's the biggest, most prestigious building we ride in every year, so we are all pretty pumped up and excited heading into there. I am just looking forward to a good weekend with everyone. I am hoping everyone puts some good rides together and makes this an exciting race."
And that race is tight.
With nearly half the PBR Canada field of competitors still in contention for the title, Buttar says it is time to focus on himself and not get too worried about how his competition is riding.
"I am not really keeping my eye on anyone," Buttar explained. "This is such a wide-open deal now, with like nine of us in the running. If I start worrying about what someone else is doing it is going to mess up what I am doing. I am going in and will be focused on my own bulls, and what I have to do. If you focus on anyone but yourself, it will give you trouble."
What will it take for Buttar to walk away as the 2022 PBR Canada Champion?
He says remaining focused all weekend on the task at hand.
"Sometimes I lose sight of that and get a little overconfident. Stay focused on not making mistakes and being able to go at them like I need to."
The PBR Canada National Finals takes place this weekend at Roger's Place in Edmonton, Alberta, and after a season that saw some riders getting on nearly 70 bulls to ensure their qualification and placement for this one event, Buttar says it is the most exciting championship race in many years and that this weekend's Finals will be some of the most exciting bull riding you will see all year.
"For how exciting the year has been, coming down to this last event with a good bunch of us still in the running, everyone is going to be laying it all out on the line," Buttar said. 
"Everyone wants that title and $50,000. This sport is going to be at its most exciting this weekend with this much on the line."