Wild Hoggs, Two Bit and Eno Headed to the 2022 PBR World Finals
By: Covy Moore Thursday, May 5, 2022 @ 3:57 PM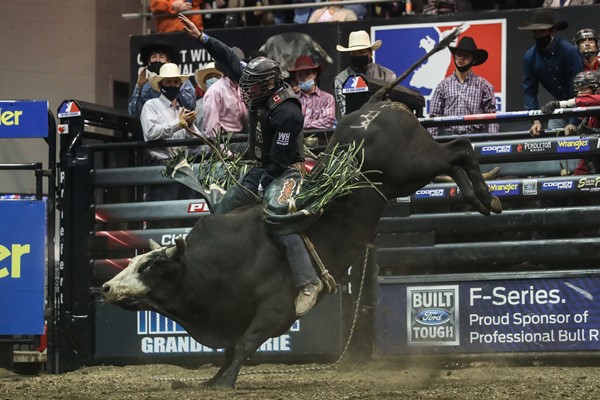 AIRDRIE, Alta. – The 2022 PBR World Finals in Fort Worth will feature a Canadian flare, with three bovine athletes from the nation tapped by Cody Lambert to compete inside Dickies Arena.
While the final PBR world standings has to sort itself out at the PBR Pendleton Whisky Velocity Tour Finals and riders are not for sure, the list of bucking bulls making the PBR pilgrimage has been announced.
Two-time and reigning PBR Canada Bucking Bull of the Year Happy Camper, from Two Bit Bucking Bulls, Gaume Farms Stickin "n" Movin' from Eno Bucking Bulls, and Norse God, from the Wild Hoggs Bucking Bulls' firm, will all make the journey to the Lone Star State.
For Happy Camper the nod marks his fifth career selection to the PBR World Finals, while both Gaume Farms Stickin "n" Movin and Norse God will be making their debuts.
And while Norse God will be bucking for the first time at the sport's most prestigious event, the Wild Hoggs outfit is no stranger to the PBR World Finals. Hailing from both Stavely and Marwayne, Alberta, the stock company has more recently been known for Tykro Pound Sand, a maternal brother to PBR World Finals campaigner Pound The Alarm.
"It feels good," Wild Hoggs' Ty Streeter said of the invite. "We have missed a couple years, it's always been our goal to get back there. We know we have a good set of cows, and some partners with cows that can get us there, the genetics behind it. Just hard work and time to get back there."
Six-year-old Norse God was born at Wild Hoggs' South in 2016. While he didn't show the optimal futurity bull style, of turning back right in the gate, he showed promise in other ways.
"He is a home raised bull," Streeter explained. "His dad is Juicy Vindication. He is a bull that Ty Pozzobon found down south as a breeding bull, we partnered with Ty and brought him up. That bull went to the NFR a couple time, out of that Kish bloodlines."
"He has always been a bucking bull," Streeter said further of Norse God. "He was never that futurity type bull, but he has such explosiveness and can get in the air. We knew from a 2-year-old he was going to definitely be on the trailer."
Being that those formative early years were spent through the slowdown of the sport in Canada through 2020, Streeter says that didn't have much of an effect on the bull, positive if anything.
"We didn't get any that year. We cracked him out with the mannequin at Justin Volz's place, and that bull bucked, he was damn cool."
Norse God then settled into his own in 2021, contending for the PBR Canada Bull of the Year honor.
When looking at favourite trips on the 2021 PBR Canada season, Streeter says his 90-point effort with Dakota Buttar in Ponoka to win the event was easily his favourite.
"It was awesome," Streeter said of the out. "Being a stock contractor, I would rather see them ride them every day of the week. That bull bucked there, that was one of his best trips. He was getting in the air and everything, that was a cool trip."
"And at such a cool place in that arena there in Ponoka."
While the 2020 slowdown had an effect on the Wild Hoggs' operation, they have never lost sight of the goal of getting back to the PBR World Finals.
Having sold off a fair number of their buckers down south, the current effort is to have a rank set of nine or so bulls that can fill the trailer in 2022 and beyond.
And if Norse God is any indication of that effort, things are looking positive for the Wild Hoggs.
"We thought outside the box a little bit," Streeter said.
"Through this COVID stuff, we sent 35 bulls stateside, selling them as bucking bulls. We have downsized a bit for sure, but our plans are to have at least nine serious buckers that can be on the truck at any given time. Ranker set of bulls overall is the goal anyways."