Tetz Travels Stateside in Search of Spring Success with Team Series on the Mind
By: Covy Moore Tuesday, March 22, 2022 @ 4:57 PM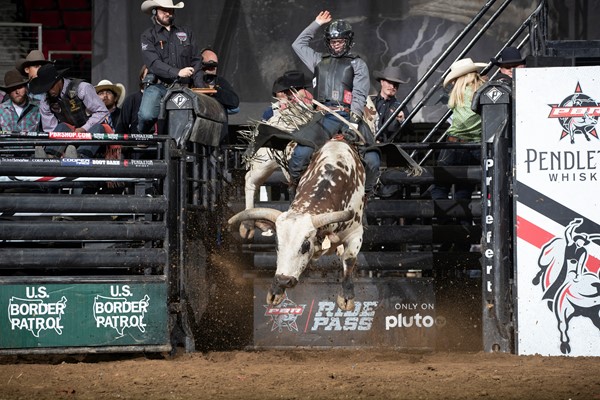 AIRDRIE, Alta. – With the 2022 season in full swing stateside, Nick Tetz is the latest Canadian to have headed south to compete on the PBR Pendleton Whisky Velocity Tour during the spring campaign.
Tetz made his 2022 PBR season debut last weekend on the expansion series in Fresno, California, and is readying for a busy few weeks, with plans to shift his home base from Arizona, to Las Vegas and soon to Texas.
The 22-year-old Calgary, Alberta native bull rider had a breakout season in 2021 in Canada.
While his riding has always been strong, a dominant run through the first half of the year primed his as a top contender for the 2021 PBR Canada Championship before injury derailed his season, relegating him to the middle of the pack.
Tetz, however, never slowed. He battled the adversity, qualifying for the 2021 PBR Canada National Finals, presented by Command Tubular Product. But as quick as he rebounded, Tetz was again back on the sidelines with another injury.
Now, completely healthy and ready to ride, Tetz is looking to work on the process in 2022, instead of focusing on the end goal.
"The main thing for me that I am looking at isn't chasing titles right now," Tetz began. "I am more worried about riding my bulls. I always get caught up in the end goal and not focusing on the process as much. I am working on that riding percentage right now.
"From the events at Nansen [Vold's] and things up there, and the events down here, I am hovering at that 60%. Some of them are a few practice bulls at home, but I am pretty happy with how everything is going. Been some tough luck here lately, but things are still feeling good."
And some of that tough luck occurred in Fresno this past weekend. Shutout, Tetz was bucked off by Loggin Airtime in 1.6 seconds in Round 1, and Dow "The Banker" in 2.87 seconds in Round 2.
The hockey player turned bull rider admitted that he is very interested in the forthcoming PBR Team Series that will see numerous riders contracted to teams to compete for a team world title.
"More or less, I am looking at the team season in the second half," Tetz said. "Try to make one of those teams. And at worst, if I don't make one of the teams I will have some buzz around me for the following year."
"The guaranteed money is big," he continued. "When you have that you can become more of a grown up, right now I don't have my own place. The goal is to start getting set up financially. The goals are to buy a home. It's not easy to get a mortgage as a bull rider all the time. But being able to go to the bank with contracts like that makes things that much easier."
"The PBR is making it a really great time to be a young bull rider. You used to have to be one of the best to make a real living at it full time, now you still have to be good and stay on your bulls, but you don't have to be Jess [Lockwood] or Jose [Vitor Leme]."
The groundbreaking addition to the sport of bull riding, the PBR Team Series continues to play off the formats made popular by the PBR's own Global Cup. The benefits to such a concept are immense, and the riders are taking notice.
For Tetz, he thinks the PBR Team Series will grow the sport in a way never seen before.
"I think it will help grow the sport a lot, it will be easier to follow too for sure," Tetz said. "You will be able to build guys' names up into bigger names, the same way that happens in the NFL and NHL, where you have star players bringing in fans who might not care who the right winger is. People down here don't know who I am, but if I am on a team with Jose Vitor Leme, they will be paying attention to the entire team and investing in the rest of us as well."
Tetz is working towards the process of becoming a better bull rider each and every day. And when posed with the question of which team he would like to compete for he said it comes down to the coaches.
"It's more about who the coaches are for me. There are guys like Ross Coleman and Justin McBride who have great winning mentalities that would be great to get to work with."
"I will take whatever coach wants to win the most."