Radford, Byrne and Team Canada Ready for Upcoming 2022 PBR Global Cup USA
By: Covy Moore Tuesday, March 1, 2022 @ 5:26 PM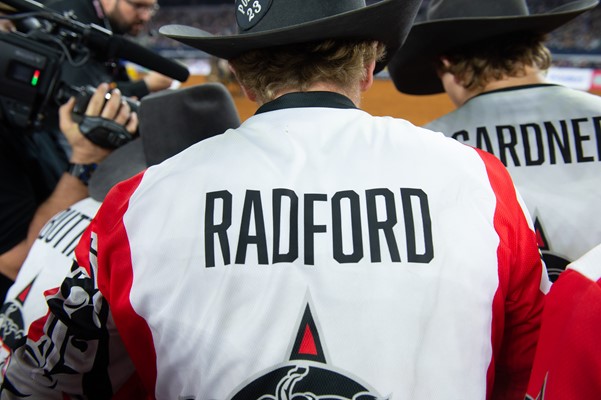 AIRDRIE, Alta. – With less than one week to go before the 2022 PBR Global Cup USA, presented by Monster Energy, in Arlington, Texas, Team Canada is prepared and ready for anything.
Hosting an open bull riding jackpot at the Vold Rodeo property two weeks ago, Coach Tanner Byrne had the chance to look at the future of PBR Global Cup Team Canada contingent, as well as any options for an alternate if needed.
Ashton Sahli, Nick Tetz, Michael Ostashek, Cole Young and Wyatt Gleeson were joined by Team Australia rider Callum Miller at the event, also amongst a number of younger riders still working on perfecting their skills.
Calgary, Alberta's Tetz took home the win, covering both his bulls in the two-head competition.
But Byrne watched on closely all night, keeping tabs on all riders.  
"We wanted to do a little scouting mission in a sense," Byrne said. "A lot of the guys who are on the team are state side already, they will be in shape and ready to ride when the rest of us get down there."
"With the moving goalposts of the COVID regulations, on top of this being a tough sport where guys can get hurt. I wanted to see who has been at home in Canada who haven't been going stateside."
"I want to see who is riding good, who is riding hot," Byrne continued. "It was really good to see a lot of guys step up. This wasn't a qualifier or selections for the team, but just assessing the talent in case we need one for whatever reason this year, but certainly for the coming year with this Team Canada squad. There were some Global Cup contenders in the future there for sure."
Reigning PBR Canada Stock Contractor of the Year Vold Rodeo hosted the event at their home, and Byrne says that it is buy in from every single side of the bull riding community that prop his team up.
De Winton, Alberta's Brock Radford will be making his fourth appearance on Team Canada, a mainstay on the team, as well as the top of the leaderboard most of his career.
While the 26-year-old has weathered a few injuries the last couple seasons, Byrne says there is no one better when he is healthy.
For Radford, being named to the team again is an honour, but even more so after a tough PBR Canada season in 2021.
"It's fun when it is any team sort of event, but it's even better when you are wearing your nation's colours," Radford said. "That is a big thing, I take a lot of pride in wearing the maple leaf on my back and being patriotic, especially with the times we are in right now."
"It's definitely an honour to be recognized as one of the best in the country, and with your buddies too. We have all grown up together, working hard to get to this point. Idolizing the Tyler Thomson's, Aaron Roy's and Zane Lambert's before us. Lots of guys who we grew up around and watched and who got to represent Canada previously too."
Byrne says Radford's inclusion is a no-brainer with this team, and says he brings more than just a top-tier riding prowess.
"Brock makes this roster due to a few different things," Byrne began. "First off is his riding abilities. He is one of the best in this country. He has dealt with injuries the last couple years, but anything he comes back to he rides great at."
"I know he is healthy right now, and I have talked to Brock a lot and he has that fire to get out there and win championships," Byrne added. "When Brock Radford gets it going there is no one that can stop him and no one that can beat him. I have been seeing him down south working at it and getting his mojo going. He likes that pressure that gets put on him and always seems to perform in those key moments. Everyone likes Brock and he gets guys fired up. He knows how this team format works and is a great asset on the team, and someone you want to have your back. The other guys know that too and makes the others ride better."
Being a veteran of the team, Radford says he is excited about Byrne taking on the role of coach for the squad, adding he brings bull riding IQ that cannot be matched in this country.
"He is our coach, but he has been our leadership guy for a long time," Radford said. "He has always showed a leadership role in the dressing room even when I was competing against him. We have seen it when we were in Sydney at the Global Cup with Aaron coaching, Tanner stepped up and was a team captain there. He led us all and rallied us together, emphasizing camaraderie." 
"His knowledge of this game is unrivalled," Radford continued. "To be able to ride bulls as good as he did, have a professional career and then just flip the switch and fight bulls shows his bull riding IQ. The game IQ, he has more IQ in this game than just riding. He will see things in bulls we might not, match them up with our styles. He is going to let us do what we do, but he is going to mix up the magic concoction and match us up good. He brings out the fire in guys who want to ride bulls."
Canadian fans will be able to watch the entirety of the 2022 PBR Global Cup USA LIVE on PBR Canada's Facebook page.