Canadian Young Gun Blake Smith Finding Velocity Tour Success Stateside
By: Covy Moore Thursday, March 10, 2022 @ 1:40 PM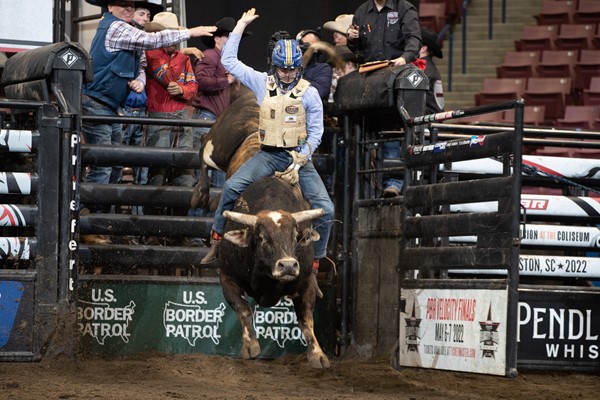 AIRDRIE, Alta. – Canadian young gun Blake Smith put the PBR community on notice when he began the new season with a bang, splitting the win at the first event of 2022 in Lloydminster, Saskatchewan.
The 20-year-old bull rider from Abbey, Saskatchewan then decided to keep sharp and head stateside for a run at the PBR Pendleton Whisky Velocity Tour Finals, and hopefully the PBR World Finals. Making his debut on the expansion series in February, Smith has been a consistent presence in Velocity Tour competition as he hopes to erase from memory his disappointing 2021 finish.
"I was pissed I didn't make the Canadian Finals last year," Smith said resolutely. "I knew I belonged there. I knew I could do it."
"Showing up to that Lloyd event I was pretty down on myself. I had spent all that time getting on practice bulls up till then. Even during the Finals I was getting on practice bulls while they were riding bulls in Edmonton. It was just to clear my head and remember I could do it if anything."
On the spurs of his win in Canada, Smith made his Velocity Tour debut in North Charleston, South Carolina, but was shutout going 0-for-2.
Quick to right his momentum, Smith was fourth the very next weekend in Memphis, Tennessee. Going a perfect 2-for-2, he rode Money Maker for 82.5 points and Reckles Red for 84.5 points.  
"I wanted to be a sneak up contender in Canada in 2022," Smith began. "I wanted to be in the Top 5 or Top 10. I wanted to go into the Finals with the chances of being a Champion. But that all changed when I got down here and started riding them. You can't be looking at how good you can do at home when you are down here."
Since his fourth-place finish in Memphis, Smith registered his second Top 10 effort when he was eighth this past weekend in Charleston, West Virginia. Going 1-for-2, Smith conquered Above & Beyond for 85.5 points.
"I quickly switched to looking at the Velocity Finals and those are looking good, so I am going one step further and am aiming for the PBR World Finals in May in Fort Worth," Smith added. "That is where everyone wants to be if you are a bull rider and I don't see why I can't put myself up with those guys in the Top 35 and make my first trip to the World Finals."
While his sights are set on a berth to the PBR World Finals in May in Fort Worth, Texas, the young rider says with the shortened year, he has every intention of making a run at the PBR Canada Championship as well.
"I don't want to leave the 'States too badly. I like it a lot down here. I have always enjoyed being away from home and seeing new places."
"I have every intention of making the PBR Canada Finals this year, but I might have to do it like Jake Gardner and show up for those last few and sneak in that way," Smith laughed.
Smith said that he wasn't really nervous when he headed to his first PBR Velocity Tour event, just tried to stay level in the different environment.
"I have always been a believer in staying really calm before I get on, cracking jokes, making sure I am having fun with it," Smith said. "I just went out there and did what I do, crack some jokes and make some friends. Make it feel like home."
"I realized right away that this might be where I fit. That felt pretty awesome. All the guys down here are really friendly, they are all easy to get along with. They have been really welcoming. There aren't a lot of differences really. I sure do like it anyhow."
Travelling with countryman Griffin Smeltzer, Smith said he is overwhelmed by the kindness of people who have been hosting himself and his traveling partner and cannot express what it means to anyone in the western sports industry to have such welcoming people support athletes.
"It means everything to us. There is nothing like a home cooked meal and sleeping in a real bed over living in your car on fast food," Smith laughed.
"You need to know somebody, but the hospitality is unreal down here. You go anywhere in the world I think you can find good hospitality if you get out there and meet new people. I really appreciate it beyond all belief. It's more than a place to stay for a bull rider too. It's a foundation for success and development. I will be repaying the favour to anyone that needs to come up to Canada and needs a place to stay, that's for sure."