Blake Smith Relishing in Unleash The Beast Opportunity
By: Covy Moore Wednesday, March 30, 2022 @ 9:40 AM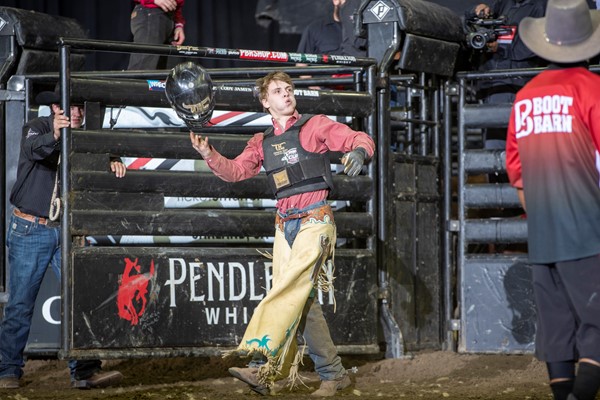 AIRDRIE, Alta. – There will be a trio of Canadians taking part in the Sioux Falls, South Dakota, Unleash The Beast event this weekend.
Griffin Smeltzer will return to the draw this weekend after making his elite tour debut at the most recent event in Albuquerque, New Mexico, and he will be joined by Blake Smith, riding for the first time on the premier series, and reigning PBR Canada Champion Cody Coverchuk, who's lone appearance to date on the Unleash The Beast was in 2013.
For travelling partners Smeltzer and Smith, things have been working out as of recently. Coming off a third-place finish in Oakland, California, at the Pendleton Whisky Velocity Tour, Smith has earned world points, and a pay cheque, at each of the last four events he has entered.
Meanwhile, Smeltzer was second at the Fresno, California, Velocity Tour stop one week ago, a bronze finish which earned him his first Unleash The Beast berth to the PBR Ty Murray Invitational, presented by The Downs Racetrack and Casino.
While Smeltzer failed to reach the 8 aboard either of his draws inside The Pit, bucked off by Marquis Metalworks Crypto Cadillac in 4.12 seconds, and Theodore in 6.73 seconds, with the Sioux Falls event in both his and Smith's, the Canadian's are gunning for the top.
"What kid doesn't," Smith said of his excitement to be competing on the premier series. "Who watches bull riding and doesn't wake up and dream about being at one of these deals. Definitely pretty cool. I am having a hard time not treating it differently. I am trying to keep it down low, just like I have been down at these ones. We are all just guys trying to ride bulls, and I am just one of them."
"It is definitely cool though; it's going to be a cool experience. Meet some new people, get in with some people. I am pretty darn excited for it, that's for sure."
Smith says he isn't nervous about the event and wants to find a way to treat it like any other bull riding he has been to in his life.
"I am really just trying to not think about it too much right now," Smith said of his approach. "Do my regular practice stuff, think about it how I would think about any bull riding. When I get there, I will crack a bunch of jokes, introduce myself. I ran into a few of them at the combine deal, there are some bull riding buggers in that group that is for sure."
Seeing the level of success the pair have been having, coupled with Coverchuk's championship and competing at the 2022 PBR Global Cup USA earlier this month, Smith admits there is a wave of momentum with this group of Canadians, and he is excited to get into the locker room this weekend.
"It is pretty awesome right now, the boys are feeding off each other," Smith explained. "It is always nice to run into someone you know. Similar interests, brought up the same way. Get a good BS in and find out how things are at home. It makes it feel a little more normal I suppose."
If Smith is able to do his job, and heads into the championship round bull draft as the event leader, he says the choice is incredibly easy right now.
"I would pick Woopaa," he said firmly.
"How do you not pick Woopaa? You will win money on him every time."
Fans can watch all the action from the PBR First PREMIER Bank/PREMIER Bankcard Invitational LIVE on PBR Canada's Facebook. Coverage will begin a 6:45 p.m. MDT on Friday, April 1, 5:45 p.m. MDT on Saturday, April 2, and at 12:45 p.m. MDT on Sunday, April 3.