What to Watch For: Canucks Smith, Smeltzer and Coverchuk to Compete at PBR Team Series Preseason Event in Bismarck, North Dakota June 17-18
By: Justin Felisko Friday, June 17, 2022 @ 2:25 PM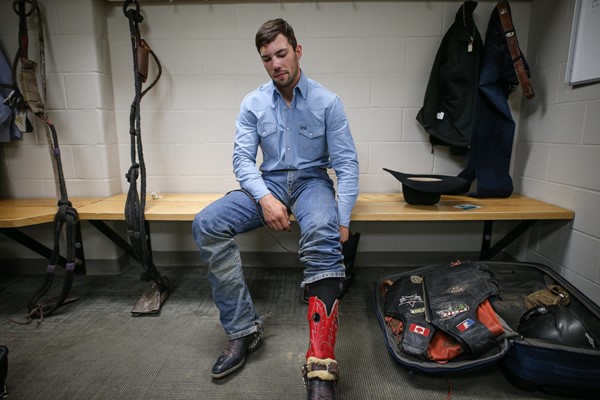 PUEBLO, Colo. – It's not the PBR Team Series Championship game just yet, but it sure will be interesting on Friday night at the Dakota Community Bank & Trust PBR Team Series Preseason Event when the Texas Rattlers and Carolina Cowboys square off.
The two teams were blockbuster dance partners on May 23 at the 2022 PBR Team Series Draft, presented by ZipRecruiter, when the Rattlers traded 2022 PBR World Champion, and 2020 PBR Canada Champion, Daylon Swearingen, the third overall pick of the draft, the No. 14 selection (Mason Taylor) and pick No. 30 to Carolina for Joao Ricardo Vieira, Cody Jesus and pick No. 26. (Texas eventually selected Brady Fielder at No. 26, and Carolina chose Ramon de Lima at No. 30).
Now, the two teams will be the first of the eight teams to compete Friday night when the PBR Team Series Preseason officially gets underway in Bismarck, North Dakota.
The Preseason will not factor into the PBR Team Series standings or championship race, but it will be an opportunity for coaches to begin to see what their riders can do in the team format and give fans the chance to take in how these five-on-five team bull riding competitions will go.
RELATED: PBR Team Series Preseason schedule and competition format
One element of the PBR Team Series to keep an eye on is that coaches will be able to match their five starting riders against any bull out of a predetermined pen issued to the team via the league office.
The eight teams submitted their starting lineups Thursday morning to the PBR after receiving their random pen of bulls on Wednesday. Featuring a Canadian flare, Blake Smith and Griffin Smeltzer will compete for the Austin Gamblers, while Cody Coverchuk will ride for the Texas Rattlers.
Let's look at the Friday night games and the respective rider/bull matchups set to take place at the Bismarck Event Center.
The team with the highest aggregate score in each game will be the game-winner. Ties will be allowed.
Game 1: Carolina Cowboys (CC) vs. Texas Rattlers (TR)
Mason Taylor (CC) vs. Delbert Sr.
Jake Morinec (TR) vs. Quickfire
Daylon Swearingen (CC) vs. Cold Shot
Ednei Caminhas (TR) vs. Red Bones
Lane Nobles (CC) vs. Not Today
Rafael Jose de Brito (TR) vs. Crazy Corona
Junior Patrik Souza (CC) vs. Fantasy
Ednelio Almeida (TR) vs. Sam I Am
Wingson Henrique da Silva (CC) vs. Short Nights
Cody Coverchuk (TR) vs. Oilfield Outlaw's Yellow Feather
Carolina Rider to Watch: Daylon Swearingen is slated to ride at his first event since winning the 2022 World Championship in Fort Worth, Texas, last month. Swearingen's 6-for-8 performance not only helped him win his first gold buckle but also made him the seventh rider in PBR history to win the World Championship and World Finals event title in the same season. Also keep an eye on Wingson Henrique da Silva, the 2019 Circuito Rancho Primavera (2019) champion in Brazil.
Texas Rider to Watch: Ednelio Almeida has been red hot for the Rattlers since Vieira, who is currently in Brazil, pushed coach Cody Lambert to sign the 28-year-old Brazilian. Almeida has won back-to-back PBR Challenger Series events, including Erick, Oklahoma, on Wednesday night. Bismarck will be a good test to see if Almeida is ready to handle premier series-caliber bulls compared to the bulls he has seen so far. 2021 PBR Canada champion Cody Coverchuk also is a new addition to the Rattlers, signing with Texas on Wednesday.
Game 2: Austin Gamblers (AG) vs. Oklahoma Freedom (OF)
Dakota Louis (AG) vs. Bubba G
Briggs Madsen (OF) vs. Soup in a Group
Alex Marcilio (AG) vs. Gambini
Kyle McDaniel (OF) vs. Skeeter Peter
Conner Halverson (AG) vs. The Punisher
Deklan Garland (OF) vs. Big Black Cat
Blake Smith (AG) vs. Dagger
Eli Vastbinder (OF) vs. Off Campus
Griffin Smeltzer (AG) vs. Born To Sin
Caden Bunch (OF) vs. Drago
Austin Rider to Watch: The Gamblers will showcase two Canadian riders – Griffin Smeltzer and Blake Smith – riding on Friday night before they head north to Canada to compete at the PBR Canada Cup Series event in Brandon, Manitoba, on Saturday night. The Gamblers will likely substitute Elijah Mora and Ezekiel Mitchell into their lineup for their game against Nashville on Saturday night.
Oklahoma Rider to Watch:  Oklahoma General Manager Brandon Bates has exceptionally high praise, as well as expectations, for Briggs Madsen, who is taking his first stab at the PBR. The Utah native overcame a career-threatening broken back his sophomore year of high school to win the 2018 Utah High School Rodeo Association Bull Riding championship as a senior. Madsen also took a two-year break from bull riding after his high school title to become a full-time missionary for The Church of Jesus Christ of Latter-day Saints in South Carolina. Madsen slowly got back into bull riding towards the end of 2020, but now he feels he is truly ready to ride full-time. How high is Bates on Madsen? Well, Bates compared Madsen to what he saw in an 18-year-old Jess Lockwood six years ago.
Game 3: Nashville Stampede (NS) vs. Kansas City Outlaws (KCO)
Aaron Williams (NS) vs. Lips
Bob Mitchell (KCO) vs. Good Night Robicheaux
Ryan Dirteater (NS) vs. YR YSB 68D
Tate Pollmeier (KCO) vs. Dr. Campbell
Jaxton Mortensen (NS) vs. Mr. Winston
Marcus Mast (KCO) vs. WSM's Sun Country
Thiago Salgado (NS) vs. Safety Meeting
Dalton Kasel (KCO) vs. WSM's Nasty Wishes
Fernando Henrique Novais (NS) vs. Pookie Holler
Trace Brown (KCO) vs. I'm Busted
Nashville Stampede Rider to Watch: Welcome back, Ryan Dirteater! The 2016 PBR World Finals event winner is competing at his first PBR event since retiring following the 2020 PBR World Finals. The 33-year-old will be the veteran leader for the Stampede in Bismarck since 2018 World Champion Kaique Pacheco is home in Brazil. Also, keep an eye on Jaxton Mortensen. The 18-year-old most recently won an Arizona State High School Bull Riding title following three consecutive runner-up finishes.
Kansas City Outlaws Rider to Watch: Rookie of the Year Bob Mitchell was able to hold off Clayton Sellars for the top rookie honors in the PBR, but he did so while riding pretty banged up during the last few months of the season. A shoulder injury was an ongoing problem, but Mitchell is set to make his summer debut after taking a much-needed month off. Despite an impressive mustache, Mitchell is still only 19 years old. In fact, he and teammate Tate Pollmeier are both under 20 years old. Pollmeier is another rider to watch out for as he is a multi-time Kansas High School Rodeo Association state champion and the 2021 International Finals Youth Rodeo bull riding champion.
Game 4: Arizona Ridge Riders (ARR) vs. Missouri Thunder (MT)
Koltin Hevalow (ARR) vs. The Right Stuff
Clayton Sellars (MT) vs. Melanie's Dream
Chase Dougherty (ARR) vs. Yadi
Leandro Machado (MT) vs. Wiley Coyote
Ross Freeman (ARR) vs. Full Boat
Andrew Alvidrez (MT) vs. The Claw
Colten Fritzlan (MT) vs. Stretch
Tyce Willis (ARR) vs. Night Hawk
Jesse Petri (MT) vs. Sky Harbor
Arizona Ridge Riders Rider to Watch: 19-year-old Koltin Hevalow flashed his potential last weekend in Deadwood, South Dakota, with an 88-point ride on Crawfish Richard. Hevalow nearly qualified for a last-minute World Finals wild card berth when he began the 2022 PBR Pendleton Whisky Velocity Tour Finals 2-for-2. However, he was bucked off in the championship round. Hevalow is another high school state bull riding champion competing in Bismarck, winning three state titles in Missouri.
Missouri Thunder Rider to Watch: Colten Fritzlan is set to make his summer debut for the Thunder after being the No. 5 pick in the 2022 PBR Team Series Draft. Fritzlan had some injury concerns at the end of the regular season after sustaining an AC joint sprain in Billings, Montana, but he did not need surgery and is set to be one of the top riders for the Thunder. Fritzlan failed to qualify for the 2022 PBR World Finals after missing the first three months of the season because of reconstructive left shoulder surgery last September.