Jake Gardner Eyeing Second Cup Series Event Victory as Series Readies to Debut in Brandon, Manitoba
By: Covy Moore Thursday, June 16, 2022 @ 8:38 PM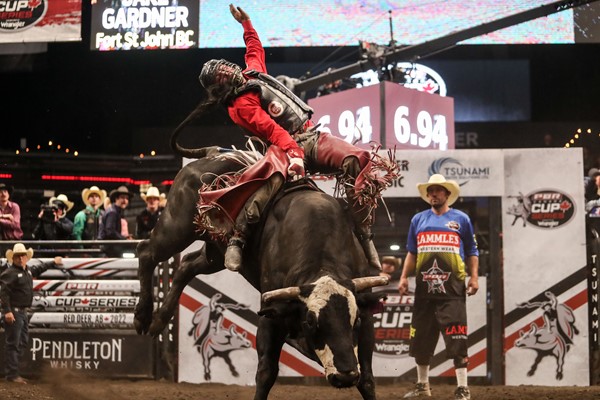 AIRDRIE, Alta. – Last weekend as the 2022 season for the elite PBR Canada Cup Series, presented by Wrangler, got underway in Red Deer, Alberta, there was no rider more dominant than Jake Gardner.
And fresh of his victory, Gardner is quick to turn his focus, preparing to head inland to Brandon, Manitoba, for the PBR Mazergroup Chute Out this Saturday night.
Going a perfect 2-for-2 in Red Deer, including riding Nansen Vold's standout bucker Alberta Springs in the championship round for an 86.5-point score, Gardner says there isn't a better way to start off the tour.
RELATED: Flawless Jake Gardner Wins Season-Launch Cup Series Event in Red Deer, Alberta
"It went exactly as planned," Gardner said. "I wanted to go in, not make it a big deal, get my bulls rode and see where it all ended up. I was fortunate enough to walk away with the win, ease a little stress and get some of those PBR points."
No one in the dressing rooms of the PBR Canada ranks will ever question Gardner's abilities, but this season there is a new confidence behind the smile and success the British Columbia native is experiencing.
With his sights on the yellow bucking chutes of the Wrangler National Finals Rodeo, Gardner has been travelling a lot of miles this season, and it has been paying off in his riding.
After tearing his bicep at the PBR Canada National Finals this past November, Gardner's rodeo season took a late start, but he has been going hard since March.
"My plan was to be rodeoing through the winter," Gardner chronicled. "The bicep put a damper on it, I got to go down in March and I have been getting on pretty steady since. The amount of miles you put on and the amount of bulls you get on it's crazy. I have been on a pile of bulls already this year."
"Getting more bulls under my belt has definitely helped me slow it down a little bit," Gardner added. "More or less, go at them the same each time. I am not going for the bright lights in Las Vegas or the PBR win in Red Deer each time, I am just taking them one at a time."
"Having the ability to go PRCA and get all these bulls under my belt has definitely showed me how to slow it down some, ease some nerves and just go cowboyin' basically."
While pushing his goals towards the NFR in Las Vegas, Gardner admits he has an attachment to home and is making sure to compete at as many PBR Canada, and PBR Canada Cup Series, presented by Wrangler, events as he can.
"My main focus is the PRCA right now and making the NFR one of these years, but I have been trying to keep these Cup events on my schedule to keep taking care of business at home and secure a spot at Finals."
"I think it's as good as it has ever been for a bull rider to make money," Gardner continued. "It really just comes down to what you put into it. The sport is what you put out is what you are going to get back. There are a lot of opportunities to make money right now, and we are super lucky to have opportunities like this in Canada."
With three events on his schedule for this weekend, the No. 2 rider in the PBR Canada national standings will be making the long drive out to Brandon for a two-head event. For Gardner though, it's going to be more of the same.
"Get my bull rode, hopefully get a good pick in the second round and ride that one. The main goal is to stay consistent, and at the end of the year be sitting good," he said.
"I know Manitoba folks are some of the best bull riding and rodeo fans. I can imagine they have been itching for an event like this since COVID started. Come on out, knock the rust off in the best way and have one of the best times of their life at a bull riding, they should probably make their way to Brandon."
The bull riding action for PBR Canada Cup Series' Mazergroup Chute Out begins at 7:00 p.m. CDT on Saturday, June 18.
Tickets for the event are still available, and start at $25, standard fees may apply, and can be purchased online at tickets.keystonecentre.com, and at the Keystone Centre box office.
Stay tuned in to PBRCanada.com and follow the tour on Facebook (PBR Canada), Twitter (@PBRCanada), and Instagram (@PBRCanada) for the latest results, news, stats and more.