Two-Time PBR Canada Champion Cody Coverchuk and Jared Parsonage Advance from Pool A to Showdown Sunday for 2022 Calgary Stampede
By: Kacie Albert Tuesday, July 12, 2022 @ 4:23 PM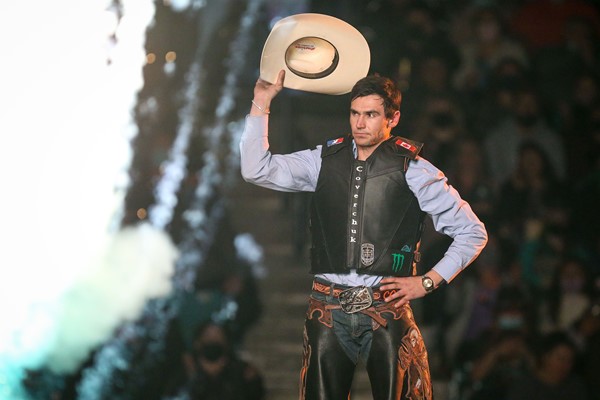 CALGARY, Alta. – When the dust settled on Pool A for the 2022 Calgary Stampede, two of PBR Canada's finest found themselves inside the Top 4 punching their ticket to Showdown Sunday when the Greatest Outdoor Show on Earth will crown its overall Champions – Cody Coverchuk and Jared Parsonage.
Two-time and reigning PBR Canada Champion Coverchuk concluded the opening pool third going 2-for-4 and earning $9,000, while Parsonage was fourth having also gone 2-for-4 to collect $7,000.
"For myself, I've been watching the Calgary Stampede on TV since I was a little boy," Coverchuk told the Calgary Sun's Laurence Heinen. "It's like the epitome of bull riding within Canada. To get to ride here is pretty special every single time. The crowd's always behind you.
"It's the best bulls in Canada, the best bull riders and rodeo competitors in the world, so it makes for a good show."
The opening days of the Calgary Stampede feature pool play, with 11 riders competing in both Pool A and Pool B. Based on money earned, the Top 4 riders from each pool automatically advance to the semifinals on Showdown Sunday.
The bottom seven contenders in each pool will then have one last chance to advance on Wild Card Saturday. During the Round of 14, of which no scores will be carried over, each rider will attempt one bull with the Top 2 advancing. The 2022 Calgary Stampede will then finish on Showdown Sunday, again featuring a clean slate for all contestants. After the 10-man semi-final round, the Top 4 will advance to the final round where the title of 2022 Calgary Stampede Champion will be on the line.
For Coverchuk, his bid to reach Showdown Sunday began in less-than-ideal fashion. Bucking off both Jump Start and Unkle Kranky, Coverchuk was shutout through the first half of Pool A.
"If I buck off, I'm mad at myself and mad at the whole world, basically, for 10 minutes," Coverchuk said further in his interview with Heinen. "But after 10 minutes I make myself cool down and refocus and regroup and get ready for the next day because the next day you could be a champion and the next day after that you could lose again.
"Bull riding, it's a very humbling sport, I'd say, because you could be diamonds one day and dust the next."
But on July 10, Coverchuk began to reverse his fortunes.
On the third day of competition Coverchuk earned his first qualified ride when he covered Stutterin for 81.5 points. Positioning him tied for second on that day's leaderboard, Coverchuk netted $3,500 for the 8 seconds of work.  
However, he was still on the outside looking in for the Top 4.
In a must-ride situation, Coverchuk faced Black Panther as his final animal athlete opponent. Answering the call, and reaching the whistle, Coverchuk was scored a performance-best 86 points, earning $5,500 and surging to No. 3 in Pool A.
For Parsonage, he narrowly beat out opening day winner Josh Frost to earn the fourth and final direct berth from Pool A into Showdown Sunday.
Much like Parsonage, he was also bested on the first day of action for the Calgary Stampede, tossed prior to the 8 by Devils Advocate.
Parsonage, however, was quicker to rebound.
On July 9, Parsonage found his name across from Sky Fall's on the draw. Matching the animal athlete jump-for-jump, Parsonage was score 84.5 points, the second-best score of the day, to collect $4,500.
The Saskatchewan man, however, was unable to continue the momentum. As Pool A competition crossed over the halfway point, Parsonage was bucked off by Alberta Springs on day three.
As a result, Parsonage began the final day of Pool A fourth, but was a mere $1,000 ahead of Coverchuk, Tyler Taylor, Jordan Hansen and Edgar Durazo who were tied for fifth.
Drawing Red Lipstick, Parsonage converted under pressuring, scored 84.5 points to add $2,500 to his bank account and solidify his fourth-place finish in Pool A.
Pool A was won by Missouri Thunder first-round Draft pick Clayton Sellars who was the lone rider to go a perfect 4-for-4.
Sellars earned a combined $17,000 for his 85.5-point ride on Razor, 67-point trip atop Crushing Hearts, 88.5-point score aboard Afraid To Nod and 85-point effort on Out of The Blue.
"I have really good luck when it comes to drawing animals," Sellars also told the Calgary Sun's Laurence Heinen. "I gotta be honest, I didn't even notice what the leaderboard was doing. I just stayed calm and relaxed and what I am and just rode the bull that was underneath me, and thankfully, that was enough to win."
Joining Coverchuk, Parsonage and Sellars in the Pool A Top 4 and advancing to Showdown Sunday was Reid Oftedahl. Frost, Taylor, Hansen, Durazo, Cole Fischer, Connor Murnion and Ky Hamilton will look to keep their hopes alive on Wild Card Saturday.
Fans will next watch on as Pool B competition gets underway.
Contenders include currently Canadian No. 2 Lonnie West, 2020 PBR Canada Champion Dakota Buttar, 2017 PBR Canada Rookie of the Year Coy Robbins, Todd Chotowetz and more.