The Morning Line – Kelowna
By: Tanner Byrne Wednesday, July 20, 2022 @ 8:20 AM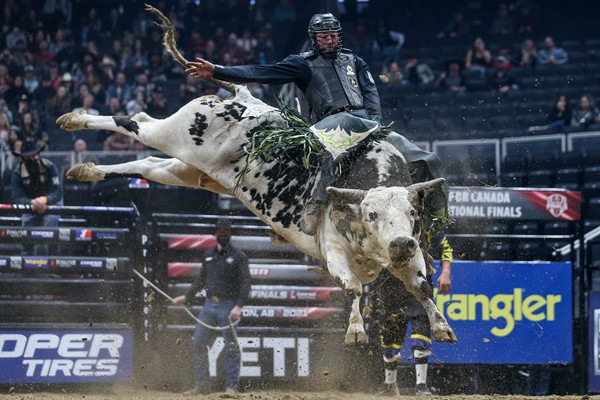 KELOWNA, B.C. – Why wait for the weekend, when you can have PBR Canada Cup Series competition during the middle of the week?
It may only be Wednesday, but Canada's premier bull riding tour is ready to get back in gear, hosting the fourth event of the season in Kelowna, British Columbia.
RELATED: Click here for the complete daysheet.
While it may have only been a month since we were last bucking bulls in Regina, Saskatchewan, the Touring Pro Division has been going non-stop, holding 10 events across Alberta and Saskatchewan.
As a result, a new rider will travel to Prospera Place ranked No. 1 in the nation – Blake Smith.
With the race for the 2022 PBR Canada Championship, and accompanying $50,000 bonus as intense as ever, the action on the dirt in Kelowna is sure to be some you don't want to miss.
Below are bullfighter Tanner Byrne's bets for Round 1 of the event from Kelowna. Let us know your thoughts and your picks for the Cup Series event by tagging @PBRCanada on Twitter.
Tickets for the event are still available and can be purchased at the Prospera Place Box Office, online at SelectYourTickets.com, any by phone at (250) 762-5050.  
Todd Chotowetz vs. 2 Guns
Todd has been riding really solid this year, he's been rodeoing and going hard down the trail. 2 Guns is a bull that we saw at the Calgary Stampede last week a couple of times. He looks like the one you want to have. Shane Proctor was 88.5 on him. Right in the door to the right. Should fit Todd's style perfectly. If Todd does his job correct this could be the round win.
Zane Lambert vs. Afraid to Nod
This is a really good draw for Zane. A big black bull with big horns, has all the attributes, big and scary. One that should fit Zane perfectly. Same thing as 2 Guns, one that Shane Proctor rode last week in Calgary. One that should fit Zane's style, right in the gate to the right, a lot of action. Zane is not the healthiest of guys right now, but that has never slowed him down in the past. This will be a great matchup to get Zane a good score in Round 1 and get him where he needs to be up in those standings.
Blake Smith vs. Just A Vertigo
Blake winning in Waskesiu and Brandon, he's one of the hottest guys going right now. I talk about him all the time in these picks and for good reason. He's part of the Austin Gamblers, he's been down there training with Michael Gaffney and the crew down there, and I think that's just going to help his mindset to come up into Kelowna and take it to whatever he gets on. This is a great bull of Nansen Vold's, spent some time on the tour down South. Should be around to the right, if not could be around a couple to the left, but he has good timing and guys like to get on him. Blake has been on him before, bucked him off last time, but don't look for that to happen this time. A good draw for Blake to get an 86-87 on.
Dakota Buttar vs. Hat Trick
This is a bull that spent a lot of time in the U.S. and they've got him back up in Canada now, Nansen Vold packing him again. Fabian Dueck rode this bull in Kinsella the other week and looks like one you want to get on. Dakota Buttar coming off the Calgary Stampede Championship, has all the confidence in the world. Always one of our top guys, kind of had a slow start to the season. But you kind of see that with Calgary, you have a good Calgary, and you can rip that second half. Look for Dakota to step up now and try to get in position to win another Canadian Championship. And this is a great bull for him to start that on.
Aaron Roy vs. Sox and Crocs
I don't know much about this bull Sox and Crocs, but he comes from Wilson Rodeo, so you know he should be a good one. Aaron, I have talked about in the past, is riding better than I have seen him in the past three years. He did really well at the Cody Snyder Bullbustin' and has been riding really solid. He looks like the old Aaron of the past the last little while. He wants to win that fourth Canadian Championship. Look or him to show up and show out on Sox and Crocs here in Round 1 in Kelowna.