Skori Bucking Bulls Says Goodbye to Their Champion Minion Stuart
By: Covy Moore Tuesday, July 12, 2022 @ 11:18 AM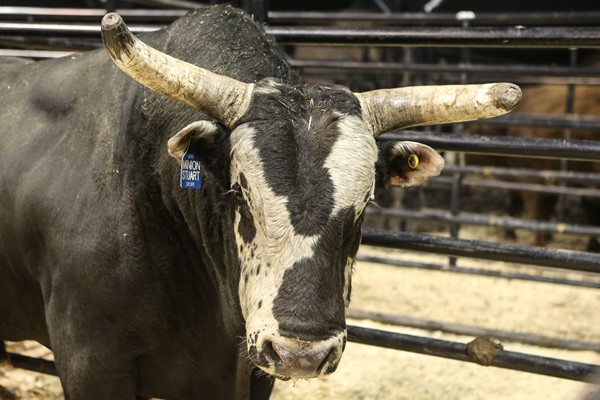 AIRDRIE, Alta. – In 2013, with a few weeks until the PBR Canada Finals, director Jason Davidson made a phone call to Skori Bucking Bulls' Ellie Skori. He needed to fill a spot in a long round pen.
And Skori had just what Davidson was looking for, and then some -- he offered Minion Stuart.
Born in 2010 on the Skori Bucking Bulls Ranch, Minion Stuart had it all from the get-go. According to the Skori's he had that fire in him that every stock contractor is looking for from their animals.
"He was outstanding right from the first dummy trip.," Ellie Skori explained. "With him it was just that he bucked right from the word go and was mean as shit. You just knew it was coming. You know those first days he was going to be the best bull in the pen. Carried himself that way, acted that way and bucked that way."
His son, Lane, who has been working with his father since his early teens, echoed that sentiment.
"I would have been like 15 when Minion Stuart was born," Lane Skori chronicle. "I was fresh and young and starting to do a lot more of the work at home. We knew he was going to be a special bull from those early dummy trips, and his temperament. You knew he had all the tools to be really good at it."
"You can just tell when they have that fire in them," Lane added. "Their try, basically. If they have the effort and skill and agility, you can tell they are athletes. He was an athlete from day one. The ones that are good at bucking always seem to have a little bit of pop in their step."
That 2013 PBR Canada Finals was one of those instances where a bull and a rider came together to make the most of an opportunity.
Only known by his number in 2013, 0819 would need a name to be listed on the PBR draw.
"When I took him to the Finals that year, I just sent in the number 0819, when I got there, I saw he had a name, Minion Stuart. I figured Jason [Davidson] sold the naming rights or something to a Law Firm. But it was his kids, I didn't know what the hell a minion was," Ellie said.
"Jason told me later that the kids had photos of that bull in their rooms and things. They really spent the time to follow that bull. When they retired him at the Finals, and they gave Lane a beautiful painting, we made sure the boys got a special photo of Minion too."
In 2013, Minion Stuart went on to win the opening round of the Canadian Finals with Australian Lachlan Richardson, with an 86-point score.
"That was probably the last time he bucked in a long round in like 6 years," Ellie added.
Two years later, in 2015, Minion Stuart would not only claim the PBR Canada Co-Bull of the Year, but he would also make the first of three successive trips to the PBR World Finals in Las Vegas.
When asked about their most memorable trip with their champion bucker, Ellie and Lane agreed.
"When Tanner Byrne rode him in North Battleford that year, giving him some stitches in his chin right there at the end of his ride. That was a good one," Lane said.
"When Brock rode him in London, Ontario, that year and threw him over the fence. That is one of the best ones I recall too. He had a lot of spectacular buck offs too. At the end of a bull's career though you remember the big rides, not the buck offs."
Minion Stuart passed away at the Skori Ranch on May 23. He was a special bull to the riders and fans of PBR Canada, but none more so than the Skori Family.
While the bull only ever delivered 90-point rides three times, if you could get him rode, you wouldn't likely be less than 87 points.  
Having been breeding and hauling bulls for a couple decades before Minion Stuart, Ellie Skori said that having a bull like that is special, and the special ones really stand out.
"With us, the big thing is if they are on our truck, we raised them. They were born at our place. We have bought a few, but very few," Ellie said.
"That is the thing when you've seen them from their first day, all the way through it. You know their mom, their grand mom. This all goes back a long way, we had some bulls go to the NFR in the early 90s. We have had a lot of good ones, but there are a handful that stick out like him. They are special."
For Lane, who has been pushing Skori Bucking Bulls into the future and effectively grew up with that bull, he said he was the pride of their operation.
"He was definitely the icon of our trailer. He took us to our first World Finals in 2015 and went three years in a row. That is pretty special to be going to the World Finals, it's the biggest one of them all. He definitely put it on for them down there. He had good trips," Lane said.
"I think people got the hint on how mean he was too. Almost every time we would go see him in the morning there and exercise him, he always had a crowd by the end, chasing everyone around. Those guys got a kick out of that down there. Most other bulls have gotten quieter by that point in their careers down there."
Mean, athletic, big horns and a memorable black-and-white face, Minion Stuart had it all.
And while there have been lots of efforts, it's no secret that he wasn't the best to live breed, and didn't have much success.
However, Skori has two 3-year-old heifers and two 3-year-old bull calves that are beginning their careers now that will be the next generation of Minion Stuart bloodline buckers.
"His semen is really good, but he didn't live breed very good. So we only have two heifers and two bull calves off of him. We are going to have to artificially inseminate if we want more," Ellie said.
"They are just 3 now, the daughters have had their first calf, and one of those bulls I took to Paradise Valley. Jason's kids actually named this bull too. They are calling this one Ferdaddy. Named after their favourite hockey player there, Michael Ferland."