Dakota Buttar Advances to Showdown Sunday of Calgary Stampede with Third-Place Effort in Pool B
By: Kacie Albert Saturday, July 16, 2022 @ 8:47 AM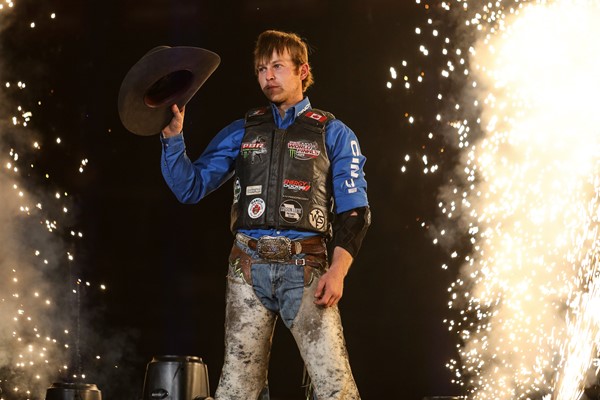 CALGARY, Alta. – Pool play of the 2022 Calgary Stampede is complete and 2020 PBR Canada Champion Dakota Buttar has punched his way to Showdown Sunday as one of four riders advancing via Pool B.
Earning $8,000, Buttar finished third in Pool B. Garnering $12,500, Maverick Potter won the pool, followed by Creek Young ($11,000) in second and Trey Kimzey ($7,000) in fourth.
"It's everybody's goal — it's why everybody's here," Buttar told the Calgary Sun's Todd Saelhof of what it would mean to win the event. "I only made that four-round that one time. I came pretty close, and it was pretty cool. Growing up a Canadian in this sport, this is where you want to be. You want to be up on that stage the last day holding up that cheque. That would be pretty special if that was me Sunday."
When Pool B got underway on July 12, Buttar was quick to make his presence known.
Drawing Positively Banging, Buttar reached the requisite 8 for 87 points. The score was the second best of the round, worth $4,500.
Buttar, however, would strike out in the next two rounds, bucked off by Rundown and Backflip.
As a result, Buttar slipped outside the Top 4, putting him in a must-ride position on the final day of pool play.
Matched up with Warning Shot, Buttar capitalized under pressure.
Covering the animal athlete, Buttar was marked 77.5 points. And while the score was low, it positioned him third in the round, garnering him $3,500, and propelling him back inside the threshold to advance to Showdown Sunday.
"I needed to get something done," Buttar added in interview with Saelhof. "I was on the bubble going in. We were all pretty close other than one guy (Young), who was safe. Everybody else had to get something done to move on. It was kind of do-or-die for all of us."
"I was just happy I got mine rode and snuck in there."
RELATED: Cody Coverchuk and Jared Parsonage Advance from Pool A
Having now secured a spot in Championship Sunday, Buttar, along with Potter, Young and Kimzey, join Cody Coverchuk, Jared Parsonage, Clayton Sellars and Reid Oftedahl who punched their tickets via Pool A.
The Calgary Stampede continues July 16 with Wildcard Saturday when the bottom seven contenders from each pool will have one final chance to remain in the Greatest Outdoor Show on Earth.
During the Round of 14, of which no scores will be carried over, each rider will attempt one bull with the Top 2 advancing. The 2022 Calgary Stampede will then finish on Showdown Sunday, again featuring a clean slate for all contestants. After the 10-man semi-final round, the Top 4 will advance to the final round where the title of 2022 Calgary Stampede Champion will be on the line.
Competing in the round are many PBR Canada favorites, including: Edgar Durazo (vs. Crank It Up), Coy Robbins (vs. Ellensburg Kickstand), Lonnie West (vs. Rundown), Jordan Hansen (vs. Devils Child) and Jake Gardner (vs. Close to the Devil).
Gardner nearly punched his ticket to Showdown Sunday via Pool B but was surpassed on the final day of action.
After bucking off his first two opponents, I'm Not Crazy and Circus Freak, Gardner was sensational on the third day. Riding Bad Chute Crazy, the British Columbia native delivered the top score on July 14, marked 84.5 points.
While the ride was worth $5,500, Gardner's buckoff aboard Whip Cracker on the last day of action allowed him to be bumped by Kimzey.
Stay tuned in to PBRCanada.com and follow the tour on Facebook (PBR Canada), Twitter (@PBRCanada), and Instagram (@PBRCanada) for the latest results, news, stats and more.