Team Canada Coach Tanner Byrne Readying for Strong Appearance at 2022 PBR Global Cup USA
By: Covy Moore Thursday, January 20, 2022 @ 2:19 PM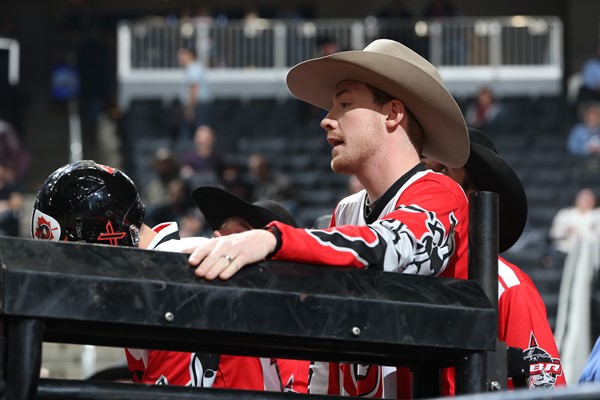 AIRDRIE, Alta. – When Team Canada walks into AT&T Stadium in Arlington, Texas, for this year's PBR Global Cup, they will have a new leader.
Former Team Canada rider turned bullfighter Tanner Byrne will be taking the helm of the five-man roster for the 2022 edition of the event, akin to the "Olympics of bull riding."
As a member of the team from 2017-2019, Byrne recorded five qualified rides in 8 attempts in Global Cup competition. He was always a leader inside the dressing room from the first edition inside Edmonton's Roger's Place in 2017 until the last Global Cup he competed at in Arlington in 2019.
"That phone call from Cody Lambert was definitely one of the best I have ever got throughout my career," Byrne said of the selection. "It's a huge honour that the guys and the powers that be want me to do the job. It's something I don't take lightly. Global Cup became one of my favourite events to ride at throughout my career."
"It adds a new level of intensity when you are riding for your team and not just yourself, and I am very honoured to lead the boys into battle."
Leveraging his experience being inside the chutes at the high-pressure event, Byrne says the key beyond being a positive force in the dressing room will be ensuring the roster selections take into account healthy riders and momentum.
"I am not teaching guys how to ride bulls, I am just trying to get the best out of a team we put together," Byrne explained. "Most guys will only have to get on one bull, with one or two taking on two in the bonus rounds. We need to be picking the guys who are riding best at the time and making sure we are getting guys who are riding healthy."
"We have tons of great bull riders in Canada – a really deep pool of riders. For me it doesn't matter who you are and what you have won, it's about who is hot, who is riding good and who will make up the best team."
While Team Canada has never won the event, they have always been a force, often leaving the first day of competition within a bull of the lead.
The team, however, has faltered on the second day of the event, struggling with consistency.
But the format change, making the event a single day event and shortening the roster, might be exactly what Team Canada needs to beat the powerhouse Brazilian and American teams.
"I think with the new format, being one day, that will favor us in Canada. The past Global Cups, the guys have been really hot and done really well that first day. I hope that translates into this one-day event."
One key aspect that Byrne is confident each rider who is selected to the team needs to know, and already likely do, is that riding at the Global Cup, riding for a team and your country, is a lot bigger than riding for yourself.
"Every Global Cup I went to I wasn't pissing around," Byrne said clearly. "The only times I got thrown off I was either getting wrecked out or getting hurt. That is what I expect out of all these guys. It's a different deal when you are riding for a team and for your country. Effort and attitude are a big thing for me."
"I think the guys who have done it know what that means," Byrne added. "They know what an honour it is."
"It is one thing to get picked for the team, it's another to step up to the plate and show up and show out when the time comes to ride. These bulls are the best in the world, that will be a challenge. We need to be ready, be in the zone."
Not only does Canada have a deep roster of bull riders, but the class of retired and recently retired riders is just as deep. Byrne says that he is open minded and seeking opinions and thoughts from many within the community ahead of roster selections, taking everything into account.
"I have been reaching out to a lot of guys, past and present. This isn't about me, this has nothing to do with me, this is about the country and it's about putting together the best team possible."
"I look to a lot of people for their opinions," Byrne continued. "I have been reaching out to Tyler Thomson and Chad Besplug and a lot of other guys who have the chance to watch all these riders. I am learning about the aspects they think of putting together that best team possible. I really respect the guys who have been in it and done it, I use a lot of different guys. I have a little bit of a team behind the scenes put together that are helping me make my picks and everyone has been super into it. It is going to be so much fun."
Canada was home to the inaugural PBR Global Cup, and while they haven't yet taken down a title in the event, there is no question the fan base built by this event throughout the nation will be supporting Team Canada their entire journey.
"We have showed it in the past, we have had good results at almost every Global Cup. My message to the fans in Canada is be ready, we are coming here to win. We don't want to just place and stay on a few, we want to win first place."
"The sport has grown so much in Canada over the past couple years with the PBR Canada Cup Series events that we have an excellent fan base and a lot of people get behind the Global Cup. That helps these guys get fired up and know they are leading the country and that country is riding with them. Everyone's support is definitely appreciated, we are coming in guns blazing and want to win."