Innovational Bull Rider Spring Training Camp Schedule for January in Edmonton
By: Covy Moore Monday, January 10, 2022 @ 6:31 PM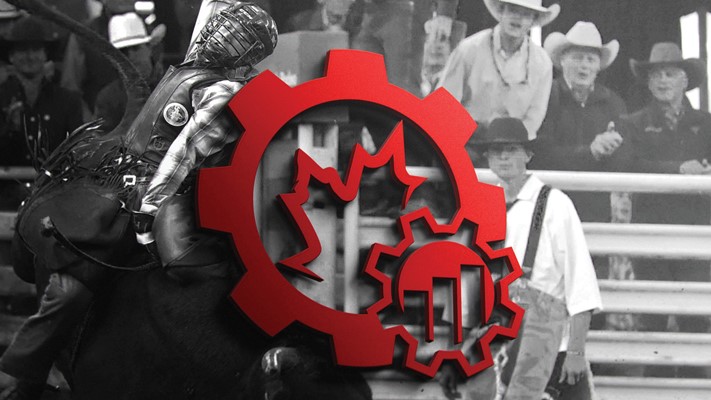 AIRDRIE, Alta. –  After a successful launch to the Canadian Professional Rodeo Sports Medicine Team's (CPRSMT) Spring Training initiative in 2021, the group is honing their efforts in 2022 having designed a program specifically for bull riders.
The three-day, multi-faceted event, which mimics the idea of spring training in many stick and ball sports, aims to give bull riders from any association in Canada the chance to learn more about health and wellness, business and sponsorship in the sport, along with programming for fitness and hands-on practice. 
PBRCanada.com sat down with CPRSMT spokesman Brandon Thome to talk about what to expect from the event being held in Edmonton, Alberta from Jan. 14-16.
PBRCanada.com: Where did the idea of a Spring Training event come from for rodeo and bull riding?
Brandon Thome: Last year, when rodeos and bull ridings began to start up again, we realized as a group that guys and gals haven't ridden, or been in competition for almost 18 months. We wanted to give these athletes the best chance of competing at the top of their game right out of the gate, and help them do so injury free. We have always been about injury prevention instead of reaction and thus a perfect fit. Kynan Vine started thinking about other sports and one of the things missing in our sport was spring training. So came the brainchild of the first ever Spring Training Camp for rodeo and bull riding athletes. 
PBRC: Off the back of the CPRSMT Spring Training last year, you have launched a similar event this season for bull riders only. What sort of feedback did you get from bull riders/bullfighters last year?
BT: Anyone that came to the camp last year loved the premise of it and loved the competition aspect of trying to get the best testing numbers. The only thing was when chatting with bull riders and fighters specifically was the fact that it needed to be earlier as they start their season a lot earlier than anyone just going to rodeos in Canada. We will put this one on in January and then have another rodeo-specific one in the early spring. 
PBRC: What sorts of things can participants expect to learn at this edition of the Spring Training event?
BT: Built into the camp we will be having all types of experts to discuss various topics related to nutrition, mental performance, shoulder and hip health, injury prevention as well as a talk about how to market yourself to potential sponsors and conducting business as a bull rider or rodeo professional. The athletes will learn how to take care of their bodies from physical and mental prep as well as leave with a detailed program directly related to their physical testing results. It is an all-encompassing experience that will help build a true professional in our sport. 
PBRC: What is your message to those outside the pro ranks of bull riding to ensure folks know this is for anyone within the sport and they should get registered today?
BT: Everyone, no matter the sport, dreams of becoming a professional in their chosen sport. Connor McDavid had a dream as an amateur to one day become an NHL hockey player. Jess Lockwood had a dream of becoming a World Champion bull rider. But what it takes to become that professional is what we are trying to provide. Our sport has never had anything like this, and our mindset has always been, you just need to be a good bull rider. I am here to tell you, you need to be a great athlete, that takes care of your body and the technique of riding will come. If your body and mind are not prepared to enter the rodeo or bull riding arena, no amount of technical practice will help you. This camp is for everyone and more importantly probably for the up-and-coming stars that one day have hopes of becoming a world champion. 
PBRC: What is the value to a multi-day format?
BT: The multi-day format allows us to be able to do so much more with the time we have. We are able to actually do works-outs, get on the buckrite with some bull rider/coaching instruction, do all of the testing as well as mix in some high-class speakers. We will also be able to do some treatments in case anyone is sore or help anyone out with what ails them. The ability to spend 2.5 days with the guys will give us the ability to educate them and help them out that much more. We only want to be able to provide each bull rider the necessary tools to take them to the next level of their game.
PBRC: What experts will be presenting at the event?
BT: Our panel of experts includes Anthony Butkovic (Mental Performance Coach), Scott Schiffner (champion bull rider), Dr. Lee Ekert (orthopedic surgeon), Dr. Jesse Slade Shantz (orthopedic surgeon) and Mike Kicia (Former Strength coach with the New York Yankees). These guys and gals bring a wealth of knowledge from many different experiences and sports to help develop the athletes during this intense three-day camp. 
PBRC: What is the cost, where will the event be held and if folks have any questions, where should they look?
BT: We have secured some sponsors to be able to bring the cost down to $250 for the entire weekend. The camp will be held at Acumen Performance Centre in Edmonton, Alberta. We will be securing rooms at the River Cree Hotel and Casino as well. If anyone has any questions they can contact me  directly at rodeoinjuries@gmail.com, call (403) 700-2818 or visit our website at www.prorodeosportmed.com.