Griffin Smeltzer Reshuffles Goals to Aim for 2022 PBR World Finals Berth
By: Covy Moore Friday, January 28, 2022 @ 1:36 PM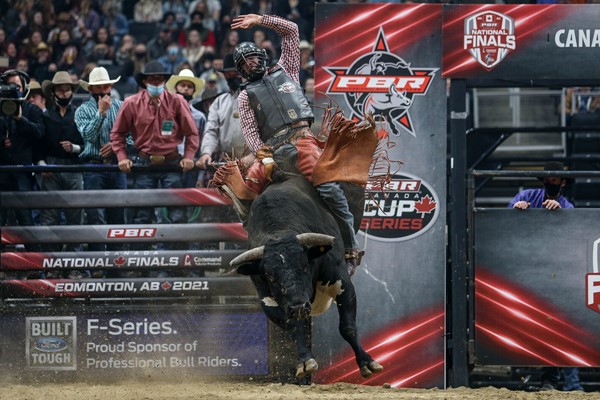 AIRDRIE, Alta – What do Kearney, Nebraska, Denver, Colorado, Rainsville, Alabama and Greenville, South Carolina have in common?
They are all stops on Albertan Griffin Smeltzer's run riding bulls throughout the United States.
Thus far stateside, Smeltzer has covered at least one bull at each of his past four events, currently riding a wave of momentum that so many seek in the sport.
And his goal is simple.
The 22-year-old is pushing towards a spot on the premier PBR Unleash The Beast and has set his sights even further as of late, hoping to qualify for the World Finals come May.
"Last year was pretty good in Canada, but one of my goals is to get on the [Unleash The Beast]," Smeltzer explained. "So I came down here and thought I would go to every Velocity event I could get to."
"I wanted to come down here and do my best, but I think my goals have changed for sure. I don't just want to be another PBR bull rider, I want to make a name for myself and make the PBR World Finals this year. The biggest thing I have learned so far down here is that I can accomplish anything I really want."
Smeltzer says that the momentum is one thing, but being surrounded with good people is key to keeping the wave rolling.
"I am just having a lot of fun," Smeltzer said. "It definitely feels good to know you are staying on a few of them, but I sure would like to be getting them all rode."
To date in the United States, Smeltzer has gone 5-for-12, registering four Top 10 finishes across all levels of competition. His efforts have been headlined by a runner-up, and third-place finish at the recent Touring Pro Division event in Alabama, compliments of a double entry.
"I have been practicing at Riley Samford's quite a bit," Smeltzer continued. "My old roommates Dario Cuomo and Dalton Kasel have been helping me out down here too."
"I am getting the opportunity to get on a lot of great bulls and getting helped out by some pretty good friends, so I feel like I am exactly where I need to be."
And Smeltzer is getting newfound experience both inside and out of the arena.
Ahead of the event, Smeltzer spent some time working on the Kearney, Nebraska Touring Pro having stayed with event-organizer Mark Ward in the time leading up. Smeltzer said that the experience was helpful right off the start of his stay in the United States.
"I met this guy named Mark Ward, he is the guy who put on the PBR in Kearney, Nebraska," Smeltzer recalled. "I ended up staying with him and doing some work for him. Since he was putting that event on, I got to help set up. He has a lot of bulls there, I was feeding bulls that I was getting on later."
"I ended up getting one of Mark's bulls in the short round called The Shootist. I ended up messing him up there at the end and he bucked me off. Almost riding that bull was good, I saw Gage Gay get on him before and could have been a pile of points, into the 90s for sure."
"After riding those bulls and hanging out with Mark and them, it was good to be able to know I can fit in down here, instead of being a guy that no one has heard of," Smeltzer added.
The biggest difference crossing the 49th parallel is the depth of the competition between Canada and the USA.
While Canada has produced some of the best bull riders on the continent, there are a lot more bull riders stateside.
"The biggest difference here is that in Canada you are going to be able to be 86 and you are probably going to make a cheque," Smeltzer concluded. "But down here you could be 86 and not make the short go."
"There are so many guys down here, and guys that come a riding. It's the competition. You can go to Velocity and there could be a lot of those really good guys who were on tour a long time. However, no matter who you are riding against or where you are riding, this game is about getting your bulls rode. "
"I am absolutely loving it down here."
Smeltzer returns to competition this weekend on the Pendleton Whisky Velocity Tour in Jacksonville, Florida. He has drawn What Happens in Vegas in Round 1.