Parsonage Adds Veteran Experience to Team Canada Squad for 2022 PBR Global Cup USA
By: Covy Moore Wednesday, February 23, 2022 @ 4:39 PM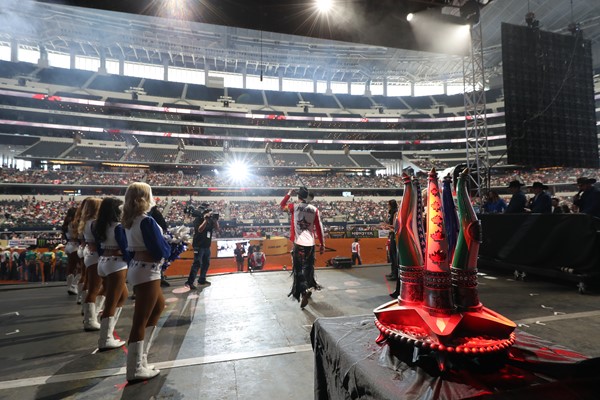 AIRDRIE, Alta. – It is without question that Jared Parsonage is one of the most experienced active Canadian competitors currently in Western Sports.
At 28-years-old, the Maple Creek, Saskatchewan is a Canadian Pro Rodeo Champion bull rider, and now four-time member of Team Canada for the PBR Global Cup.
Missing only the inaugural edition of the PBR Global Cup in Edmonton, Alberta in 2017, Parsonage is known for his consistency and calm demeanor, and brings a wealth of experience to an already experienced squad.
"It never gets old, it's always an honour and privilege and it shows that hard work you put into it is worth it," Parsonage said of being chosen to compete at the 2022 PBR Global Cup USA. "It pays off and you get to represent your country, I don't think it matters how many times you get selected for something like this, it never gets old."
After finishing third at the first two iterations of the PBR Global Cup in Canada and Australia, the Great White North slipped to a sixth-place result in 2019, only to rebound in 2020 with a fourth-place result.
But awaiting Team Canada on March 5 inside the home of the NFL's Dallas Cowboys is a new format. Now a one-day event, the 2022 PBR Global Cup USA will feature two rounds of competition, where three riders from each team will attempt one bull. Throughout those rounds, every rider from each team must attempt a minimum of one bull.
Following the initial rounds, each team will select one rider to attempt the nation's last bull in the bonus round. The 2022 PBR Global Cup USA Champion will be the team with the top combined score through its seven outs.
While Team Canada has traditionally excelled the opening day of the event, only to fall flat on the last day of action, much of the conversation in the bull riding community in Canada has been focused on the format change, and how that will impact he contingent's success. single-day event format.
For Parsonage, however, he doesn't buy into the trend and says it simply comes down to the talent you choose to put on your roster.
"It will be interesting being a one-day go," Parsonage began. "We have always had good luck at the start and had trouble that second day. But I don't look into that stuff, it doesn't mean jack shit to me. If you have a good team, and we have always had a good team of guys, and you can get rolling, then it really doesn't matter how many days it is." 
"We can win it as easy as anyone. You just need to get rolling. One of these years it will all click. Heck I can't see a better year to win it than this year."
The 2022 Team Canada will include Parsonage, alongside PBR Canada Champions Cody Coverchuk and Dakota Buttar, in addition to annual title contenders Jordan Hansen and Brock Radford.
"There is tons and tons of talent on this team," Parsonage said without hesitation. "We will have guys like Dakota who have been around forever and are super talented and can ride anything. Then we have Jordan Hansen. He rides as good as anyone in this country that's for darn sure. He pretty much stays on everything and there isn't much more you can ask for from a team perspective -- he has proven that year-after-year at the Global Cups he has been to, just ultra-talented."
"Brock brings a little more of that ability to fire guys up," Parsonage added as he continued to go down the roster. "His bull riding has spoken for itself too. He has that warrior attitude to him. "
"Cody Coverchuk has rode so good for so long, he is super talented. It doesn't matter what they do where they are at, he has so much talent. He is a guy that sometimes people forget about but is in that category as Tanner Byrne for me because I rode steers against him and he has always been that good. It's not a mistake for him to be somewhere like this, he has proven that."
This year PBR Canada Champion turned bullfighter Tanner Byrne will be coaching the squad.
For Parsonage, he says that Byrne will be an excellent leader having shown that sort of skillset his entire career.
"He will do a fantastic job," Parsonage said of the nation's new leader. "I grew up with Tanner in a lot of ways, been around him my whole life. Tanner is one of those personalities that is always a leader, guys like to follow. He leads the crowd, has done a good job of it, but has shown he knows how to win. He knows how to be successful. He will be a great guy to lead it. He has been down here a lot of his riding career to so he is a good guy to have with you."
"He is one of those guys that can really bring a team together, pump guys up and get them all on the same page."
Since the inception of the PBR Global Cup, the team style of competition for bull riding has risen in popularity.
Parsonage says that bringing a team mentality to a naturally individual sport has been nothing but positive to compete within, but specifically the typical Canadian upbringing gives much of the team a lot of experience working in a team environment.
"First time I got the team feeling for me was Australia. You normally just ride bulls for yourself all the time. It's a completely different pressure riding for a team. Normally you are only letting yourself down when you buck off something, now you are letting everyone down. You have expectations of yourself, but everybody else too. It's weird, but it's a ton of fun."
"It's the way sports should be anyways," Parsonage continued. "I guess it's easier for us Canadians to say that cause we all seemed to grow up playing hockey all the time. It seems like in the states there are a lot of bull riders who were wrestlers and that is very individual."
"Us kids grew up doing the team thing, and it's fun to get back into the team thing and we all know how to do the team thing good. Competing on a team is different than competing for yourself and I think us Canadians understand team dynamics well and know how to operate as a team and win as a team. It's a great thing, and it's going to be a good step for bull riding when the PBR moves to that later this year."
"Heck, it adds more to it that's for sure. For a rider, there isn't a better format. All the Global Cups I have been to have been really fun."