Coy Robbins Taking on PBR Pendleton Whisky Velocity Tour with World Finals Berth In Mind
By: Covy Moore Friday, February 4, 2022 @ 10:17 AM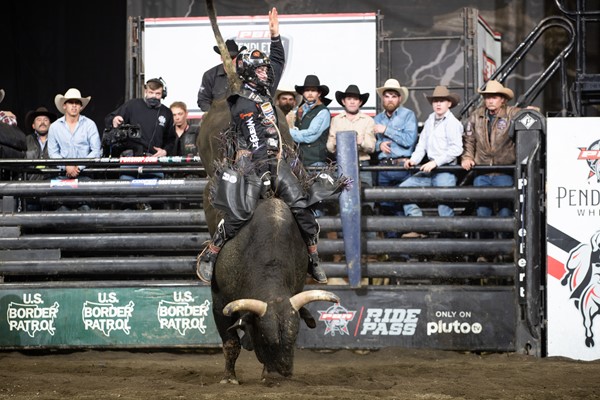 AIRDRIE, Alta. – Since becoming PBR Canada's first Rookie of the Year in 2017, Camrose, Alberta's Coy Robbins has fought injury after injury. But with a couple slower seasons as a result of the COVID-19 (coronavirus) pandemic, the young bull rider has gotten healthy, and has regained his footing.
Last season, Robbins concluded the season with a season with an eight-event run that culminated with a 10th place finish at the 2021 PBR Canada National Finals. During that stretch, Robbins settled into a newfound consistency, registering consecutive Top-10 efforts in his final six events of the campaign.
As a result, Robbins tied his career-best finish in the PBR Canada standings, ending the campaign No. 18 in the nation.
And with the 2022 season now upon us, and the two-week World Finals in May fast approaching, Robins has aimed his sights south of the border.
Travelling to the United States in January, the 22-year -old has been a consistent presence on the PBR Pendleton Whisky Velocity Tour, appearing at four of the expansion series' events.
"Since my rookie year before I hurt my shoulder I haven't been able to make a wintertime run down there," Robbins chronicled. "That is what shapes a bull rider as far as I am concerned, stepping out of your comfort zone, showing up and showing out down there."
"Up here it is tremendous because we know everyone, we know the contractors, the bulls, the riders, but when you go down there it's almost a different world," he continued. "I crave that being a little uncomfortable at that first event and then staying down there for a bit. This is what I do, I ride bulls for a living."
"That is what I think a guy should be doing right now. You can get on at a lot of practice pens up here, but there is nothing like doing the real deal. It wasn't a question for me on whether I was going to do it or not. I am just glad Ashton [Sahli] was wanting to do the same and we could take it on together."
Having made appearances in Reno, Nevada, Denver, Colorado, Portland, Oregon and Spokane, Washington, Robbins has gone 1-for-6 thus far stateside. His efforts have been headlined by an 81-point score on Hot Pursuit in Portland which propelled him to an eighth-place finish.
"It's sort of the same as every event, every year," Robbins said of his strategy. "Just ride the bulls they run underneath you. Bull riding is bull riding, I don't try and think too deep, it's a fairly simple game and I like to try and keep it that way.
"For me I like being home and have a lot going on at home, so for me the lesson is just to become comfortable being uncomfortable. Allowing everything to be how it is and be comfortable down there and just get the job done is big for me."
Looking back to last season, the start of 2021 was tumultuous for Robbins, unable to find a groove, constantly struggling with his wrist.
But, after a sit down with himself, and a rope change in the middle of the season, things started to turn around.
"I was coming off breaking my forearm, and for a while I was shitting the bed," Robbins said resolutely. "I think it was mainly mental, I will be the first to admit. But with the American rope and the broken arm my wrist was getting all sorts of jacked up. I couldn't hardly keep my hand gripped on the rope in the chute it was getting so beat up."
"It's tough to push out of your mind that your hand wants to open before you have even nodded and slid up to your rope."
"I figured everyone else seems to be riding with Brazilian ropes," he continued. "As soon as I made the switch, which was strictly to take some pressure off my wrist, it only took three bulls before I wasn't taping my wrist anymore and my riding turned around as well.
"I don't know it's all because of the rope," Robbins admitted. "I had a good long chat with myself about being tired of just taking part and not getting anything done. I wasn't making Finals or anything like that at the time. I had that talk with myself, got the new rope going and gained some speed heading into finals there. But I wouldn't say anything riding wise anything feels different, I just like that my wrist isn't all jacked up."
As for what 2022 looks like for Robbins, his goals are aimed at a title in Canada and to see success south of the border.
"Become a Canadian National Champion this year," Robbins said quickly when asked of his goals. "I want to make a good run down south. By that I mean stack them up, and build a name down there for myself, to where I am pushing the top of the leaderboard at every event, be at the Velocity Tour Finals and maybe make the PBR World Finals."
Robbins will return to the lineup for this weekend's PBR Pendleton Whisky Velocity Tour event in Lexington, Kentucky, and the iconic Rupp Arena. He has drawn Neon Street in Round 1.