Riders and Contractors Seek Success in Final Touring Pro Events to Set Up Strong Start to Final PBR Canada Cup Series Events of 2022
By: Covy Moore Tuesday, August 23, 2022 @ 2:17 PM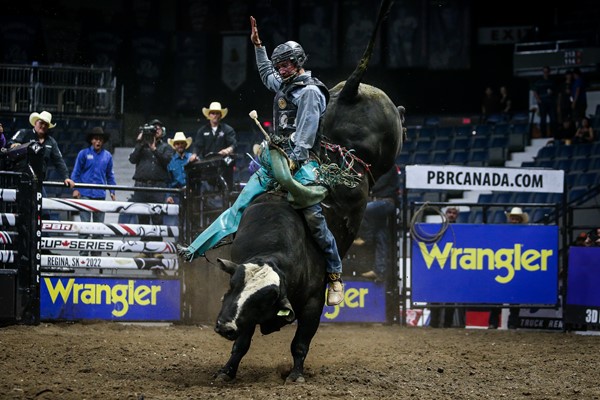 AIRDRIE, Alta. – The continuation of the PBR Canada Cup Series, presented by Wrangler, is just around the corner, and with only four PBR Canada Touring Pro Divisions events left, riders are looking to shore up their place in the standings.
After winning the Winfield PBR this past weekend, 2020 PBR Canada Champion Dakota Buttar has overtaken the No. rank in the heated battle to be crowned the 2022 Champion. Buttar, however, is far from being in firm control of the top spot, with Logan Biever hot on his spurs, just 2.5 points back in the No. 2 position.
Looking ahead, the best bulls and bull riders look to events on Aug. 26 in Bowden, AB, Aug. 27 in Gleichen, AB, Sept. 4 in Armstrong, BC, and Sept. 27 in Longview, AB, before they take to some of the biggest arenas in western Canada all with the aim of qualifying for the PBR Canada National Finals in Roger's Place, in Edmonton, Alberta, Nov. 11-12. 
For Wilson Rodeo's Slim Wilson, this weekend's event promoter for the stop in Gleichen, Alberta, watching this season's competition has been a thriller. 
Wilson, who raises bucking bulls near Cluny, Alberta and produces both the Cluny and Gleichen events, says ensuring a rider is seated well heading into the big Cup Series events is pivotal. 
"If you aren't in that Top 20 right now, you might not be seeing Finals," Wilson said. 
This coming weekend's event in Gleichen is set at one of the most beautiful rodeo grounds in Alberta. The hilltop setting overlooking the southeastern Alberta prairies will play host to a two-head event, coupled with an in-the-dirt concert experience immediately following the competition. 
"You will be able to come down into the dirt to watch the concert, or enjoy it from the hillside or stands," Wilson began as he explained what fans can expect at the event. "Last year we did two events back-to-back in Cluny, and we have always had a rodeo here at these grounds, I figured it would be badass to have a PBR Canada event here. The view on the side hill is awesome, it is a really cool setting."
The Wilson Rodeo stable of bulls have always been ones riders want to draw, and this year is no exception.
Backed by his career best PBR score, Wyatt Gleeson won last weekend's Glen Keeley Memorial Bull Riding in dominant fashion, marking his first event victory since 2018. And he earned the golden finish on the back of Wilson's Superstition.
Wilson explained that while Gleeson was dominant at the Stavely event, he was also impressed with his bull power this year. Well rested, he feels he has some buckers who will be contending for Bull of the Event anywhere they go for the remainder of the year.
"We have had lots of events, but this year we have a lot of good bulls," Wilson said. "The bulls are all well rested and ready to go. If we are going to the Cup events, I think we have five or so that can be in the hard pen. Superstition, that Wyatt rode for 90 at the Glen Keeley last weekend. We have Beer Buzz who has been around for a while. Irish Rebel, all those bulls have three trips all year, just because we have been spreading them out and keeping them rested."
"We have Socks and Crocks, a bull I bought from Lorne High," Wilson continued. "That bull is really starting to buck and guys are paying attention to him. HeckYeah.ca is one I bought off the Wild Hoggs, he is a handful. He split bull of the event in Kelowna this year. We try and take a few bulls to every event that they can fall into that Bull of the Event category. We don't always win it, but we are close each time."
While the PBR Canada Cup Series, presented by Wrangler, is broadcast by TSN, there is only one way to watch the nation's best work their way into position for those events via the Touring Pro Division, and that is to be there. 
Expected this weekend in Bowden and Gleichen are some of the top riders in PBR Canada, including points leaders Buttar, Biever and Brock Radford, and some of the guys fighting their way into the coveted Top 20 like Chad Hartman, Gleeson, Todd Chotowetz and Tyler Craig. 
"We are going to have some excellent bull rides Saturday night," Wilson said. "Come out to one of the nicest settings to watch a bull riding, concert, or anything and enjoy the night, the nice weather, the bull riding and a great concert afterwards."
Ticketing information for the four remaining PBR Canada Touring Pro Division events is available at PBRCanada.com, along with the PBR Canada Cup Series, presented by Wrangler, schedule and broadcast information. 
The PBR Canada Cup Series returns to competition September 23-24 with the two-day PBR South Country Co-op Showdown, presented by VisitLethbridge.com, in Lethbridge, Alberta.
Tickets for the event are on sale now and start at $40, standard fees may apply. They can be purchased online at ENMAXCentre.ca and charge by phone at (403) 329-7328.