Zane Lambert Passes on Championship Prowess at Alberta School
By: Covy Moore Tuesday, April 12, 2022 @ 8:15 PM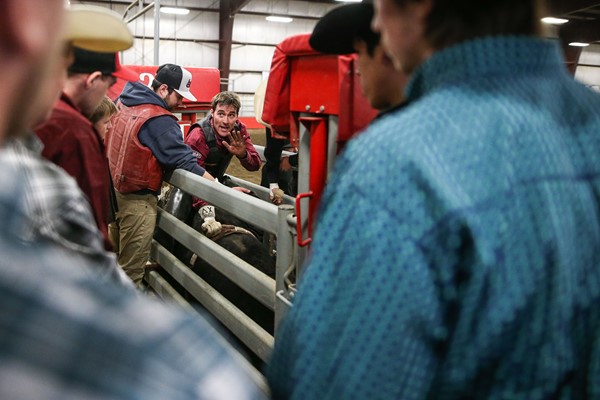 AIRDRIE, Alta. – The future of bull riding in Canada is in good hands.
Two-time PBR Canada Champion Zane Lambert and accomplished bullfighter Scott Byrne held a bull riding and bullfighting school in Siksika, Alberta this past weekend that saw 14 riders and 7 bullfighters take to the dirt and learn the ropes.
Aimed for those who are at the point in their career where they want to move up to riding bulls, Lambert said that this year had a lot of fresh faces.
"I think our school was really well attended this year," Lambert began. "A lot of younger kids who haven't been around rodeo too much before and they got a really good experience. I think we gave some good tools to those kids that will help them down the road."
"It's good to get to touch base with the younger kids who don't have bad habits yet and you can drill the good habits and skills into them before they develop the bad ones."
The school, which lasted three days, covered everything from equipment, chute procedure and the riding and bullfighting, but also got into mental health and sports psychology as well as physical fitness.
"I had really good help at the School, Canadian Pro Rodeo Sports Medicine Team were on site, Acumen Performance and Brett Gardiner came in with mental health and sports psychology," Lambert continued. "I can't thank everyone else who has stepped in and stepped up to help, not only me on the bull riding side but with physical fitness and mental health and carrying yourself properly through a rodeo season."
"They get a lot of knowledge in three days that I think will hit them when they are sitting for a few hours driving to a rodeo. Hopefully they can use it and improve their career and the sport."
While seeing a good group of younger riders coming out is a signal of positivity for the sport in the country, Lambert admits the most excitement he gets when teaching these schools is when you start seeing the same guys a couple years in a row.
"I like seeing kids a second or third time. I get to see their growth and you get to see an accomplishment. Sometimes when they are greener, you don't necessarily see a ton of growth in those three days, but when you see them again you get to see how they are riding, and how they have used those tools you taught them."
"This group had a lot of green guys," Lambert added. "Nut there was so much progress too. There are some kids who have taken my school this weekend too, and they are there to tune up. They like my style, like my practice pen environment to the school."
"This sport doesn't happen in one or two years, you need five years of experience before you start hitting those top levels. If we can be there for their learning years, I like that."
For Lambert, who has taught at about 10 schools previously, being able to organize the entire event and work with his own crew of people was rewarding for him. His highlight of the weekend he says though, was the addition of PBR Canada Cup Series, presented by Wrangler, announcer Gardiner, who also works as a sports psychologist.
"This is such a mental game," Lamber explained. "It's so draining sometimes dealing with injuries, travel, expenses. Keeping that level head through this sport is important and I think bringing Brett in was the most beneficial addition to the school. It isn't something you see at these schools very often."
Handing out awards for the best rider in a fun jackpot, as well as rider with the most heart and most improved rider, Lambert says there was a little bit of everything, including one rider who got on 18 bulls in three days.
"I had one kid that won the most effort, he got on 18 bulls in three days. I got him on everything, he didn't balk."
"Something rolled into the chute, he wanted to get on it. He would try that one, then come back and get on another one. That was really cool to see."